Despite being the defending Stanley Cup champions, the Pittsburgh Penguins are a relatively cheap ticket. Historically speaking, anyway.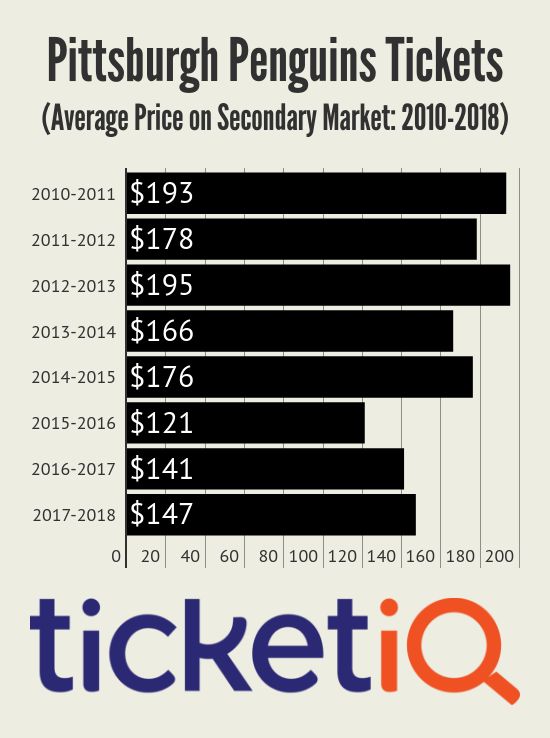 The Pens, who defeated the Nashville Predators in six games to win back-to-back Stanley Cups, are currently in sixth place in the Metropolitan Division and ticket prices reflect that. According to TicketIQ.com data since 2010, this season's $147 average for Penguins tickets is the third lowest. Only last season ($141) and 2015-16 ($121) were cheaper. The highest average ticket price for a Penguins game during that span was $195 in 2012-13.
So far this season, the most expensive game was opening night, when the team had a t-shirt giveaway. Tickets to the Oct. 4 game
settled at $343. The only other game projected to break the $300 barrier this season is the Feb. 6, 2018 affair with the expansion Vegas Golden Knights. The remainder of the top five priciest Pens games this season were the Oct. 7 Nashville Predators game (a rematch of last season's Stanley Cup Finals), which had an average price of $211 and the Dec. 9 Toronto Maple Leafs game, which weighed in at $194. The asking price for the Detroit Red Wings game on Jan. 13, 2018 is currently $238.
The cheapest remaining game this season is against the San Jose Sharks, who are in third place in the Pacific Division. The team will give away ice scrapers emblazoned with "Penguins 5x Champs." On TicketIQ.com, the current average asking price for tickets to the game is $96 with a get-in price of $25.
TicketIQ.com is the place to buy your Penguins tickets this season. If you want to catch a glimpse of the Golden Knights, tickets are available with TicketIQ.com's Low Price Guarantee for as little as $162 in Section 223 near the rafters or as much as $645 in Section 102 at center ice.
[embedit cf="HTML1"]