Prices For 2018 Peach Bowl Tickets Are Highest In At Least 9 Years
(UPDATE 12/6/17) When you're running a non-playoff bowl game, there may be no bigger indicator of interest than distance. As in the distance between your bowl game and its participants. The stars aligned for the Peach Bowl this year as Auburn is less than a two-hour drive from Atlanta and the University of Central Florida is an easy six-hour jaunt up I-95. That combination could make this year's Peach Bowl even more expensive than last year's edition – which was a national semifinal featuring Alabama and Washington.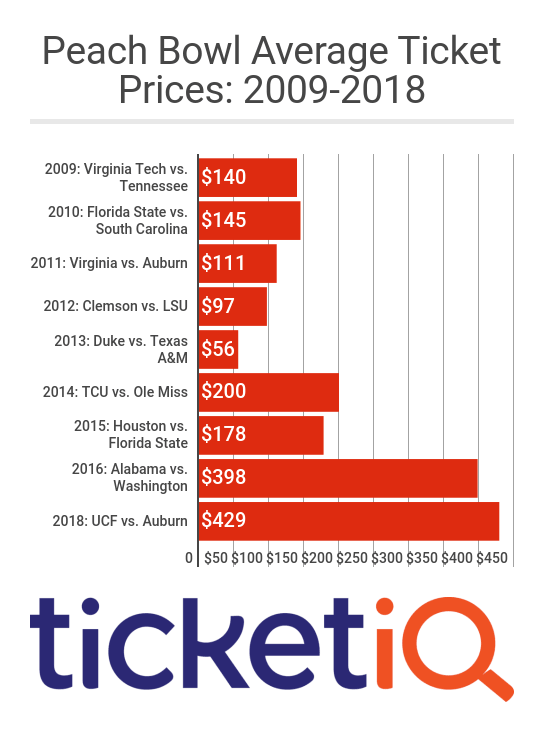 The asking price for tickets for the New Year's Day game are currently $429 on TicketIQ.com, already $31 more than the average price for last year's CFP semifinal. For the eight years that TicketIQ.com has been tracking data, these last two Peach Bowls are far and away the most expensive. Clocking in at No. 3 is the 2014 game, which pitted TCU against Ole Miss. The average ticket price was $200.

As of Dec. 5, UCF had already sold out of its allotted 12,500 tickets. Why? Well, UCF finished the season with the nation's top-scoring offense and as the nation's only undefeated team and UCF hasn't been to a big-name bowl game since facing Baylor in the Fiesta Bowl in 2014. The coaching situation is unclear – head coach Scott Frost just took the Nebraska job, leaving interim coach Troy Walters in charge. But media reports say Frost will coach the Peach Bowl "if it all works out." This combination of intrigue has already blown ticket prices through the roof. The current $429 asking price is more than double what UCF fans paid for the '14 Fiesta Bowl ($133).

Auburn heads into the game as only a two-point favorite and its top two running backs are battling injuries and their status for the game is unclear. The Tigers will be playing their second straight game at Mercedes-Benz arena (SEC Championship) and will be playing an unbeaten team for the third time this season. Auburn knocked off then unbeatens Georgia and Alabama earlier this year. It's the next best thing to an Auburn home game and ticket prices reflect that – if prices hold steady, they will be the third highest since 2010 and behind two Auburn national championship games (vs. Oregon in 2011, $2,992 and vs. Florida State in 2014, $479).

Whether you've got money to burn or you're just looking for a way into this game, TicketIQ.com's Low Price Guarantee listings can help. Tickets at the top of the dome can be had in Section 329 for $121 or Section 324 for $122. If you're willing to splurge, check out tickets near the 20-yard line in Section 130C for $283.

[embedit cf="HTML1"]

(UPDATE) Ole Miss and TCU missed out on the College Football Playoff, but they've created their own premium bowl game in the Peach Bowl. The average price has dropped slightly since the matchup was announced, but this will still be the most expensive Peach Bowl since 2010 by a significant margin. The current average price for the game is $238.62, which is the only Peach Bowl over the past five seasons to have an average price even above $150 on the secondary market. The get-in price of $81 is more expensive than last season's average price.

The Chick-Fil-A Peach Bowl, which will be played on December 31st at the Georgia Dome in Atlanta, Georgia, will pit the Mississippi Rebels (9-3), who ranked 9th in the last AP Poll, against the TCU Horned Frogs (11-1), who ranked 6th in the last AP Poll and finished as co-Big 12 Champions. Mississippi won its first seven games, which included a decisive home win over Alabama, but lost three of its last five games. Mississippi did defeat Mississippi State, 31-17 in the annual 'Egg Bowl' rivalry game. Running back Jaylen Walton rushed for 148 yards and one touchdown while tight end Evan Engram caught five passes for 176 yards. Mississippi's defense limited Mississippi State's potent rushing attack to just 3.5 yards per carry and only gave way up two touchdowns to quarterback, Dak Prescott. As a team, Mississippi is averaging 168 rushing yards per game, which may be an issue against TCU's top ranked defense. Fans can expect to pay above average ticket prices for this match-up.

The average ticket price for Mississippi vs. TCU is currently $238.74 on the secondary market while the get-in price for the game is $88. That easily makes it the most expensive Peach Bowl over the past five seasons. The next most expensive game on the secondary market came in 2010 with an average price of $144.87.

Chick-Fil-A Peach Bowl Ticket Prices Since 2010
| | | |
| --- | --- | --- |
| Year | Avg Price | Get-in Price |
| 2010 | $144.87 | $60.00 |
| 2011 | $111.20 | $48.00 |
| 2012 | $97.05 | $13.00 |
| 2013 | $56.00 | $7.00 |
| 2014 | $238.62 | $80.00 |
Alike Baylor, TCU feels snubbed after being left out of the first College Football Playoff. TCU lost a heartbreaking 61-58 decision to Baylor in October, but bounced back to win seven straight games which included a lopsided 55-3 victory over the Iowa State Cyclones. Quarterback Trevone Boykin threw for 460 yards and four touchdowns while wide receiver Josh Doctson led the way with nine catches for 151 yards and one touchdown. TCU's defense limited Iowa State's offense to just 236 total yards while winning the turnover battle, 2-to-1.
While fans can expect to pay top prices to attend the Peach Bowl, Mississippi will look to finish its season on a high note after knocking off its in-state rivals. Expect TCU to play with a chip on its shoulder after being snubbed from the College Football Playoff.
Here's a look at last year's Chick-Fil-A Bowl: