The New York Rangers are no strangers to outdoor hockey. In fact, when the Rangers play the Buffalo Sabers on Jan. 1, 2018 at CitiField, it will be their fifth go-round in the great outdoors. And, if things go the Rangers' way, the game will mark their fourth outdoor victory.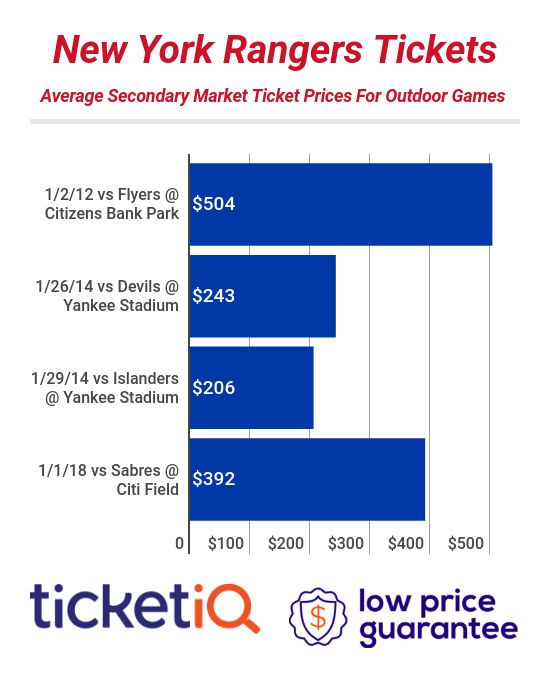 New York first played outdoors in an exhibition game at Caesar's Palace in Las Vegas in 1991. The 5-2 loss to the Los Angeles Kings was the Rangers only outdoor defeat. Since then, New York has beaten the Philadelphia Flyers at the 2012 Winter Classic in Philly and notched two outdoor victories at Yankee Stadium in 2014.
To date, the most expensive outdoor game featuring the Rangers was the Winter Classic in Philadelphia, where the average ticket price was $504. This season's New Year's Day game will likely clock in as the second-most expensive Rangers' outdoor ticket – the current asking price on TicketIQ.com is $392. For the Stadium Series, tickets settled at $243 (vs. New Jersey Devils) and $206 (vs. New York Islanders).
If the price of tickets for this Winter Classic doesn't rise, it will be the fifth-most expensive Classic since the event started in 2008. Behind the 2012 Rangers-Flyers game, the next three most expensive were 2011 ($489), 2015 ($449) and 2016 ($434).
This season's outdoor game is also currently the most expensive Rangers' game of 2017-18. The next two most expensive were against the Devils ($345) and Colorado Avalanche ($344), both in October. Going forward, the average asking price for the Rangers Dec. 27 game against the Washington Capitals is $344 and against the Chicago Blackhawks on Jan. 1, 2018 is $340. All of those prices are well above the average asking price for the season -- $269.
Tickets to the Winter Classic are available on TicketIQ.com. Among the Low Price Guarantee listings, as of Dec. 13, tickets were being offered for as little as $234 (Section 139) to as much as $605 (Section 328).
[embedit cf="HTML1"]