When NHL Commissioner Gary Bettman unveiled -he Vegas Golden Knights' logo to a crowd of thousands on a chilly November night in the gaily-lit plaza behind New York, New York, there was plenty of enthusiasm. And lots that was unknown.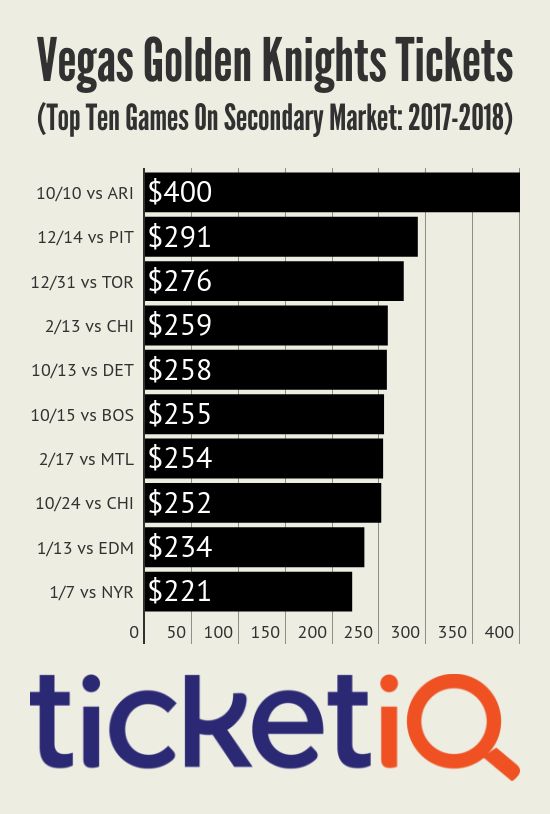 But nearly a third of the way into its inaugural season, demand for Vegas tickets is strong. The average asking price for a Golden Knights ticket at the state-of-the-art T-Mobile Arena is $164, good enough for No. 11 in the league. And, as if that's not good news enough, the average price for an individual-game ticket has already exceeded $200 four times and is likely to do so many more times.
Of course, it doesn't hurt that Vegas is sitting at 19-9, second in the Western Conference's Pacific Division. Only four teams have better records, including league-leading Tampa Bay (22-6).
The most expensive ticket for a Golden Knights game so far, according to data collected by TicketIQ.com, was the Oct. 10 matchup with the Arizona Coyotes. The average price for that game was $400. The Coyotes also hold the distinction of being the team with the potentially cheapest seat to T-Mobile this season – the average asking price for the March 28 game is $106.
After that $400 game, though, the highest prices for Golden Knights tickets drop into the 200s. Thursday nights' matchup against the defending Stanley Cup champion Pittsburgh Penguins is sitting at $291 and the New Year's Eve Day game against the Toronto Maple Leafs is at $276.
No matter what game you choose to see this season, being in T-Mobile Arena will make you part of history. So, whether you've got enough to sit near center ice or you'll be up in the rafters, TicketIQ.com is your place to buy tickets. Among TicketIQ.com's Low Price Guarantee listings as of Dec. 13, tickets to see Vegas host the Pens were still available for as little as $155 in Section 213 or as much as $280 in Section 120.
[embedit cf="HTML1"]