Games Against Warriors Highlight Most Expensive Rockets Tickets This Season
Leaders of the Western Conference and owners of the best record in the NBA, the Houston Rockets are experiencing a rise in ticket prices this season. The Rockets are 22-4, with an .846 winning percentage. The East-leading Boston Celtics (24-6) are the only other team with a winning percentage about .800.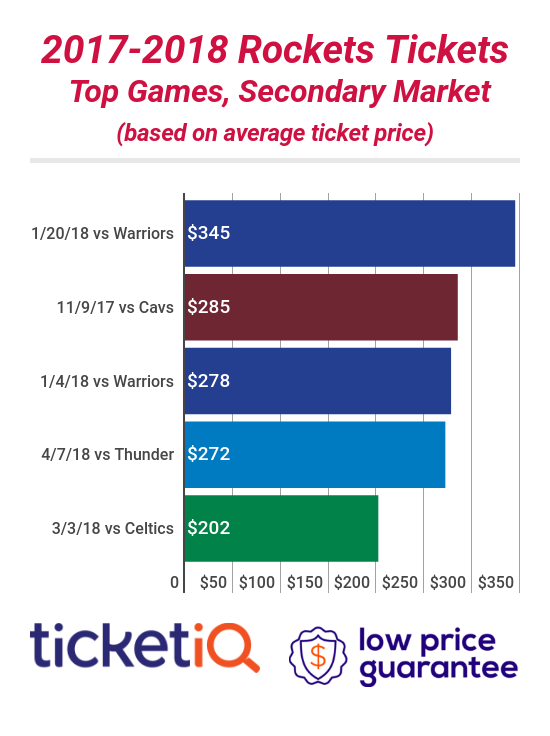 At an average cost of $146, a seat at a Rockets game is the most expensive it's been since we've been tracking data. The next most expensive season was 2014-15, when Houston advanced to the Western Conference Finals before losing to Golden State. The cheapest season since 2010 was 2011-12, when fans could get into the Toyota Center for an average of $76.
This season, the most expensive game is projected to be the Jan. 20, 2018 matchup with the NBA Finals defending champion Golden State Warriors. The current average asking price for a ticket to that game on TicketIQ.com is $345 – more than double the cost of the season average. That number blows away all of Houston's other big-ticket games -- including a Jan. 4 game against the Warriors -- by at least $60. Likely the difference between the cost of the two Warriors' games is timing. The Jan. 4 game ($278) is a Thursday night game while the Jan. 20 matchup is on a Saturday.
The second most expensive Rockets' ticket this season was $285 vs. the Cleveland Cavaliers on Nov. 9. A ticket to the Celtics game on March 3 is currently $202. The cheapest remaining game is likely the Jan. 20 game against Orlando, for which the average asking price is currently $95 and fans can get in the door for a mere $12.
TicketIQ.com can help fans get in to see the Rockets. Whether you've got enough to buy a premiere seat or just enough to get into the stadium, seats area available. Among TicketIQ.com's Low Price Guarantee listings, tickets for the Jan. 20 Warriors game can be had for as little as $131 in Section 417 in the upper bowl behind the basket or as much as $1,076 for a 12-row seat in Section 107 at mid-court.
[embedit cf="HTML1"]