Vikings Tickets For Final Two Home Games Averaging Nearly $250 Per Seat On Secondary Market
The Minnesota Vikings have never won a Super Bowl. They've reached the playoffs 28 times — most recently in 2015 — but haven't gotten past the wild-card round since 2009. So it's probably no wonder that at 10-2, enthusiasm around the Vikings tickets is pushing prices to a near-record high.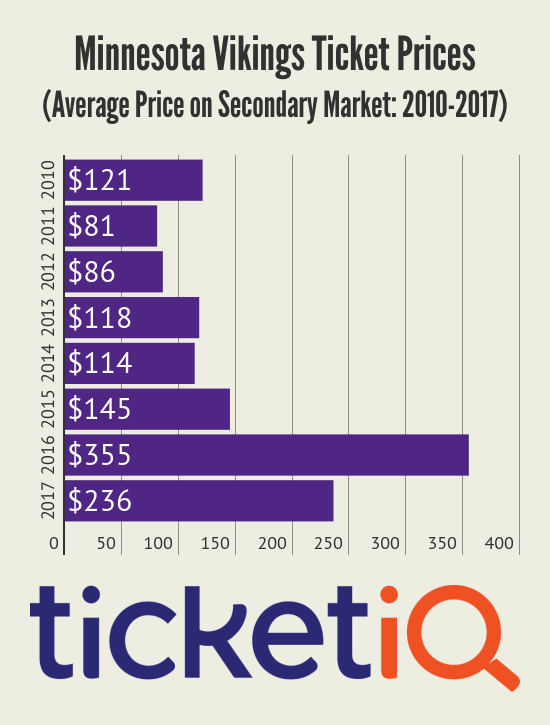 Through 12 games, the average price for a Vikings home ticket is $236, which makes this season the second most expensive (2016, $355) since TicketIQ.com began tracking data in 2010. That price is the 14th most expensive the NFL.
Minnesota, which plays at the Carolina Panthers this weekend, is giving fans plenty to cheer about. The Vikings have an explosive offense featuring wide receiver Adam Thielen, whose 1,056 yards rank No. 4 in the NFL. Those numbers have helped the Vikings average 370.4 yards per game (No. 5 in the league).
Historically, the Vikings haven't been a force in the NFL since the late 1960s and 1970s when they reached four Super Bowls between 1969-76. Minnesota lost all four times and hasn't been back to the Super Bowl since. That said, the leaders of the NFC North are now 8/1 Super Bowl favorites.
With two games remaining, Vikings fans will see the price of a ticket continue to rise. According to TicketIQ.com, the current average asking prices for Minnesota's remaining two home games against Cincinnati Dec. 17 and against Chicago on New Year's Eve Day are $226 and $256, respectively.
[embedit cf="HTML1"]
Whether you've got enough dough tucked away to buy the best seat in the house or if you just want a seat to what could be the best Vikings season in recent memory, TicketIQ.com is your place to buy tickets. As of Dec. 7, prices for the Cincinnati game ranged between $164-$1,532 and in TicketIQ.com's Low Price Guarantee listings, seats at the top of the bowl in Section 327 could be had for $164 while 50-yard line seats in Section V3 are listed for $480. For the Bears game, the price range is even higher — from $265-$1,865. Among the Low Price Guarantee listings, tickets in the third deck in Section 333 are listed at $268 while 50-yard line seats in Section V3 are listed at $736.