Philadelphia 76ers 2018-19 Ticket Market Overview:
Last season, the Philadelphia 76ers got to the playoffs for the first time since 2011-12, but a second-round loss and the team's youth are keeping fans from pushing up demand for tickets. The average asking price on the secondary market for a 2018-19 Philadelphia 76ers ticket is down 10% compared to last season. Below is how 76ers ticket prices stack up on the secondary market. But even with the decrease in average asking price, tickets are the second highest since TicketIQ.com began tracking data in 2011. The most expensive ticket of the decade was $220 last season.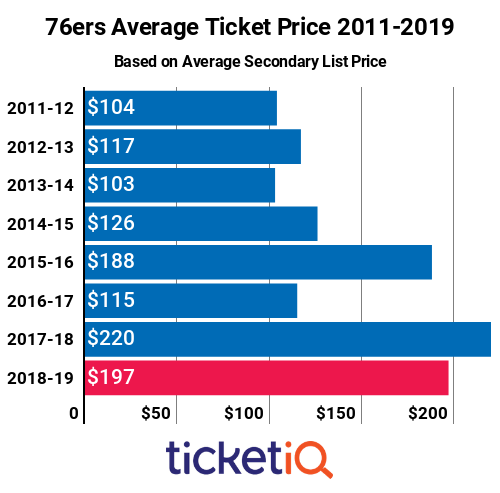 Where to Buy Tickets:
With a $197 average asking price, 76ers tickets are ranked No. 10 in terms of price across the NBA. The Golden State Warriors are ranked No. 1, with a $463 average asking price. Last season, Philadelphia tickets were ranked No. 5. Season tickets are sold out, but fans can join one of two waiting lists – Club 76 Elite for a $176 fee or Club 76 Free for no deposit. Elite customers are placed higher on the waiting list. Single-game tickets are available through ticket partner StubHub, as well as through TicketIQ.com. Both have seats available for all games, though selection is limited for some of the biggest games, including the February 10 Los Angeles Lakers game, for which tickets start at $138 on StubHub. On TicketIQ.com, prices start at $133 for Mezzanine-level seats that come with the company's Low Price Guarantee.
Top 5 Games on 2018-19 Philadelphia 76ers Schedule:
As is the case with many other teams, the game with the highest average asking price at the Wells Fargo Center is LeBron James' first appearance as a Laker. The average asking price for the Lakers February 10 visit is $517, with a get-in price of $135. The next most expensive game is the March 2 game featuring the defending NBA champion Golden State Warriors, which checks in at $472. The only other game to crack $400 is the October 18 Chicago Bulls game.
Tickets to see the 76ers play their biggest rivals, the Boston Celtics, round out the top five with average asking prices of $322 on February 12 and $282 on March 20. The 76ers-Celtics rivalry is the most prolific in the NBA with 522 meetings dating back to 1949. The Celtics hold a 312-232 edge. TicketIQ.com has seats for both Celtics games available, starting at $50 in Mezzanine 221 for the first game, and at $49 in Mezzanine 205A for the second game. For either game, if the Celts or 76ers are in the mix for a playoff spot, prices are likely to rise.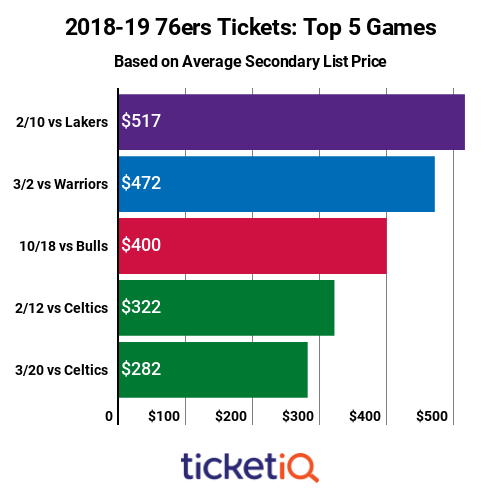 Real-Time Ticket Data & Listings: