Looking for Warriors 2019 NBA Finals Ticket Info?
---
Golden State Warriors 2018-19 Ticket Market Overview:
Entering the 2018-19 NBA season, the Golden State Warriors are first in everything -- average ticket price on the secondary market, priciest game and, of course, ranking for the product on the court. After winning their third NBA title in four tries, the cost of 2018-19 Golden State Warriors tickets is up 1.5 percent from last season, and remains the most expensive ticket in the NBA. Below is how 2018-19 Warriors tickets prices stack up on the secondary market over the last decade and around the league.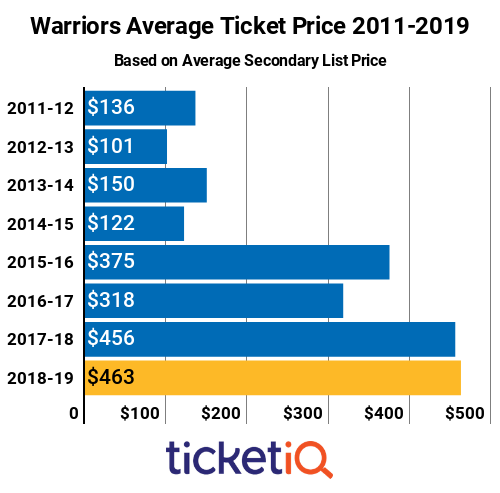 As you can see, prices are at their peak since TicketIQ.com began tracking data in 2011. The $463 average asking price is $19 above the Los Angeles Lakers' $444, and nearly $200 more than the third-place New York Knicks' $285 average asking price. The Warriors enter the season with few changes and shooting for a three-peat.
Where to Buy Tickets:
Getting into Oracle Arena has been no easy feat since the Warriors took the first step in becoming a dynasty in 2014-15, and this season is no different. Season tickets are sold out, though fans can get on the priority waiting list. For the biggest games this season, including the October 16 home opener against Oklahoma City, only standing room tickets are available through the Warriors primary market ticket partner, Ticketmaster. TicketIQ.com has a wide variety of seated tickets for season opener, including seats in the same section starting at $144.
Top 5 Games on 2018-19 Golden State Warriors Schedule:
Among the Top 10 most expensive games of the season, the Warriors are involved in eight, and six of those are Golden State home games, according to TicketIQ.com. The two most expensive games of the season for the Warriors and the NBA are the Christmas Day Lakers at Golden State game, which is averaging $1,768, and the February 2 Lakers game, which has an average list price of $1,379. The Oracle Arena opener against the Thunder is, at $791, the fifth most expensive across the NBA. Rounding out the Warriors top five most expensive games are the February 23 Houston Rockets game at $749 and the March 5 Celtics game, at $715. TicketIQ.com can help fans get into any of these games, and many tickets come with the company's Low Price Guarantee. Among the available tickets are Club Concourse 115, Row 21 for $1,359 for the Christmas Day game.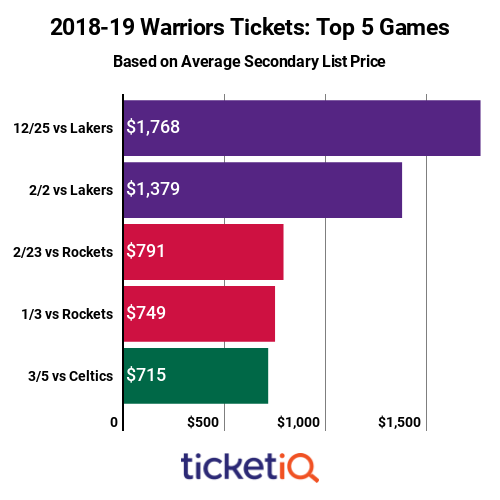 Real-Time Ticket Data and Listings: