Philadelphia Flyers 2018-19 Ticket Market Overview:
After watching a relatively young team finish third in the Metropolitan Division last season, fans are driving up demand for Philadelphia Flyers tickets in the hopes that the youngsters will be contenders this time around. Below is how Flyers tickets stack up on the secondary market across the league. As you can see below, 2018-19 Philadelphia Flyers tickets are up 33% compared to last season, and are the most expensive since 2011, when secondary ticket marketplace TicketIQ.com began tracking data. The next most expensive season was 2014-15, when secondary market tickets settled at $162. Philadelphia was third in the Metropolitan that season, too.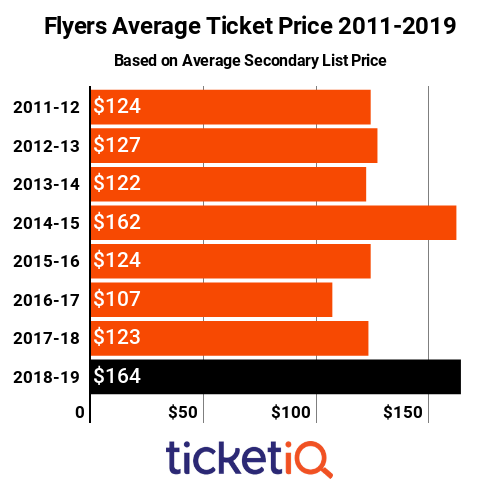 Where to Buy Tickets:
With a $170 average asking price, Flyers tickets are ranked No. 9 across the NHL -- as compared to No. 19 last season. The priciest ticket in the league this year is $332 for a Toronto Maple Leafs home game. Season tickets are available through the team website, where fans can put down a deposit and select seats. In addition to seats, season ticket holders get first priority to buy NHL Stadium Series tickets, merchandise discounts, and special in-game experiences. Single-game tickets are available through the team's primary market vendor, Ticketmaster, though many sections are already sold out for every game. On the secondary market, TicketIQ.com has seats all over the stadium for all home games, including the Stadium Series game at Lincoln Financial Field on February 23.
Top 5 Games On The 2018-19 Flyers Schedule:
Not surprisingly, the Stadium Series game against in-state rival Pittsburgh is the most expensive game of the season. It is the first time Philadelphia has hosted a stadium game, though the Flyers did play outdoors in 2017 at Pittsburgh, and did host the New York Rangers at Citizens Bank Park in 2012 in the Winter Classic. Tickets for the Stadium Series are trending at $321 on the secondary market.
The next most expensive game also includes the Penguins. The February 11 game has a current average asking price of $230. The series, dubbed the "Battle of Pennsylvania," dates to 1967 and the Flyers hold a 174–122–30 series advantage. TicketIQ.com has seats available in the upper deck starting at $139 and in the lower bowl starting at $222, all with the company's Low Price Guarantee. Should either the Pens or the Flyers be in the hunt for a post-season spot, either of these games could see a spike in ticket prices.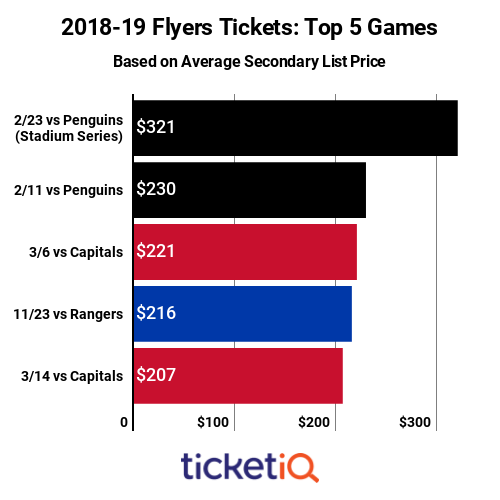 Real-Time Ticket Data & Listings: