Entering their 22nd NHL season, and despite their first round playoff elimination, demand for Predators tickets are as high as ever. At an average price of $228 on the secondary ticket market, prices for home games at Bridgestone Arena are at an all-time high.
🎟Visit TicketIQ For Low Price Guarantees on Predators Tickets 🎟
🏟️ Visit TicketIQ Blog for Bridgestone Arena Seating Chart Breakdown
Where To Buy 2019-20 Predators Tickets
How Much Are 2019-20 Predators Tickets
The top five most expensive games on the secondary market
Nashville Predators 2018-19 Ticket Market Overview:
Two seasons after getting to the first Stanley Cup Final in franchise history, Nashville Predators tickets remain in high demand. Predators tickets are the most expensive since TicketIQ.com began tracking data in 2011. Below is how Predators tickets stack up against the secondary market across the NHL. As you can see below, 2018-19 Nashville Predators tickets are up about 27% percent against last season. The Preds are coming off a season during which they won the Central Division and Western Conference. In 2016-17, when they got to the Stanley Cup, they finished the regular season fourth in the Central.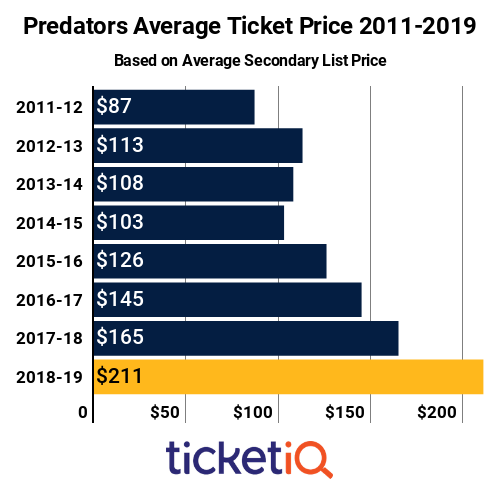 Where to Buy Tickets:
With a $211 average asking price on the secondary market, Predators tickets are the fifth most expensive in terms of price in the NHL -- up from No. 10 last season, when the average asking price was $165. The Toronto Maple Leafs are ranked No. 1 with a $332 average asking price. Predators season tickets are sold out, though fans can join the "Smashville Select" waiting list or opt for a mini plan, which includes tickets to a limited number of games as well as a concert at Bridgestone Arena. Single-game tickets are available through Nashville's ticket partner Ticketmaster, though most available tickets are resale tickets. For the home opener on October 9 against Calgary, Ticketmaster has secondary market tickets in the 300 sections starting at $65, and primary market tickets in the same sections starting at $79.
Top 5 Games on the 2018-19 Nashville Predators Schedule:
The game with the highest average asking price on the secondary market is the December 29 affair with the New York Rangers, which is trending at $313. The secondary market get-in price for that game is $110. The Rangers game is also one of handful that the Preds identify as a "Golden Game," which are only available on the primary market by purchasing the "Golden Pack" mini plan. On the secondary market, TicketIQ.com has limited seats available, including Row H, Section 107 for $315. The teams have played 26 times since the Preds entered the league in 1998-99, and the Rangers hold a 12-11-1 series advantage. Games have often been nasty affairs, and there's little reason to expect anything different this time around. The next four most expensive games are $306 vs. Toronto on March 19, $302 vs. Chicago on April 6, $297 vs. Philadelphia on New Year's Day, and $295 vs. Dallas on December 27.