Washington Capitals 2018-19 Ticket Market Overview
A year after winning the first Stanley Cup in franchise history, demand for Washington Capitals tickets is on the rise. Below is how Capitals tickets stack up on the secondary market across the league. As you can see below, 2018-19 Capitals tickets are up 15% compared to last season, and are the second most expensive since 2011, when secondary ticket marketplace TicketIQ.com began tracking data. The most expensive ticket of the decade was $145 for the 2016-17 season, the second of three consecutive seasons that the Caps won the Metropolitan Division. Washington lost in the second round of the playoffs in both 2015-16 and 2016-17.

Where to Buy Tickets:
With a $144 average asking price, Capitals tickets are ranked No. 13 across the NHL -- as compared to No. 20 last season. The priciest ticket in the league this year is for the $332 for a Toronto Maple Leafs home game. Capitals season tickets are available through the team website and season tickets holders get access to Club Red 365 events, a discount on seller fees when reselling tickets through Ticketmaster, and a 20 percent discount on team merchandise. Single-game tickets are available through partner Ticketmaster for most games, though primary market tickets are sold out for the October 10 Stanley Cup rematch against the Vegas Golden Knights. Tickets for that game are available through TicketIQ.com, including $47 for a seat in the upper mezzanine and seats behind the team benches in Section Main Concourse 100 starting at $186.
Top 5 Games On The 2018-19 Capitals Schedule:
The most expensive game of the season isn't the Stanley Cup rematch, but rather the October 3 Bruins at Caps game, which is trending at $485 a ticket, making it the fifth most expensive game in the NHL this season. The average asking price has nothing to do with the opponent -- October 3 is not only the home opener, but the Caps will raise the Stanley Cup banner that night. The team did not offer any discount tickets for this game, and as enthusiasm mounts and the date gets closer, prices will likely rise. TicketIQ.com has seats available, including many with the company's Low Price Guarantee, throughout the arena for the game. The next four most expensive range in price from $176-$186 on the secondary market, and are, in order: March 24 against Philadelphia, February 24 against New York, December 27 against Carolina and February 3 against Boston.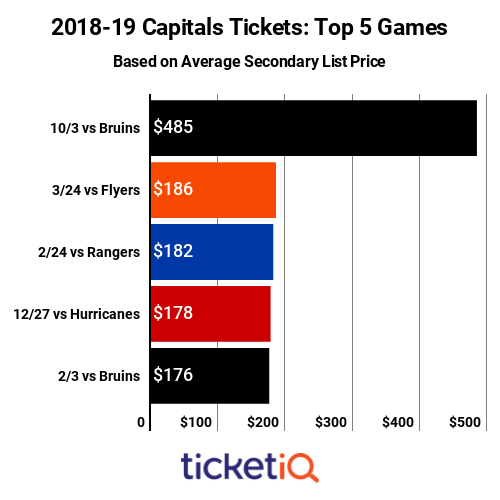 Real-Time Ticket Data & Listings: