Boston Bruins 2018-19 Ticket Market Overview:
The Boston Bruins didn't make too many changes following a second-place finish in the Atlantic Division, and demand for tickets is down, though the average asking price on the secondary market is the fourth highest since TicketIQ.com began tracking data in 2011. The team announced sweeping increases -- by as much as $11 per seat -- during the offseason, which could account for the depressed demand on the secondary market. Below is how Bruins tickets stack up against the secondary market across the NHL. As you can see below, 2018-19 Boston Bruins tickets are down just over 26% against last season. The most expensive ticket since 2011 was a $250 average last season, followed by a $223 average in both 2013-14 and 2014-15. Boston won the Atlantic in 2013-14.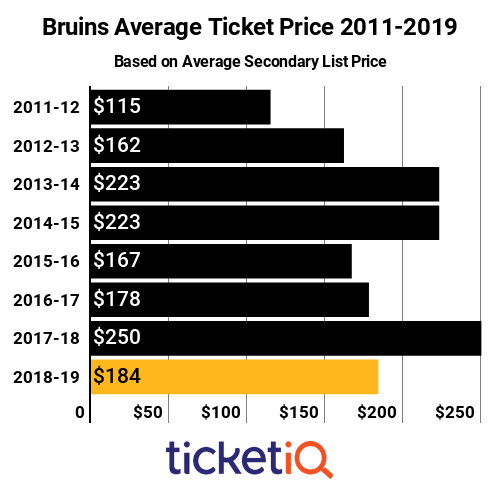 Where to Buy Tickets:
Bruins tickets have an average asking price on the secondary market of $184, good enough for No. 6 in terms of price across the NHL. Boston had the third most expensive ticket last season. The Toronto Maple Leafs are ranked No. 1 with a $332 average asking price. Bruins season tickets have long been sold out, but fans can join the priority waiting list for a $100 non-refundable deposit per seat. Single-game tickets are available through the team's partner, Ticketmaster. Primary market tickets are sold out, but verified resale tickets area available. TicketIQ.com also has a wide selection of secondary market tickets available for all games at TD Garden, including seats for the October 27 Montreal Canadiens game in Loge 1 right behind the team benches, starting at $413.
Top 5 Games On The 2018-19 Boston Bruins Schedule:
That Canadiens game is trending as the most expensive of the season, with an average asking price of $334 through secondary ticket marketplace TicketIQ.com. Considered one of the greatest rivalries in sports, the Bruins and Canadiens have played 919 times dating back to 1924. The Bruins are currently on a four-game series win streak. Among the highlights of the often heated rivalry were the 1970s, when Scotty Bowman was building a dynasty in Montreal and Don Cherry's lunch-pail gang was winning in Boston.
Last year, the rivalry was fanned when the Bruins fired coach Claude Julien in February, only to watch Montreal hire him. Julien will return to the Garden and it's a pretty good bet that prices will continue rise as the game gets closer. Only one other game on the schedule has broken the $300 barrier -- the November 11 meeting against the upstart Vegas Golden Knights, the first expansion team to get to a league championship game in its first season. The current average asking price for that game is $308. TicketIQ.com has tickets to both games available, including many with the company's Low Price Guarantee.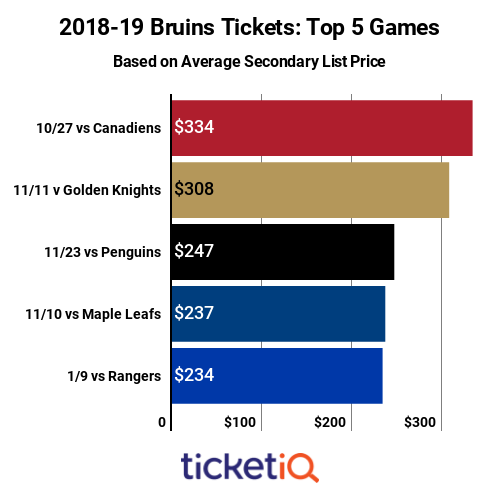 Real-Time Ticket Data & Listings: