New York Rangers 2018-19 Ticket Market Overview:
After a last-place finish in the Metropolitan Division and some key changes during the off-season, demand for Rangers tickets is slightly down over last season, but the asking price on the secondary market is third highest since TicketIQ.com began tracking data in 2011. Below is how Rangers tickets stack up against the secondary market across the NHL. As you can see below, 2018 New York Rangers tickets are down 3%. The most expensive ticket of the decade was $318 in 2016-17, followed by $270 last season. Though the Rangers finished fourth in the Metropolitan in 2016-17, they were coming off a season that ended in the conference finals. The previous season, New York made it to the Stanley Cup Final, where they lost to the L.A. Kings.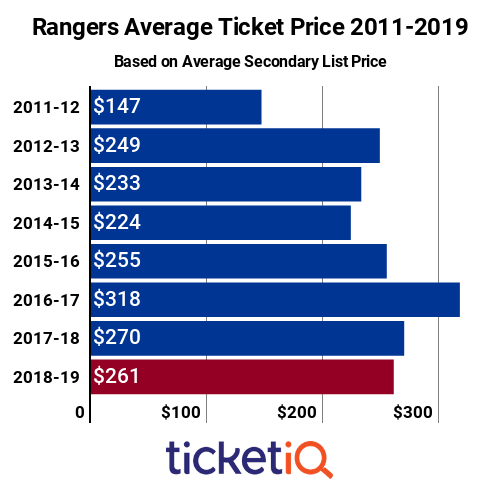 Where to Buy Tickets:
With a $261 average asking price, Rangers tickets are ranked No. 4 in terms of price across the NHL. The Toronto Maple Leafs are ranked No. 1 with a $332 average asking price. Season tickets are available through the team, and fans can purchase full or half season packages. With either, ticket holders get priority access to post-season tickets and discounts at MSG team stores. Single-game tickets are available through the team's primary market partner, Ticketmaster, and are available for all 44 home games, including the October 4 season opener against Nashville. The primary market get-in price for that game is $135 for a seat in Section 413, high about the goal.
5 Most Expensive Games On The 2018-19 New York Rangers Schedule:
Each of the five most expensive games of the season will cost fans an average of more than $300 for a seat at Madison Square Garden. The two priciest games of the season currently have average asking prices just $1 apart -- $373 for the November 24 Washington Capitals game and $372 for the December 23 Philadelphia Flyers game. Both matchups feature long-time rivals. The Caps enter the game as defending division champs. TicketIQ.com has tickets to both games available, including many with the company's Low Price Guarantee. If any of the three teams get off to a good start, and enthusiasm builds, prices for both games could increase.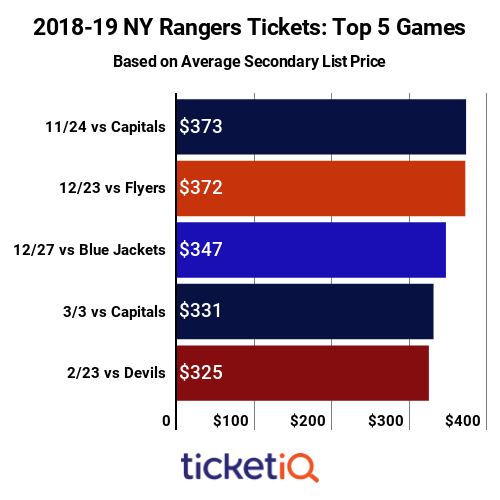 Real-Time Ticket Data & Listings: