With the World Series heading to Los Angeles for Game 3 on Friday, the Red Sox hold a 2-0 series lead and demand for tickets at Dodger Stadium is sliding. According to TicketIQ.com, the average asking price for the first game at Chavez Ravine is down 28% since the end of Game 2, making it the second cheapest average since TicketIQ.com began tracking data in 2011. The current average asking price is $884, better only than the $763 in Detroit in 2012.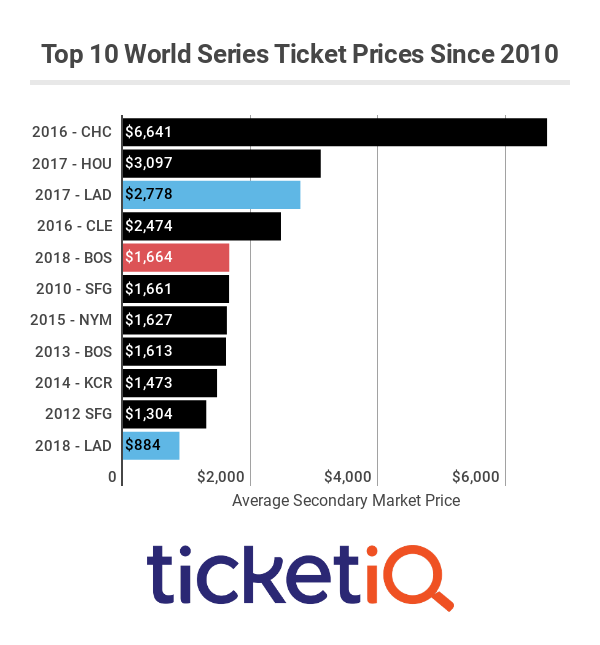 For comparison, with two games already played at Fenway Park, the average in Boston is $1,664, which checks in at No. 5 by price for the decade. In terms of individual games, the get-in price for Game 3 is down 35% to $371 from a high of $680 on Oct. 20. Games 4 and 5 (if needed) have dropped 20% and 23%, respectively.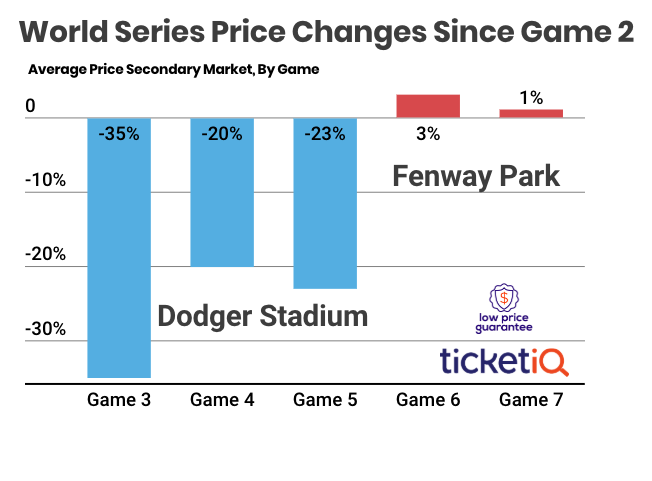 The Dodgers are hosting World Series games for the second consecutive year, after losing to Houston in 2017. The $884 average asking price is 68% percent below last season's average of $2,778, though that number was inflated because the Dodgers hosted Game 7.
The last time the Los Angeles Dodgers and Boston Red Sox met in the World Series, Babe Ruth and Casey Stengel were on the rosters, television had not yet been invented, there were only 16 Major League Baseball teams and the Dodgers weren't even in Los Angeles. What a difference a century makes.
Despite all of that, prices for tickets in LA are down 54% from last year when the Dodgers took on the Houston Astros in the 2017 World Series. According to TicketIQ.com, the average asking price for tickets to the three Dodger Stadium games is $1,290, which ranks No. 10 since TicketIQ.com began tracking data in 2011. Last season, the average was $2,778 for a seven-game series with four games (including Game 7) at Chavez Ravine. Historically, the most expensive World Series game is Game 7.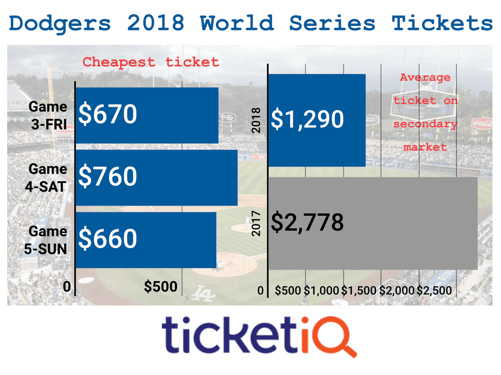 Los Angeles will host Games 3, 4, and 5 (if needed) beginning Friday, October 26. The priciest of the three, according to TicketIQ.com, is currently Game 4, which has an average asking price of $1,369. The next most expensive is Game 5 at $1,326, followed by Game 3 at $1,175. The get-in price of all three games falls between $659-$760.
The overall average asking price for all seven games of the series is $1,676 and the average asking price for the games at Boston's Fenway Park is $1,965. There are 7,500 or fewer tickets remaining at Dodger Stadium for each game. With a capacity of 56,000, it is the biggest stadium in MLB. Built in 1962, Dodger Stadium is the third oldest in baseball, behind Fenway (1912) and Chicago's Wrigley Field (1914).
TicketIQ.com has seats available at all three games at Dodger Stadium, including many with the company's Low Price Guarantee. Among the available tickets are seats in the stadium's Lexus Dugout Club, behind home plate and extending from dugout to dugout, starting at $5,610 for Game 3. Considered one of the most exclusive seats in baseball, Lexus Dugout Club tickets include complimentary access to the Levy restaurants buffet, private restrooms, complimentary programs, and in-seat food and beverage service, among other perks.
A more affordable option is a seat in Row Z of the Coca-Cola AYCE Pavillion in right field for Game 4, which has a current average asking price of $778. These tickets include all-you-can-eat Dodger Dogs, nachos, popcorn, peanuts, Coke products and water.