Packers 2018 Ticket Market Overview:
The Green Bay Packers start the regular season with a bang on Sunday, hosting regional rivals Chicago. Below is how Packers tickets prices stack up on the secondary market across the league. As you can see below, Packers tickets are down 5%, but even with the drop, are the fourth most expensive since 2011, and the 7th most expensive in the NFL this season. The most expensive average price for a second for the Packers this decade was in 2016, when the Packers won the NFC North and got all the way the conference championship before losing to Atlanta.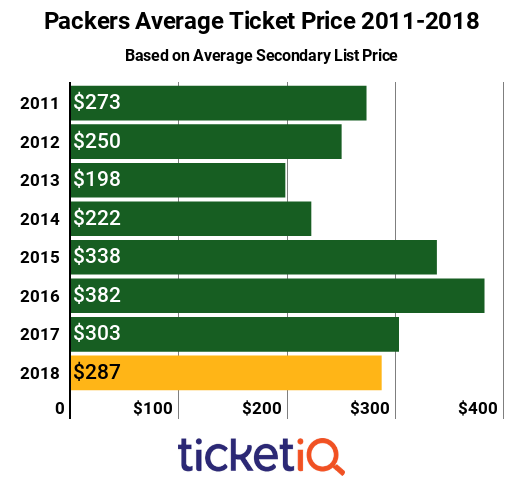 Where to Buy Tickets:
Though tickets are cheaper than they were last season, Packers tickets are the No. 7 most expensive in the NFL. Tickets to Packers games are always a challenge – the team has long been sold out of season tickets and the waiting list is reportedly more than 100,000 people and 30 years long. According to the Packers website, the team has been sold out since 1960, but fans can get on the waiting list here. Standing-room only and seats in the far upper decks are available in very limited quantity for most games through Ticketmaster, the team's primary market vendor. On the secondary market, the average asking price this season is $287, and seated tickets are available for all games through secondary ticket marketplace TicketIQ.com.
Prices For Each Game on 2018 Packers Schedule:
No surprise the most expensive game of the season will be the September 16 Minnesota Vikings game. The longtime rivals are less than a five-hour drive away, and fans from both teams relish this meeting. The average asking price on the secondary market for the Vikings game is $481 and, there are no primary market seats available. Thought it's an early season game, prices could rise as fans begin catch NFL fever.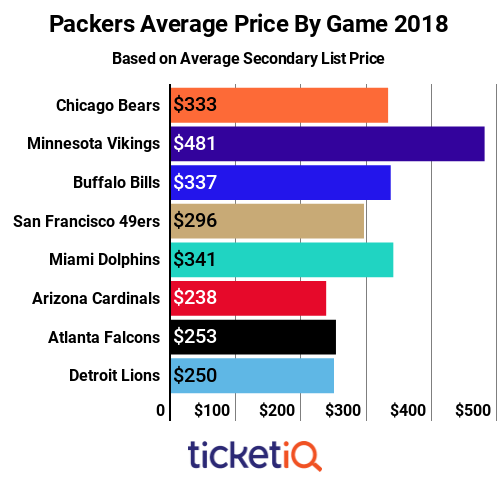 Real-Time Ticket Data and Listings: