The New York Islanders may have lost John Tavares via free agency this summer, but it's still worth checking out a game in Brooklyn or Long Island this season. While wins may not be the easiest to come by, you'll still be able to see some exciting players at a great price.
Since the 2011-12 season, the average Isles ticket price has paralleled the team's success. From a starting point of $52 when the team posted a dismal 34-37-11 record, prices peaked at $157 in 2015-16; unsurprisingly, that season saw Tavares carry the Islanders to their first playoff series victory since 1993. Since then, however, prices have tailed off, making this season's average get-in price of $102 the lowest since 2013-14. That average even includes the team's 20 regular season games at the updated Nassau Coliseum, which will have a higher demand than an ordinary regular season match-up.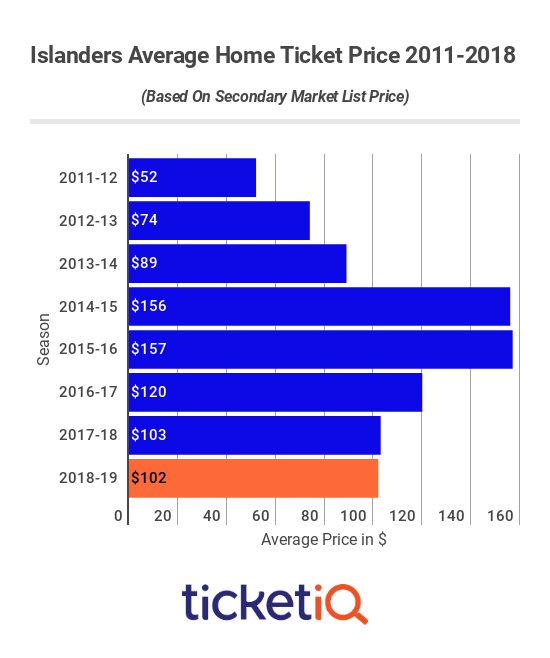 Despite that pricing trend, though, there are still some reasons to check out the Islanders this season. Last year Mathew Barzal burst onto the scene notching 85 points in his first NHL season on the way to the Calder Trophy as Rookie of the Year. He'll likely take over Tavares' first line center duties, skating alongside Anders Lee and Jordan Eberle; last year, they posted 62 and 59 points, respectively.
Besides that offensive talent, the Isles have a new boss behind the bench in the form of Barry Trotz. After leading the Washington Capitals to the Stanley Cup, it will be exciting to see what he can do with the Isles young forwards.
Even with tickets averaging $102, it's easy to score a good deal for an Islanders game this season. Want to see the defending Western Conference champion Las Vegas Golden Knights, fresh off their Cinderella run? You're in the building starting at $14. Even a seat for their early season match-up with the New York Rangers starts at $36; when the Isles visit Madison Square Garden less than a week later, the cheapest seats start at $120 each.
This season, however, the Islanders will also make a return to their Long Island roots and play 20 regular season games in the refreshed Nassau Coliseum at NYCB Live in Uniondale. While those games carry a bit of a premium—there's no place like (the team's original) home—you can still score some good deals if you shop intelligently. Tickets to the first regular season game on the Island start at $58, but prices drop as the season progresses. Seats at a Friday night showdown with the Tampa Bay Lightning, for example, begin at $22. Tickets are also still available from the team for most games.
Whether you want to check out some exciting young players or simply want to watch some stars on the opposing team, an Islanders game is a cheap way to score some NHL seats. They won't be in Brooklyn for much longer, so take advantage of the deals while you can!