After their week one loss to Notre Dame, a storm has settled over Ann Arbor and not only their 2018 season, but also the future of the program under Coach Jim Harbaugh. With media outlets are questioning whether Harbaugh can turn around the program he joined 2015, demand for Michigan football tickets is down 31% from 2018. Last year (in part as the result of visits by Ohio State and Michigan state), was the highest price for Michigan Football tickets since TicketIQ began tracking the ticket market in 2011.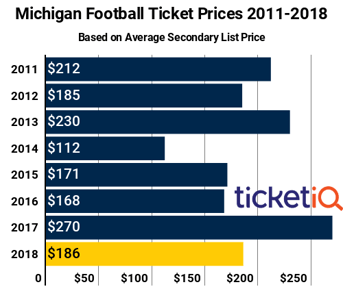 For 2018 in Ann Arbor, the most expensive game is Penn State's visit on November 3rd. The cheapest ticket available on TicketIQ for that game is currently $93. As a point of comparison, the most expensive game in 2017 was Michigan State, which had a 'get-in' of $201.
Unlike Michigan, Penn State finished week one with a win, albeit over Appalachian State (the same team that defeated Michigan in week one of 2007, in what many call the biggest upset in college football history). If Penn State can find a way to make it to Ann Arbor in November unscathed, they might still be ranked in the top 10 in the country, and it could be a chance for Michigan to redeem their season with a big late-season win against a ranked opponent.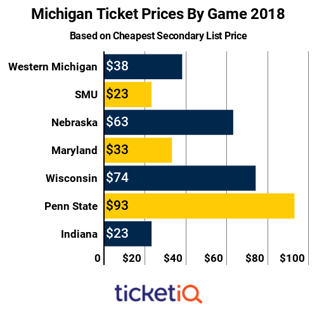 With a combined record of 1–6 against their biggest rivals in Ohio State, Michigan State and Notre Dame, a win in the most expensive game of the season wouldn't be the kind of signature win Wolverine's fan are looking for Harbaugh to deliver. It might, however, be enough to keep Michigan's college football playoff hopes alive, assuming they can rebound from a rough week one to win out. With a home game against Nebraska and a road trip to play Michigan State, that's far from a sure thing. After week one, a lot of fans and pundits (including suspended Big10 Network analyst Braylon Edwards) might call it a long shot.
In addition to the secondary market, there are also tickets available directly from the team for games, including homecoming against Maryland, as the team is advertising on their site (see Thor below). As much as you might want to buy from him for Maryland, the secondary market is about 25% cheaper in the upper endzone seats still available on MGOBLUE.com for $75. For Western Michigan this week, only a few single tickets remain from the team. The game with the most tickets on the primary market by far is the final home game against Indiana. Right now, the secondary market is well below face prices of $65. If Michigan can't rebound to finish competitively, that's not likely to change.