Seahawks 2018 Ticket Market Overview:
The Seattle Seahawks open with two consecutive road games, but when they get home at the end of September -- boom! The home opener is ranked the second most expensive domestic matchup in the NFL this season. Below is how Seahawks ticket prices prices stack up on the secondary market across the league. As you can see, Seahawks tickets are down 9%, making them the fifth most expensive since 2011, when TicketIQ.com began tracking data. Despite the drop in price, at $358 per seat on the secondary market, the Seahawks have the second most expensive tickets in the NFL. Seattle finished second in the NFC West last sea son, and the average asking price continues to ebb the further Seattle gets from its Super Bowl victory after the 2014 season.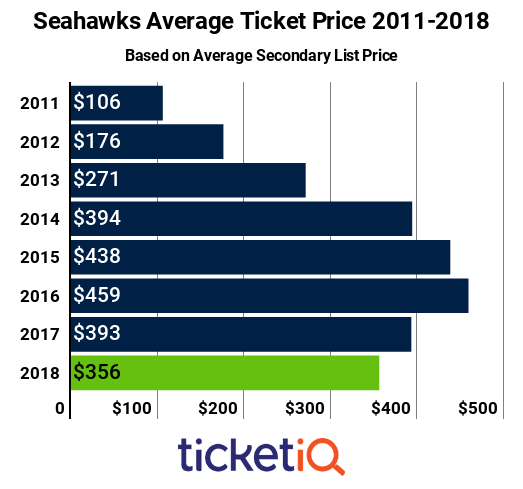 Where to Buy Tickets:
Though ticket prices have been falling, Seahawks tickets are the second most expensive in the NFL this season, behind only the New England Patriots. Seats are still available for most games on the primary market through the Seahawks partner Ticketmaster, but selection is limited, with less than 20 seats in the upper deck left for the Cowboys game and many sold-out sections for other games. On the secondary market, there is a wider selection, including seats behind both the Seahawks and visitors benches for all games. For all games, TicketIQ.com has seats available with the company's Low Price Guarantee.
Prices For Each Game on 2018 Seahawks Schedule:
The Cowboys game is far and away the priciest this season, with an average asking price of $660. Why? The two NFC teams rarely play -- they've met 18 times since 1976 -- and they've met in the playoffs only once. The Cowboys hold a 10-8 series record, though Seattle has won two consecutive. Should the Seahawks start with a bang, demand could push prices for the home opener up.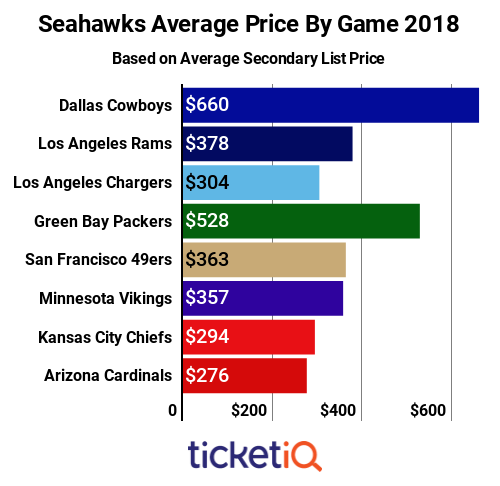 Real-Time Ticket Data and Listings: