Steelers 2018 Ticket Market Overview:
With the Pittsburgh Steelers home opener against the Kansas City Chiefs less than two weeks away, demand for Steelers tickets is up this season. Below is how Steelers tickets prices stack up on the secondary market across the league. As you can see below, Steelers tickets are up 6% over last season, making them the second most expensive since 2011, and the 6th highest in the NFL this season. The most expensive average price for the Steelers this decade was in 2016, when the Steelers won the AFC North before losing to the New England Patriots in the AFC Championship.

Where to Buy Tickets:
With the price increase over last season, a ticket to the Steelers is ranked No. 6 across the NFL. The Steelers have had a waiting list for season tickets since 1972, and fans can join the waitlist here. Single-game tickets are available on the primary market through the Steelers partner, Ticketmaster. Standing-room only tickets are the cheapest available for the first two games of the season, the Chiefs on September 16 and the Baltimore Ravens on September 30. On the secondary market, field-level seats are available for every game, and many through secondary ticket marketplace TicketIQ.com with the company's Low Price Guarantee.
Prices For Each Game on 2018 Steelers Schedule:
The priciest game of the season is the October 7 game against the Atlanta Falcons, which is trending at $489. The Falcons have never won in Pittsburgh and the Steelers hold a 13-2-1 series advantage. The next most expensive – and one for which the price is very likely to rise – is the December 16 New England Patriots game. The Steelers-Patriots rivalry has blossomed since the turn of the century, as both teams have been in the post-season mix and the Patriots have knocked the Steelers out of the playoffs three times. The Steelers are on a five-game skid against New England, and the Patriots hold a 16-15 series advantage. There's no question that if both teams are heading to the playoffs that the current $432 secondary market average asking price will rise.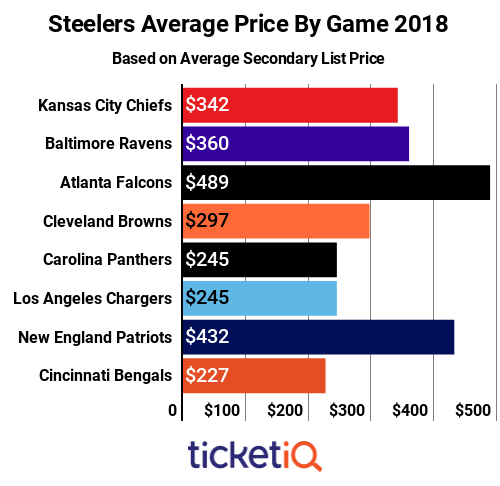 Real-Time Ticket Listings and Prices: