Texans 2018 Ticket Market Overview:
The Houston Texans home opener is set for September 23 against the New York Giants, and demand is high, making the asking price on the secondary market the second highest of the season so far. Below is how Texans tickets prices stack up on the secondary market across the league. As you can see below, 2018 Houston Texans tickets are down 22% compared to last season, and are the least expensive since 2011, when secondary ticket marketplace TicketIQ.com began tracking data. The priciest season in Houston was 2017, when the Texans won the AFC South and got as far as a divisional game before losing to New England in the playoffs.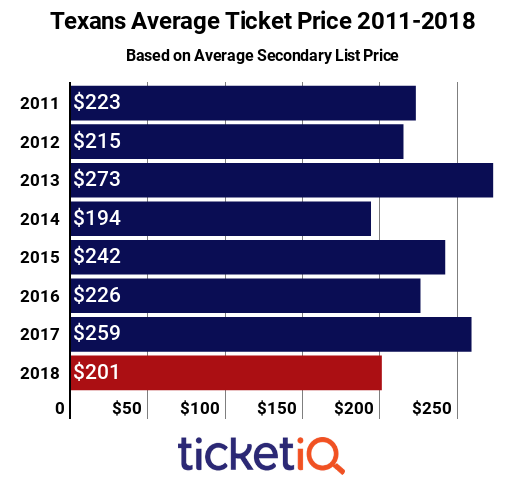 Where to Buy Tickets:
With a $201 average asking price, Texans tickets are ranked No. 20 in terms of price across the NFL. The New England Patriots are ranked No. 1, with a $479 average asking price. The Texans have been sold out of season tickets since 2002, but fans can join the priority waitlist. The only single-game tickets are through the Texans are from ticket partner, Ticketmaster, and are verified resale tickets, which are available for all games. Secondary ticket marketplace TicketIQ.com has season tickets available beginning at $1,326 and single-game seats for every game. The average asking price for all games except the season opener and the October 7 Dallas Cowboys game, is below $171.
Prices For Each Game on 2018 Texans Schedule:
Known as the Governor's Cup, the game between Dallas and Houston is the most expensive of this -- and usually, any -- season. The rivalry dates to 1965, between the then Houston Oilers and the Cowboys. Dallas holds a 25-19 edge, including games against the Oilers and Texans. The teams played in the preseason, also at NRG Stadium, and won, 14-6. The average asking price for the October 7 game is $556, making it one of the Top 15 most expensive games in the NFL this season. The next most expensive game is the season opener against New York, which is trending at $243. Houston opened with a loss against New England, but if it bounces back with a victory at Tennessee Sunday, prices for the Giants game could rise.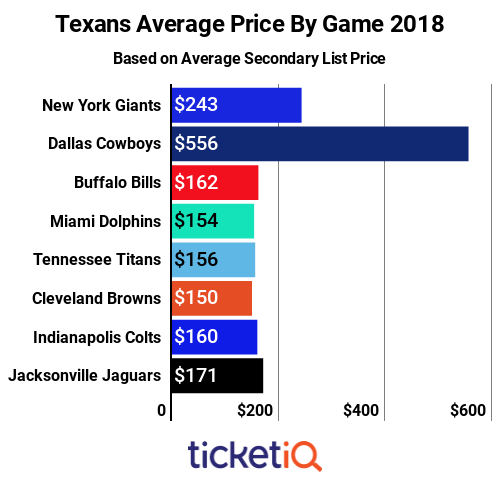 Real-Time Ticket Data and Listings: