They're either the most exciting games of the year or the most nerve-wracking ones: the MLB Wild Card games. After a 162 game marathon, four teams' seasons will come down to one game. And with stakes that high, you can be sure that fans are willing to pay a premium to get into the ballpark. for the Wild Card games and the rest of the MLB playoffs.
In the American League, the match-up is set: the New York Yankees—who managed to look both like one of the best teams in baseball and a shell of themselves within the same season—will most likely host the Oakland A's and the flaming hot Matt Chapman. Given that the game will be played in the Bronx, the tickets will be on the more expensive side; the average price on the secondary market has soared to $403 and you'll have to spend $170 to get into the building.
After some end of season chaos and two tiebreakers, the Chicago Cubs will be hosting the Colorado Rockies at Wrigley Field in the National League Wild Card game. While Chicago fans will surely pack into the stadium on Wednesday night, it looks like they aren't too excited about the match-up. Currently, the Windy City looks like a bargain compared to Tuesday's game in the Bronx.
With under 24 hours until game time, the average price for the N.L. Wild Card game is $188 on the secondary market; the get-in price is $76, down $30 from Monday morning.
As you might imagine, tickets for either game are nearly impossible to find on the primary market, so the secondary marketplace is your best chance to get into the building. You'll also need your smartphone for mobile entry if you decide to take the plunge.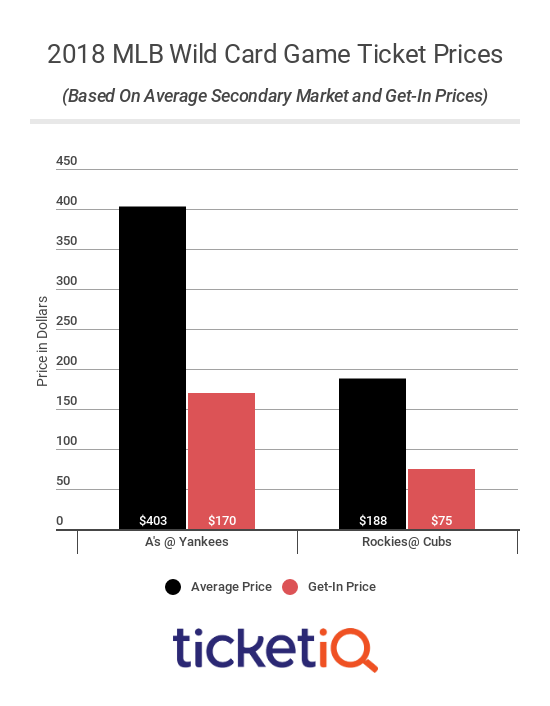 Top 10 Historical Wild Card Games
Looking at historical Wild Card game data, the most expensive games on the secondary market are unsurprisingly those taking place in major markets. Four out of the ten most expensive games feature a home team from either New York or Chicago; potential match-ups including Los Angeles would have also been in the top 10.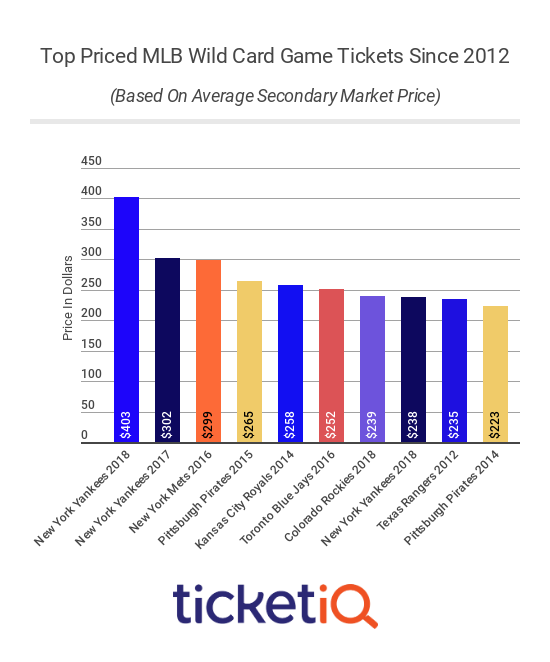 This year's American League Wild Card is the most expensive Wild Card game since 2013, with the average price on the secondary market clocking in at over $400. Fans of the Bronx Bombers are clearly undeterred by the team's struggles in the second half; they'll have to hope the team is able to mimic their magic from last year's postseason.
Surprisingly, though, the Cubs' Wild Card game isn't among the most expensive on record. While that may come down to fatigue from the tiebreaker or the fact that they're playing against a non-divisional opponent, you can be sure that prices won't remain low if the Cubbies continue on in the playoffs.