Talk about a last-second chance to make history. When Case Keenum heaved a 61-yard bomb with no timeouts left and 25 seconds left to play on Sunday, his touchdown pass didn't only catapult the Vikings into the NFC Championship, it sent tickets for that game soaring.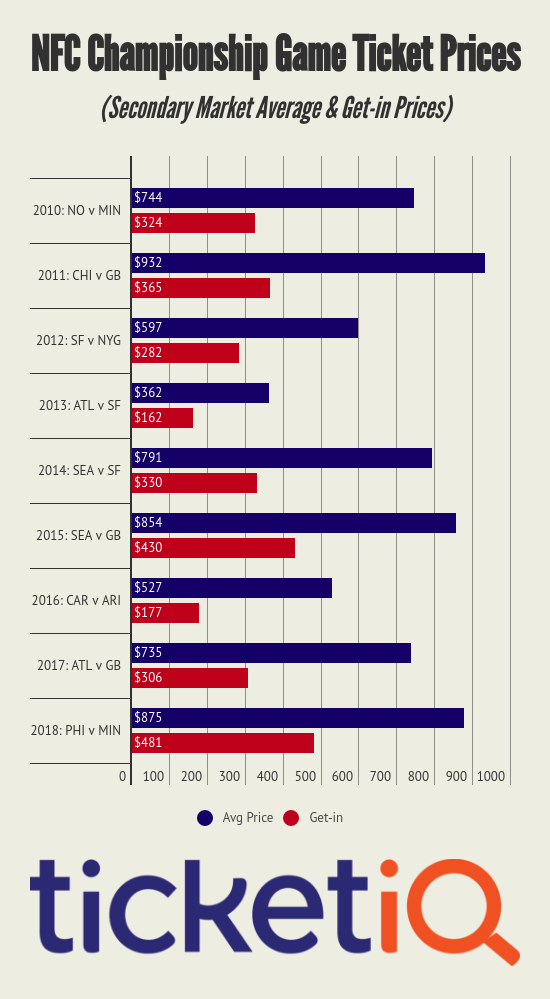 Between the time the Vikings 29-24 victory went final and Monday morning, the average asking price for tickets to the NFC Championship at Philadelphia rose 11 percent to $875, making them the second-most expensive Conference Championship tickets since 2011, according to data from TicketIQ.com. Only the 2011 Packers-Bears game ($932) was more expensive.
Keenum's pass, caught by Stefon Diggs, furthered the possibility that the Vikings could become the first team in NFL history to play in the Super Bowl on their home field when U.S. Bank Stadium plays host to football's showcase event on Feb. 4. But first, the Vikings have to get past the Philadelphia Eagles, 15-10 winners against the Falcons Saturday, for their first shot at an NFC title since 2008, when they lost to Arizona.
Tickets to Sunday's NFC Championship are up 87 percent from the price of a ticket to last weekend's NFC Divisional game and 173 percent over the regular season. Comparatively, the average asking price for tickets to the Jaguars-Patriots AFC Championship game is $805, according to TIcketIQ.com. The get-in price for the NFC Championship on the secondary market is $481, also up 11 percent from Sunday. The average ticket price is the highest for an Eagles playoff game since 2011, when TicketIQ.com began tracking data, by a landslide. The next most expensive ticket was one to last weekend's NFC Division Championship, which averaged $468.
Whether you can spring for a sideline seat or just want to be in the stadium, TicketIQ.com can help. Among the company's Low Price Guarantee listings, 50-yard line tickets behind the Eagles' bench in Section 101, Row 34 for $2,194 or $515 high above the Vikings' sideline in Row 24 of Section 228.