Super Bowl LII is quickly approaching, and TicketIQ is here to cover the ins and outs of everything going on in Minneapolis. From when to buy the cheapest Super Bowl LII tickets to where each A-list party will be, this guide will help fans find their footing at the biggest sporting event of the year.
[embedit cf="HTML9"]
Historical Super Bowl Ticket Price Trend: 2010-2018
Tickets for Super Bowl LII are poised to be the most expensive sports ticket in history. According to data from TicketIQ.com, after exceeding the $9000 mark earlier in the week the average asking price for a seat at the game featuring the New England Patriots and Philadelphia Eagles is now down to $6500. That number far eclipses last year's $5,976 and if prices hold would one of the most expensive tickets in sports history.
Though tickets usually become less expensive as an event gets closer, the trend has been nearly consistently up this year. In fact, on Sunday, ticket prices rose about $700 from before kickoff of the AFC Championship to the end of the NFC Championship. TicketIQ.com data shows over 1,400 tickets remain available on the secondary market for Super Bowl LII as of Jan. 23, so the price is likely to continue to trend upward. In addition, both Patriots and Eagles fans are likely to make the trek to Minneapolis – New England fans to see their team play in a record 10th Super Bowl and Philadelphia fans to see their team try to topple a dynasty in their first Super Bowl appearance since 2004.
[embedit cf="HTML10"]
[embedit cf="HTML17"]
Super Bowl Ticket Quantity Trends
With around 2,000 tickets available in the secondary as of Thursday, prices are likely to move within a band, but are not likely to drop or rise as dramatically as in years past. For fans looking for a last-minute deal, it's means you're likely out of luck, short of a miracle. Last year in Houston had even less secondary than LII, and the cheapest ticket dropped below $2,000 for just a minute before a steady climb up to $3,000 on Friday and $5,000 by game time.
[embedit cf="HTML12"]
5-Year Super Bowl Year Market History To Explain The 2015 Market Blow Up
As covered by TicketIQ Founder Jesse Lawrence is The Daily Beast three years ago, 2015 was a 'busted' market driven by bad bets that prices would fall, as they had almost every year before.
At the peak of the high-supply era, there were 13,000 tickets available in the secondary market. At just around 2,000 tickets available this year, supply appears to be the new demand, and the primary driver of prices. Last year was the second lowest quantity ever on the same date, while prices ticked down over the first weekend, in the final 5 days before thee game, prices increased 60%. The cheapest tickets available las year over the first weekend was $2,200. This year, it's closer to $2,800.
Here's an Infographic narrative of the Super Bowl market for the last 5 years that illustrates what happened in 2015 and what the new market looks like in 2018.
[embedit cf="HTML14"]
Super Bowl LII Ticket Allotment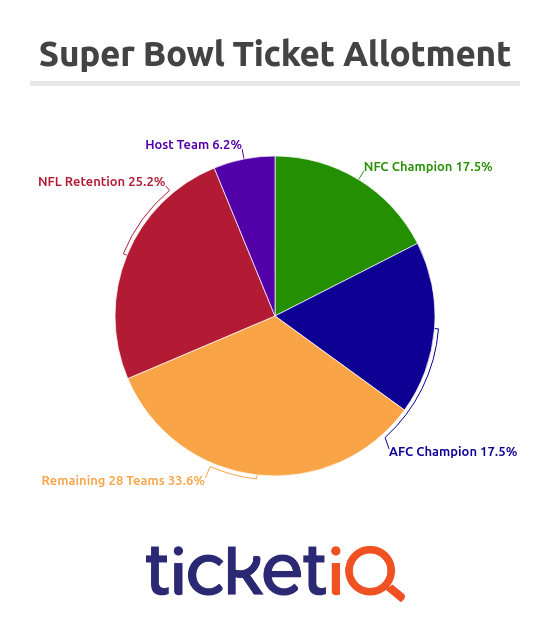 The Best Time to Buy Super Bowl LII Tickets
So, when should you buy Super Bowl tickets? Hard to say, as multiple forces are putting the squeeze on prices this time around. Besides having two marquee teams in the event, the NFL is keeping a tighter rein on tickets available to the secondary market by selling through their own vendor, NFLOnLocation.com and its PrimeSport.com division.
The league also only makes a tiny percentage of tickets available to the general public, with the lion's share going to the competing and host teams. That said, history shows that showing restraint can often result in a better price for a Super Bowl ticket. A drop in ticket prices close to an event is usually the result of unsold resale tickets flooding the market. But given the limited quantity of tickets currently available for Super Bowl LII, that drop may not occur or be as significant this year. Still wondering when to buy? Below are some suggestions for trying to get the best deal:
Monitor the market. Look at prices on the secondary market for Super Bowl LII tickets multiple times per day and pick a price point that you're willing to pay.
For fans waiting to see prices drop for LII, the Eagles flying into Minneapolis will likely mean 2018 prices finish higher than last season. For LI in Houston, the cheapest tickets briefly dipped below $2,000 five days before the game, all with a lower-demand NFC champion in the Falcons. After that, prices rose steadily every day, and on the morning of the game, were over $3,000. By kickoff, prices were as high as $5,000 with almost no tickets available for sale.
Download the TicketIQ app for the best deals on all Super Bowl LII tickets. The TicketIQ app is most transparent ticket app in the marketplace and pools tickets and data from over 90 percent of the resale market, giving fans the best price points on the big game. Save up to 5 percent using the code "NFL" on all ticket listings for the Super Bowl.
[embedit cf="HTML15"]
Zone-by-Zone Pricing on TicketIQ
Getting the best seat for the game is of paramount of importance, whether you want to be able to see the sweat rolling down players' faces or you just want to be in the room. Key to finding a good seat is also finding a good value. As of Jan. 23, the cheapest available seats were in the 300 sections, mostly along the sidelines, with prices starting at $3,675 while seats in the upper end zone started at an asking price of $3,944.
A handful of tickets in the 100-level seats, all in end zone or on the corner, were available for about $5,000. At the other end of the spectrum, there were seats available for five figures, one as high as $50,913 for a suite, while most seats in the lowest section had asking prices between $15,000-$20,000.
Traveling to Minneapolis
Once you've committed to buying tickets to Super Bowl LII, the next step is getting there. Minneapolisisn't reasonable driving distance from either New England or Philadelphia – particularly this time of year.
TicketIQ.com has teamed up with Priceline.com to help fans with their travel. But it ain't gonna be cheap. As of Jan. 22, the average roundtrip airfare available from Boston's Logan Airport to Minneapolis was $910 and the average roundtrip airfare from Philadelphia was $1,170 The average prices from other major cities were: $951 from New York; $780 from Los Angeles; and $652 from Chicago. Those fares assume a Feb. 2 departure and Feb. 5 return. As on February first, both roundtrips are about $1,200. Priceline.com also showed an average hotel rate of $292 for three-star or better accommodations, however, historically hotel prices have risen as an event nears, so securing space should be a priority.
On Location Experiences
Two years ago, the NFL announced a partnership with On Location Experiences, an experiential hospitality business that offers ticket and experience bundles for major sports. What makes On Location Experiences unique is a fan's ability to select their seats as part of their Super Bowl package. After the AFC and NFC Championships, the company also rolled out packages specific to Patriots and Eagles fans, through its PrimeSport.com division. As of Jan. 23, On Location Experiences had sold out of its Premium Experiences Packages, but had the following still available:
Super Bowl LII Ticket + Pregame Party at Eric the Red
Starting at $4,387.50, this package allows fans to select a seat at Super Bowl LII and provides access to one pre-game party, which includes unlimited open bar, high-end tailgate fare and entertainment. The venue is located within the security perimeter of U.S. Bank Stadium.
New England Patriots Super Bowl Packages
Starting at $4,387.50, these packages through PrimeSport.com, include, at a minimum, a ticket to the game and access to one pre-game party. The lowest-level package does not include air/land travel. Packages may be customized to be a one-stop shop, that include roundtrip airfare, hotel accommodations, game tickets, a Patriots-specific pre-game party, game-day ground transportation and more. Fans who already have game tickets can purchase this package without tickets. For fans who don't need transportation to Minneapolis, there are multiple packages that include hotel accommodations, game tickets and game-day ground transportation only.
Philadelphia Eagles Super Bowl Packages
Starting at $4,387.50, these packages through PrimeSport.com, include, at a minimum, a ticket to the game and access to one pre-game party. The lowest-level package does not include air/land travel. Packages may be customized to be a one-stop shop, that include roundtrip airfare, hotel accommodations, game tickets, an Eagles-specific pre-game party, game-day ground transportation and more. Fans who already have game tickets can purchase this package without tickets. For fans who don't need transportation to Minneapolis, there are multiple packages that include hotel accommodations, game tickets and game-day ground transportation only.
Super Bowl Party Tickets
For fans who either have game tickets or won't attend the game but want to soak up the atmosphere, PrimeSport.com has multiple options for party-only tickets, including the Nomadic Live parties at The Armory. The parties, which feature performers Imagine Dragons, Pink and Jennifer Lopez start as low as $900 and include open bar and food service. PrimeSport.com also has standing-room only tickets to the First Annual Players Ball Extravaganza at Nomadic Live at The Armory after the game. Prices start at $1,000 and Diddy, DJ Khaled and French Montana will be among the performers.
Parties in Minneapolis
The Super Bowl isn't just a game – it's a weeklong experience for the senses. Parties and live music make up a large part of Super Bowl week's most popular adult activities. Below is a list and description of key parties.
Maxim Party: Friday, Feb. 2, 8 p.m. at 360 Super Dome
Entertainers Post Malone and DJ Marshmello will headline, but the most interesting feature may be the 306-degree video projection experience at the venue. Besides the expected celebrities, athletes and VIPs, party-goers can check out the exclusive blu Tasting Room with an interactive bar and specialty cocktails. Tickets to this event start at $750.
Rolling Stone Party: Friday, Feb. 2, 9 p.m. at International Market
This well-known party always goes above and beyond. This year, Migos, 21 Savage, and T-Pain will be among the headliners for a party that includes a premium open bar and plenty of appetizers. This party traditionally attracts celebrities and last year, in celebration of the magazine's 50th anniversary, VIPs were chauffeured in Mercedes-Benz cars and there was even a red carpet. Tickets to this party start at $649.
Playboy Party: Saturday, Feb. 3, 9 p.m. at a Pop-Up Venue in Minneapolis
Considered one of the most exclusive events of Super Bowl week, Playboy's parties are known for being over the top. This year should be no exception, as Snoop Dogg will host and, of course, Playboy bunnies will abound. Tickets to this event start at $500.
Other Events
If you want to really get out and experience the Super Bowl, there are plenty of activities throughout the week – many suitable for families. Concerts, the NFL Experience and Super Bowl LIVE are among the highlights.
Club Nomadic Concert Series at The Armory
This venue will host multiple concerts throughout the week, including Imagine Dragons on Thursday, Feb. 1, Pink on Friday, Feb. 2 and Jennifer Lopez on Saturday, Feb. 3 as well as a post-game "Players Ball Extravaganza," featuring Diddy, DJ Khaled and French Montana. Tickets are available for all Club Nomadic Events through PrimeSport.com.
The NFL Experience at the Minneapolis Convention Center
Open to the public Jan. 27-Feb. 3, the NFL Experience is an interactive playground of NFL-themed activities. Suitable for families, the NFL Experience features the same sorts of skills tests the pros participate in, opportunities to take photos with the Vince Lombardi Trophy and plenty of other football-themed activities. Individual tickets start at $35 for the 25th edition of this event.
Super Bowl LIVE at Nicollet Mall, Minneapolis
This free, 10-day fan festival is open to the public Jan. 26-Feb. 4 and will feature live music, life-sized snow globes in which fans can take photos, "Built Ford Tough Sleigh Rides," a freestyle snowmobile demonstration, and, of course, ample food and beverages for purchase.
Public Transportation and Getting around Minneapolis
Never been to Minneapolis? No problem, the city's public transit department will do its best to make the city easy to get around. MetroTransit is offering the $40 "Ultimate Fan Pass," good for unlimited rides Jan. 26-Feb. 5. If you're going to be in town for more than a couple of days, this pass will get you where you want to go at a deep discount. This pass is available to purchase through the MetroTransit app only. Other transit notes:
Game-Day Transit Passes
On game day, due to security issues, regular light-rail service will not be available in parts of Minneapolis, but MetroTransit is offering a $30 "Gameday Fan Express Pass," which will allow ticket-holding fans to go through security at metro stations at the Mall of America (blue line) or Stadium Village (green line) on Feb. 4. While regular light-rail service won't be available, MetroTransit will have bus service instead. The "Gameday" pass is available through the MetroTransit app and is non-transferable.
All-Day Passes
Day passes for all of MetroTransit's services – light rail and bus – are available at kiosks around the city any time. These passes grant unlimited rides from time of purchase until 2 a.m. the following day and range in price from $1-$4.
Parking
There are more than 65,000 parking spots around downtown Minneapolis for Super Bowl-related events, including reserved parking that fans can pre-purchase and pay-as-you-go metered parking. On game day, fans are required to purchase parking for U.S. Bank Stadium in advance. Parking rates start at $25 for a spot about 10 blocks from the stadium, up to $100 for spots about a block outside of the security perimeter.
Dos and Don'ts at U.S. Bank Stadium
As with every Super Bowl, security will be tight and fans will be required to pass through a metal detector before entering the stadium. According to the U.S. Bank Stadium website, fans may carry the following items into the stadium:
Bags that are clear plastic, vinyl or PVC and do not exceed 12" x 6" x 12". Official NFL team logo clear plastic bags are available through club merchandise outlets or at nflshop.com.
One-gallon clear plastic freezer bag (Ziploc bag or similar).
Small clutch bags that are 5" x 7" with or without a handle or strap, may be carried into the stadium along with one of the clear bag options.
An exception will be made for medically necessary items after proper inspection at a gate designated for this purpose.
Factory-sealed plastic bottle of water that is 12 ounces or less
Still-photography cameras with a lens that is 6" or less in length
Hand-carried jackets or blankets which will be searched upon entry
The following items are prohibited:
Any bag larger than 12" x 6" x 12"
Hard sided containers or coolers, briefcases, backpacks, fanny packs, cinch bags, luggage of any kind, computer bags, camera bags and large traditional seat cushions that have pockets*
Glass, cans, aluminum bottles or thermoses of any kind*
Laser pens/pointers
Video cameras or mono/tripods (no spectator cameras with lenses over six inches long will be permitted)
Laptop computers
Umbrellas
Firearms, knives or weapons of any kind
Illegal drugs or substances
Alcoholic beverages
Signs, banners, or flags on poles, staffs or selfie sticks
Televisions
Animals (except service animals to aid persons with disabilities)
Air horns, whistles, cowbells or other distracting noisemakers
Any devices that may interfere with and/or distract any sports or event participant, other guests, audio or audio/visual telecast or recording of the game or event, or any technology-related service provided in the stadium
Projectiles (ie.., Frisbees, beach balls, footballs, etc)
Aerosol cans (ie.., mace, pepper spray, hairspray, etc.)
Fireworks, Confetti or glitter
Obscene or indecent clothing
Balloons
Use of wheeled footwear, skateboards, hover boards and Segways*
Strollers
Outside food*
*Exceptions will be made for those with medical requirements and/or special needs.