Celtics Tickets For Paul Pierce Jersey Retirement Averaging Over $1000 Per Seat
Following a storied 19-year NBA career, the Boston Celtics will pay homage to 10-time All-Star Paul Pierce with a jersey retirement ceremony at Boston Garden. The ceremony will take place following Sunday's game with the Cleveland Cavaliers.
[embedit cf="HTML1"]
According to TicketIQ.com, the current average asking price on the secondary market for a ticket to the game is $1,092 (average sale price is $547), making it the second-most expensive ticket across the NBA this season. Only Kobe Bryant's jersey retirement game, at $1,477, on Dec. 18, 2017 cost more. The third most expensive game this season was the Christmas Day matchup between the Golden State Warriors and the Cavaliers, which came in at $818.
The least expensive ticket available for Sunday's affair is $391.
What's most stunning about the ticket price is how it compares to the average cost of a ticket to see the East-leading Celtics this season. The average seat at Sunday's game will cost 609 percent more than the season average of $154 and is more expensive than a ticket to the NBA Finals at TD Garden in 2010, which ran $494, according to TicketIQ.com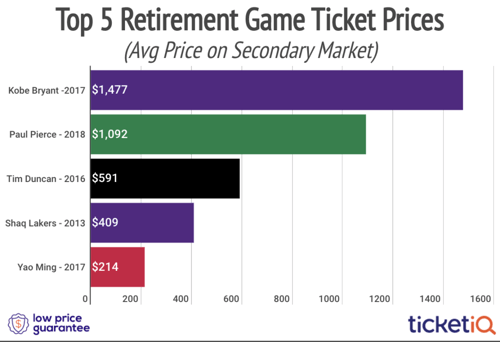 The Celtics sent Pierce to Brooklyn following the 2013-14 season and he went on to spend a season in Washington and two with the Los Angeles Clippers before retiring last summer. He then signed a one-day contract with Boston so he could retire a Celtic.
Planning for the ceremony wasn't without controversy. In January, Boston had planned to honor former Celtic Isaiah Thomas, who now plays for the Cavs. But Thomas was injured when Cleveland visited Boston and asked that the team delay the video tribute. The Celtics acquiesced, however, it is the Cavs who will be the opponent on Sunday and Pierce didn't want Thomas' tribute to overshadow his jersey retirement.
"I'm not saying Isaiah shouldn't get a tribute video … but on Feb. 11, the night I get my jersey retired, I'm not sure I want to look up at the Jumbotron and see Isaiah highlights," Pierce said on ESPN's "The Jump" last month.
The Celtics made Pierce the No. 10 overall pick out of Kansas in 1998 and he went on to play 15 seasons in Boston, winning an NBA Championship in 2008. He was the MVP of that series. The Celtics built their team around Pierce, who was the sole star, until Kevin Garnett and Ray Allen joined the team in 2007. Pierce is the Celtics' all-time leading three-point leader and is one of only three players (Larry Bird and John Havilcek are the other two) to score 20,000 as a Celtic.