After more than 30 albums and five decades on the road, Elton John's "Farewell Yellow Brick Road Tour" marks the touring end of a remarkable music career. And ticket prices on the secondary market reflect just how popular this singer who has all but transcended time really is. For the final leg of the tour, the cheapest ticket for the majority of dates is over $150. The cheapest stops on the final leg of the tour are in early October, for dates in Canada, all of which start under $100. Floor seats are routinely over $500, with the most expensive dates having floor seats over $1,000. The cheapest floor seats on October 1st cost $250 on the secondary market.
🎟️Visit TicketIQ For Sold Out Elton John Farewell Yellowbrick Road Tour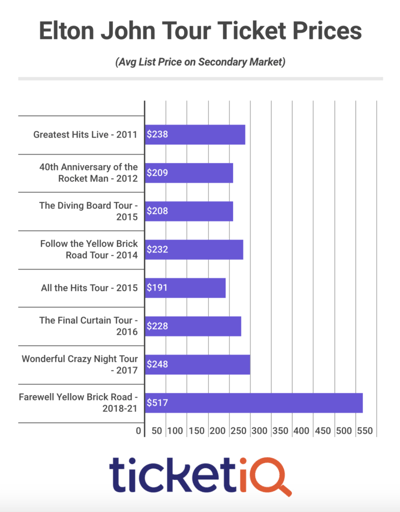 According to TicketIQ.com, the average asking price for John's final tour, which so far is a two-leg affair spanning North America and Europe, are the highest they've been for the last decade – and not just by a little. The current asking price on the secondary market for a seat to a show on the "Farwell Yellow Brick Road Tour," is $517, which is more than double the price of any of John's tours dating back to 2011.
To put that into perspective, John has toured eight times since 2011, and the next most expensive average ticket price behind the upcoming tour was last year's "Wonderful Crazy Night Tour," which checked in at $248. The next three most expensive were 2011's "Greatest Hits Live Tour" ($238), 2014's "Follow the Yellow Brick Road Tour" ($232) and 2016's "The Final Curtain Tour" ($228).Currently, Elton John is in residence at the Colosseum at Caesar's Palace in Las Vegas. His Las Vegas stint, called "The Million Dollar Piano," will end on May 19.
🎟️Visit TicketIQ For Sold Out Elton John Tickets
John's first leg of the final tour began Sept. 8 in Allentown, Penn., and ran through June 30, 2019. It featured four dates in Canada and more than 55 across the U.S. That leg ends in Sunrise, Fla. on March 16, 2019. After an almost two-month break, John will finish the tour in Europe, with multiple dates in Germany, Ireland and Switzerland and single dates in seven other countries. John with then head to Australia in December 2019, South American in March 2020, and has plans to finish off the tour with legs in the UK and Europe in late 2020 and then one final North American leg in 2021. When it's all said and done, the will have over 300 dates.
2018-2019 Elton John Tour Dates
02/09 – Las Vegas, NV @ The Colosseum at Caesars Palace
02/10 – Las Vegas, NV @ The Colosseum at Caesars Palace
02/11 – Las Vegas, NV @ The Colosseum at Caesars Palace
02/14 – Las Vegas, NV @ The Colosseum at Caesars Palace
02/16 – Las Vegas, NV @ The Colosseum at Caesars Palace
02/17 – Las Vegas, NV @ The Colosseum at Caesars Palace
02/18 – Las Vegas, NV @ The Colosseum at Caesars Palace
02/21 – Las Vegas, NV @ The Colosseum at Caesars Palace
02/22 – Las Vegas, NV @ The Colosseum at Caesars Palace
02/25 – Las Vegas, NV @ The Colosseum at Caesars Palace
02/27 – Las Vegas, NV @ The Colosseum at Caesars Palace
03/01 – Las Vegas, NV @ The Colosseum at Caesars Palace
03/02 – Las Vegas, NV @ The Colosseum at Caesars Palace
04/28 – Las Vegas, NV @ The Colosseum at Caesars Palace
04/29 – Las Vegas, NV @ The Colosseum at Caesars Palace
05/01 – Las Vegas, NV @ The Colosseum at Caesars Palace
05/02 – Las Vegas, NV @ The Colosseum at Caesars Palace
05/04 – Las Vegas, NV @ The Colosseum at Caesars Palace
05/05 – Las Vegas, NV @ The Colosseum at Caesars Palace
05/06 – Las Vegas, NV @ The Colosseum at Caesars Palace
05/08 – Las Vegas, NV @ The Colosseum at Caesars Palace
05/09 – Las Vegas, NV @ The Colosseum at Caesars Palace
05/11 – Las Vegas, NV @ The Colosseum at Caesars Palace
05/12 – Las Vegas, NV @ The Colosseum at Caesars Palace
05/15 – Las Vegas, NV @ The Colosseum at Caesars Palace
05/17 – Las Vegas, NV @ The Colosseum at Caesars Palace
05/18 – Las Vegas, NV @ The Colosseum at Caesars Palace
05/19 – Las Vegas, NV @ The Colosseum at Caesars Palace
09/08 – Allentown, PA @ PPL Center
09/11 – Philadelphia, PA @ Wells Fargo Center
09/12 – Philadelphia, PA @ Wells Fargo Center
09/15 – Buffalo, NY @ KeyBank Center
09/16 – University Park, PA @ Bryce Jordan Center
09/19 – Hartford, CT @ XL Center
09/21 – Washington, DC @ Capital One Arena
09/22 – Washington, DC @ Capital One Arena
09/25 – Toronto, ON @ Air Canada Centre
09/26 – Toronto, ON @ Air Canada Centre
09/28 – Ottawa, ON @ Canadian Tire Centre
09/29 – Quebec City, QC @ Videotron Centre
10/04 – Montreal, QC @ Bell Centre
10/06 – Boston, MA @ TD Garden
10/10 – Pittsburgh, PA @ PPG Paints Arena
10/12 – Detroit, MI @ Little Caesars Arena
10/15 – Grand Rapids, MI @ Van Andel Arena
10/18 – New York, NY @ Madison Square Garden
10/19 – New York, NY @ Madison Square Garden
10/23 – Louisville, KY @ KFC Yum! Center
10/24 – Nashville, TN @ Bridgestone Arena
10/26 – Chicago, IL @ United Center
10/27 – Chicago, IL @ United Center
10/30 – St. Louis, MO @ Scottrade Center
11/02 – Columbus, OH @ Schottenstein Center
11/03 – Cleveland, OH @ Quicken Loans Arena
11/08 – New York, NY @ Madison Square Garden
11/23 – Sunrise, FL @ BB&T Center
11/24 – Miami, FL @ AmericanAirlines Arena
11/27 – Orlando, FL @ Amway Center
11/28 – Tampa, FL @ Amalie Arena
11/30 – Atlanta, GA @ Philips Arena
12/01 – Atlanta, GA @ Philips Arena
12/04 – Birmingham, ALL @ Legacy Arena at The BJCC
12/06 – New Orleans, LA @ Smoothie King Center
12/08 – Houston, TX @ Toyota Center
12/09 – Houston, TX @ Toyota Center
12/12 – San Antonio, TX @ AT&T Center
12/14 – Dallas, TX @ American Airlines Center
12/15 – Dallas, TX @ American Airlines Center
01/11 – Boise, ID @ Taco Bell Arena
01/12 – Portland, OR @ Moda Center
01/15 – Fresno, CA @ Save Mart Center
01/16 – Sacramento, CA @ Golden1 Center
01/18 – Oakland, CA @ Oracle Arena
01/19 – San Jose, CA @ SAP Center at San Jose
01/22 – Los Angeles, CA @ STAPLES Center
01/23 – Los Angeles, CA @ STAPLES Center
01/26 – Glendale, AZ @ Gila River Arena
01/29 – San Diego, CA @ Valley View Casino Center
02/07 – Denver, CO @ Pepsi Center
02/09 – Tulsa, OK @ BOK Center