Looking for Chiefs playoff ticket info? Click here.
With a new face of the franchise in Patrick Mahomes and Super Bowl expectations, the price for Chiefs tickets in the secondary market is up over 40% from last season. In addition to one of the biggest jumps in the secondary market, the team also leads the league in tickets available on the secondary market, with close to 50,000 tickets available for sale across all their home games. These huge numbers are likely the result of a market consolidator deal, similar to what the Dodgers did last season. While these deals rely heavily on secondary market distribution, it also means that the team will be keeping tight reins on prices.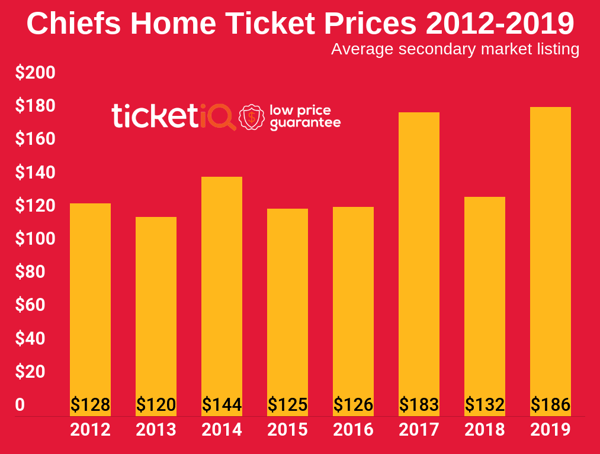 Those high prices will also benefit margin on the primary side, as the Chiefs have about 1,000 tickets available on Ticketmaster.com each game, with prices about 5% cheaper than the secondary market. In addition to maximizing margin, this price advantage also serves to signal the value of buying direct from the team. When it comes to tickets, the Chiefs seem to be having their cake and eating it as well.
CLICK ON THE GAME LINKS BELOW FOR LOW PRICE GUARANTEE TICKETS
TicketIQ is a ticket market place with access to Low Price Guarantees on all NFL tickets. If you find the same ticket for less, we'll give you 200% of the difference in ticket credit. TicketIQ is also the leading source of ticket market data used by major news outlets, like CNBC, Business, Insider, Fox and others. Enjoy the TicketIQ blog for most in-depth coverage of the Vikings ticket market and use TicketIQ.com to save 15% compared to other major tickets sellers.