How To Find Cheap 2022 Dallas Cowboys Tickets + On Sale Info
Where To Buy 2022 Dallas Cowboys Tickets
Primary market face-value tickets generally are available via Seatgeek.
On the secondary market, TicketIQ has Fee-Free Dallas Cowboys tickets which also include a Refund Guarantee. Our Refund Guarantee states that if an event is canceled or deemed unfit for fans to attend, TicketIQ will refund ticket buyers in as soon as 15 days. That means that you can buy from TicketIQ worry-free. Customers on TicketIQ save between 15%-25% compared to other secondary market ticketing sites.
2022 Dallas Cowboys Schedule & Opponents
Home: New York Giants, Philadelphia Eagles, Washington Football Team, Chicago Bears, Cincinnati Bengals, Detroit Lions, Houston Texans, Indianapolis Colts, Tampa Bay Buccaneers.
Away: New York Giants, Philadelphia Eagles, Washington Football Team, Green Bay Packers, Jacksonville Jaguars, Los Angeles Rams, Minnesota Vikings, Tennessee Titans.
Dallas Cowboys 2022 Season Ticket and Partial Plan Options
Season tickets are available at AT&T Stadium on all levels, and fans are required to purchase a "seat option" for many season-ticket choices, including seats in Club Sections and some reserved sections. Seat options are transferable.
Season ticket holders can pay for their Seat Options in a lump sum or through a finance program.
Dallas Cowboys Club Seating and Premium Options
At AT&T Stadium, the best sightlines are from the Club sections, and all Club ticket holders get access to premium lounges with flat-screen televisions and high-end dining options. Club ticket holders also get access to premium parking.
The Cowboys offer multiple Club and Premium options:
Founders All-Access Seating: These seats provide the best sightlines in the stadium, as well as bigger, more cushioned seats. Founders All-Access ticket holders have access to the Field Level Club and Founders Club and the ticket price includes all-inclusive food and beverage as well as complimentary VIP parking.
Premium Club Seating: These seats are also among the best sightlines in the stadium, and seats are bigger and more cushioned. Premium Club ticket holders get access to private clubs and upscale dining, as well as the option to buy premium parking near the stadium.
Loge Seating: These seats are club-style, cushioned seats located in the first six-rows of the upper-level sidelines. The seats offer the best views outside of Club Seats, and fans have the option to purchase premium parking.
Dallas Cowboys Mobile Ticketing
The Dallas Cowboys app is available to download via the App Store or Google Play, and fans can use the app for mobile ticketing, directions to the stadium and interactive maps within the stadium.

How Much Are 2021-22 Dallas Cowboys Playoff Tickets
Tickets to the Cowboys NFC Wild Card Home Game start at $65 for SRO seats. Upper level tickets begin at $140 in section 421, while lower level tickets begin at $353 in section 146. NFC Divisional Home Game tickets start at $94 for SRO, and $279 for tickets in section 424. Lower level tickets start at $681 in section 124. NFC Championship Home Game tickets start at $137 for SRO, and $540 in section 437. Lower level tickets begin at $1,194 in section 146.
How Much Are 2021-22 Dallas Cowboys Tickets
At the Week 13 point in the season, the Cowboys are 8-4 and 1st in the NFC East. The team's attendance rate has been at 93.4% of capacity so far. The average price for Cowboys tickets is $726 and is an increase of 80.6% from 2019. The least expensive remaining game at AT&T Stadium this season is the December 26th matchup against Washington. For this one, tickets start at $70. The most expensive remaining game of the season is the January 2nd game against the Cardinals. For that game, the cheapest ticket starts at $97 for SRO, with the cheapest lower level ticket being $451 for a ticket in section 125.
Dallas Cowboys 2021 Attendance Policy
The Dallas Cowboys will operate at full capacity for the 2021 season.
Dallas Cowboys 2021 Opponents & Schedule
Home: New York Giants, Philadelphia Eagles, Washington Football Team, Arizona Cardinals, Atlanta Falcons, Carolina Panthers, Denver Broncos, Las Vegas Raiders.
Away: New York Giants, Philadelphia Eagles, Washington Football Team, Kansas City Chiefs, Los Angeles Chargers, Minnesota Vikings, New England Patriots, New Orleans Saints, Tampa Bay Buccaneers.
Week 1: Sep. 9 at Tampa Bay Buccaneers (Thu) 8:20 PM NBC
Week 2: Sep. 19 at Los Angeles Chargers 4:25 PM CBS
Week 3: Sep. 27 vs Philadelphia Eagles (Mon) 8:15 PM ESPN
Week 4: Oct. 3 vs Carolina Panthers 1:00 PM FOX
Week 5: Oct. 10 vs New York Giants 4:25 PM FOX
Week 6: Oct. 17 at New England Patriots 4:25 PM CBS
Week 7: BYE
Week 8: Oct. 31 at Minnesota Vikings 8:20 PM NBC*
Week 9: Nov. 7 vs Denver Broncos 1:00 PM FOX
Week 10: Nov. 14 vs Atlanta Falcons 1:00 PM FOX
Week 11: Nov. 21 at Kansas City Chiefs 4:25 PM FOX
Week 12: Nov. 25 vs Las Vegas Raiders (Thanksgiving) 4:30 PM CBS
Week 13: Dec. 2 at New Orleans Saints (Thu) 8:20 PM FOX/NFLN/Amazon
Week 14: Dec. 12 at Washington Football Team 1:00 PM FOX
Week 15: Dec. 19 at New York Giants 1:00 PM FOX
Week 16: Dec. 26 vs Washington Football Team 8:20 PM NBC*
Week 17: Jan. 2 vs Arizona Cardinals 1:00 PM FOX
Week 18: Jan. 9 at Philadelphia Eagles 1:00 PM FOX

How Much Are 2020 Dallas Cowboys Tickets
The average asking price for Dallas Cowboys ticket is up 61% over last season, from $402 to $646 on the secondary market, according to TicketIQ. The average asking price is the highest in the last nine years. Last year's $402 is tied with second for the 2017 season, and the cheapest season cost fans $241 in 2012.
---
TicketIQ is committed to the cheapest tickets possible, and we make much less on sold out tickets compared to other major marketplaces like StubHub and Vivid. That means ticket buyers save from up to 25% on TicketIQ on sports, music and theater. We're able to do this because we also work with teams, venues, and other ticket owners, to help them sell tickets at face price, directly to consumers like you, through Ticketmaster and Seatgeek For an overview of the 2020 NFL Ticket Buying landscape, and details on the cheapest way to get tickets for every team, visit the TicketIQ Blog.
---
Cowboys

2018 Ticket Market Overview
With the first pre-season game week here below is how prices for
Cowboys
tickets stack up on the secondary market across the league. As you can see below,
Cowboys
tickets are down 36%, which is the 4th biggest drop from 2017. That's also the lowest price for Cowboys tickets since 2011, when the
Cowboys
finished 8-8. Last year, amidst sky-high expectation, the Cowboys average ticket price reached as high as $402 in the pre-season, before Ezekiel Elliott's six game suspension, which the team wasn't able to recover from.
Where to Buy Tickets for 2018 Cowboys Tickets
While tickets are cheap this season compared to year's past, there's still almost the 10 most expensive teams in the NFL and remain sold out for most games. For secondary market listings, TicketIQ offers a Low Price Guarantees for all of the games listed below. The cheapest SEATED secondary listing for most games is around $100, while fans can get standing room for $30 directly from Seatgeek,
their new primary ticketing partner for this season.
Prices For Each Game on 2018

Cowboys

Schedule
Not surprisingly, the World Champion Eagles late-season visit is the most expensive game of the year. If the
Cowboys
are in the hunt for the playoffs when the Eagles pay their annual visit, prices for that game are likely to go up. If the Cowboys can return to their 2016 form on the field, they have a reasonable schedule to help the find their way back to the playoffs. Of the 32 NFL teams, the Cowboys rank 15th for strength of schedule across the league. Outside of the NFC East opponents where tickets start above $125, prices drop as low as $69 for seated tickets to non-divisional games. The cheapest ticket available for any game at AT&T stadium is $17 for a standing room only ticket against the Lions, one of the four 2017 playoff teams the Cowboys face at home in 2018.
---
November 9, 2017
Amidst Latest Waves of Turmoil in Dallas, Cowboys Tickets Hold Their Price
Fresh off a three game winning streak, the Dallas Cowboys may be the most recession proof team in the league when it comes to ticket prices.
Win or lose, Dallas Cowboys ticket prices hold steady, a notable feat in an NFL season that has seen its fair share of controversies. Cowboy's owner Jerry Jones is even threatening a lawsuit against the NFL to block the league from handing out a contract extension for commissioner Roger Goodell.
Half way through the season, with 3 loses, the Cowboy's have already dropped as many games they had in the entire 2016 season. Still, Cowboy's tickets on the secondary market are up 31 percent from last season, according to TicketIQ data.
Cowboy's tickets are up 4 percent since the start of a season, with the average prices now reaching $406 on the secondary market.
The Cowboys have also lost their star running back Ezekial Elliot, for the next six games, following a minimum four game suspension, that was handed out before the season started after violating the leagues personal conduct policy. Elliot is currently tied for first in rushing touchdowns with 7, and just 8 shy of leading the league in rushing yards.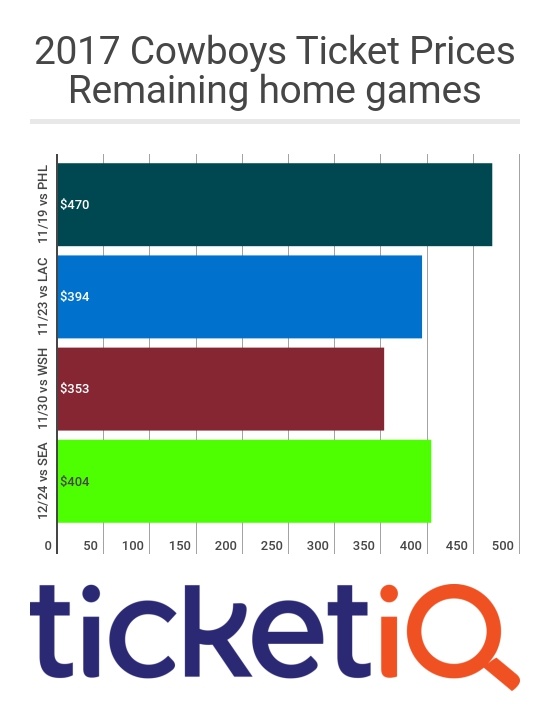 Dallas will face its biggest test of the year in 2 weeks, when it takes on division foe Philadelphia Eagles, at AT&T Stadium on November 19th. With a league leading eight wins, The Eagles are among the favorites the Superbowl, with current odds at four to one. The Cowboys odds to go all the way currently sits at 16-1.
Average ticket prices for the heavily anticipated match-up are going for $470 on the secondary market, with the average get-in price currently at $214. Below are details on all remaining Cowboys games. The get in price for Standing Room Only tickets are $67. You can check out tickets for all four reaming Cowboys home games below:
---
April 21, 2015
2015 Cowboys Schedule: Seahawks Most Expensive, Jets Least Expensive Opponents
Whether Dez Bryant made the infamous catch against the Green Bay Packers during last year's NFC Divisional Game still remains a mystery, but Cowboys fans can take comfort in knowing that their team will be hungrier than ever to return to the postseason in January. The secondary market seems to indicate as much, too, as there will be some high priced Cowboys tickets on the secondary market this season.
The team will play its most expensive game against the Seattle Seahawks in Week 8. Cowboys vs Seahawks tickets have a get-in price of $164, one of four games with a get-in price above $100. The others will feature games against NFC East rivals, the New York Giants and Philadelphia Eagles, as well as the New England Patriots. Dallas will open the season at home on Sunday Night Football against the Giants. Cowboys vs Giants tickets have a get-in price of $100.
The Cowboys last played the Seahawks at CenturyLink Field in October, where the Cowboys inched out a 30-23 win in Seattle. However, the two teams haven't played in Dallas since 2011, and secondary tickets averaged at just $128.40 during the Week 9 game.
Week 15 will bring the least expensive game at AT&T Stadium, a Thursday Night Football Game against the New York Jets. The get-in price for Cowboys vs Jets tickets is just $49, the only Cowboys game with a ticket currently listed under $50.
---
July 3, 2014
Previewing the 2014 Dallas Cowboys Schedule
The Dallas Cowboys continue to be a very talented, yet mediocre football team. They've missed out on a real chance to sneak into the playoffs in three straight seasons, and as they head into 2014 a lack of big moves suggest they won't suddenly figure it out. In fact, an awful 2013 defense will now be without stud inside linebacker Sean Lee, who was lost for the year with a torn ACL.
With the defense in shambles again, Dallas can't be feeling all that great about matchups with the 49ers, Saints, Seahawks, Bears, Cardinals and Colts outside of the division. If Dallas is going to finally get over the hump and get back into the playoffs, Tony Romo and the offense will surely have to be near the top of the league and the 'Boys will have to find a way to win at least half of those tough contests.