2021 Green Bay Packers Playoff Attendance Policy
It was recently announced that the Packers will allow fans at Lambeau Field for their divisional-round game. Attendance will be limited to approximately 6,000 fans. Tickets will not be able to be resold or transferred. All tickets will be mobile tickets.
Tickets will be available for season ticket holders who opted-in during the summer and will go on sale online through Ticketmaster only Tuesday, January 12th. Prices will range from $127 to $177. Seats will be socially distanced in pods of two, four, and six.
---
2020 Green Bay Packers Attendance Policy
UPDATE 8/7: It was announced today that the Packers will not host fans at Lambeau Field for the first two home games this season.
---
On July 21st, the Green Bay Packers announced that if fans are allowed at Lambeau Field this season, it will likely be at a reduced capacity. They also laid out the following safety protocol for fans attending games:
Mobile tickets will be used as the primary method for stadium entry.
Enhanced cleaning measures both on gamedays and non-gamedays.
Hand sanitizer stations present throughout the concourses.
Face coverings will be required unless you are eating or drinking.
All concession and merchandise locations will be cashless.
Food and Beverage sales from the aisles in the general bowl will be discontinued and In-Seat Service will not be available on the Club Level.
Tailgating may be prohibited within Lambeau Field lots.
Season ticket holders were also sent a questionnaire asking whether they would like to opt-in or opt-out of their 2020 season tickets. Ticket holders can either request a refund or apply their 2020 payments to the 2021 season. Regardless of whether they opt-in or opt-out of the 2020 season, All season ticket holders will maintain their status and existing seats for next season. There is a July 31st deadline to complete the questionnaire.
(UPDATE 7/28) The Packers announced that if fans are allowed at Lambeau Field this season attendance will be limited to 12,000.
Where To Buy 2020 Packers Tickets
Green Bay Packers tickets are available for sale on the secondary market as of the 2020 schedule release.
TicketIQ has
Fee-Free tickets
with a
Low Price Guarantee
and
Refund Guarantee
, which states that in the event an event is cancelled or deem unfit for fans to attend, TicketIQ will refund ticket buyers within 15 days. That means that you can buy from TicketIQ worry-free.
Potential Covid-19 Impact On 2020 NFL Schedule
While the schedule release is a much-needed dose of exciting news for all football fans, there are some major questions marks heading into the 2020 season due to the Coronavirus pandemic. While teams know what teams they'll play, that's about all they know. Whether or not the games happen and if fans are able to attend will depend on how the virus is managed over the next 2-3 months. The league has already canceled all of its International Series games, and the league is rightly considering all possible scenarios.
Based on the varying levels of infection in each NFL city and state, it's possible that some teams may be able to host fans at a reduced capacity while others may not. The Dolphins announced a preliminary plan last week, with a 25% of capacity goal. Based on the below NFL Covid-19 Safety Index, the Dolphins fall within the low-risk category, just barely.
To create the Safety Index, we compared the active cases in each city or state to the national average and then discounted that product by Rt. Rt is a measure of how fast the virus is spreading in each city and state, most easily tracked through Rt.live.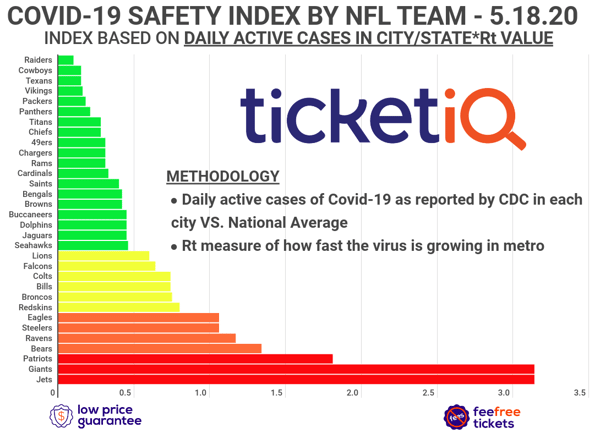 How Much Are 2020 Green Bay Packers Tickets
The $442 average asking price for the defending NFC North champion Green Bay Packers is up 28% on the secondary market over 2019, according to TicketIQ. A Packers ticket is the 11th priciest in the NFL, and above the league average of $390. The most expensive team is the Raiders, who have an average asking price of $1,098.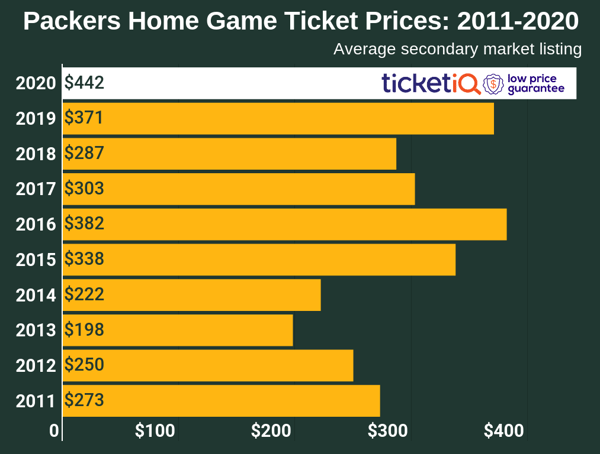 Season Ticket and Mini Plan Options
The Green Bay Packers have extended the payment timetable for season tickets to June 1, and plan to mail season tickets to ticket holders in July. There is a waiting list for Packers season ticket holders. The team also holds an annual Brown County Drawing, which is for local residents. These tickets will only be available digitally.
Green Bay has been sold out for season tickets since 1960, but the team does have a waiting list that fans can join — either for tickets in the stadium bowl or for Club seats — by filling out a form and mailing it to the team.
Club Seating and Premium Options
Lambeau Field has a total of 6,000 Club Seats, 3,000 inside and 3,000 outside. Indoor Club Seats have LG flat-scene televisions and seats with extra cushioning in a climate-controlled lounge. Indoor Club Seats are located in Sections 470-492 and 670-694. Both sections are above the end zone. Outdoor Club Seats are located in Sections 403-435, above the sideline and one level below the Associated Bank Club Level and Atrium.
Club Seats are available only a season-ticket basis. In the past, Club ticket holders have gotten invitations to special events, pre-game sideline passes, access to premium food and beverage, and access to mini camps and training camp.
The team also has suites available for single games, partial-game packages or on a multi-year basis
Packers Mobile Ticket Policy
The Packers issue digital tickets for all tickets sold on the secondary market, through the Brown County Drawing and group sales. Ticket holders can download the Packers app through Google Play or the App Store, and may use the app for entry into Lambeau Field or to buy, sell or transfer tickets. Season ticket holders will be issued hard-copy tickets.
What can you bring into Lambeau Field
Items Allowed in the Stadium:
A clear bag that does not exceed 12 x 6 x 12 inches or a one-gallon, clear plastic bag, additional clothing, blankets, small clutch purses measuring no larger than 4.5 x 6.5 inches (subject to search), small cameras, binoculars and cell phones, Fans may also bring traditional stadium seats with backs and seat pads that do not exceed 18 inches wide and do not have any pockets, zippers or concealable areas.
Prohibited Items:
Firearms and other weapons, bags, backpacks, duffel bags, large purses, fanny packs, coolers, strollers, umbrellas, obstructive banners and signs, food and beverages, noisemakers, selfie sticks, video cameras and still photo cameras with lenses over 12 inches. Additionally, oversized seats or seats with arm rests or other attachments are not allowed.
You can also view a PDF breakdown of their carry-in policy directly from the team here.
---
TicketIQ is committed to the cheapest tickets possible, and we make much less on sold out tickets compared to other major marketplaces like StubHub and Vivid. That means ticket buyers save from up to 25% on TicketIQ on sports, music and theater. We're able to do this because we also work with teams, venues, and other ticket owners, to help them sell tickets at face price, directly to consumers like you, through Ticketmaster and Seatgeek. For an overview of the 2020 NFL Ticket Buying landscape, and details on the cheapest way to get tickets for every team, visit the TicketIQ Blog.
---
How Much Are 2019 Packers Tickets
The Green Bay Packers open the 2019 home schedule against one of their most vaunted rivals — the Minnesota Vikings. Though not the Packers' top rival — that's Chicago — the Vikings generate plenty of interest, and tickets for the home opener are already the second priciest of the season on the secondary market. Below is look at how Packers tickets prices stack up on the secondary market across the league. At an average price of $371 per ticket on the secondary market, Packers tickets are up 18.5% over last season, and are the 2nd most expensive of the decade. Packers tickets are currently the fifth most expensive in the NFL this season. The highest average asking price was in 2016, when the Packers got to the NFC Championship game before losing to Atlanta.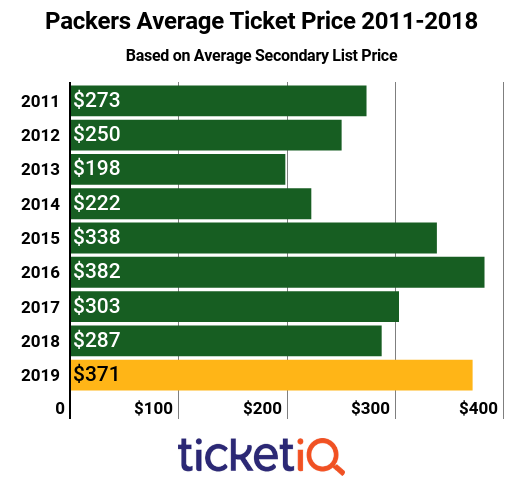 ---
Packers 2018 Ticket Market Overview
The Green Bay Packers start the regular season with a bang on Sunday, hosting regional rivals Chicago. Below is how Packers tickets prices stack up on the secondary market across the league. As you can see below, Packers tickets are down 5%, but even with the drop, are the fourth most expensive since 2011, and the 7th most expensive in the NFL this season. The most expensive average price for a second for the Packers this decade was in 2016, when the Packers won the NFC North and got all the way the conference championship before losing to Atlanta.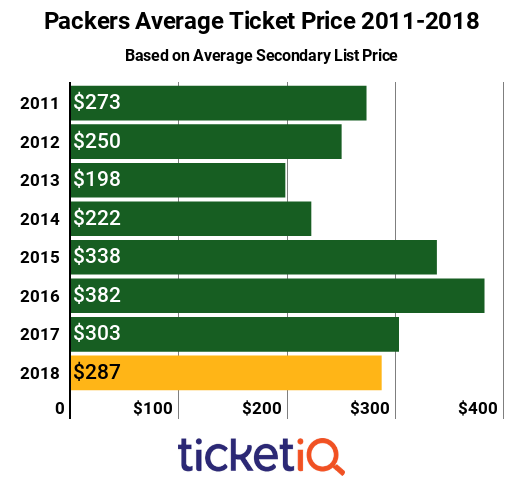 Where to Buy 2018 Packers Tickets:
Though tickets are cheaper than they were last season, Packers tickets are the No. 7 most expensive in the NFL. Tickets to Packers games are always a challenge – the team has long been sold out of season tickets and the waiting list is reportedly more than 100,000 people and 30 years long. According to the Packers website, the team has been sold out since 1960, but fans can get on the waiting list here. Standing-room only and seats in the far upper decks are available in very limited quantity for most games through Ticketmaster, the team's primary market vendor. On the secondary market, the average asking price this season is $287, and seated tickets are available for all games through secondary ticket marketplace TicketIQ.com.
Prices For Each Game on 2018 Packers Schedule:
No surprise the most expensive game of the season will be the September 16 Minnesota Vikings game. The longtime rivals are less than a five-hour drive away, and fans from both teams relish this meeting. The average asking price on the secondary market for the Vikings game is $481 and, there are no primary market seats available. Thought it's an early season game, prices could rise as fans begin catch NFL fever.