Where To Buy 2019 Packers Tickets:
A ticket to Green Bay's Lambeau Field is among the toughest to get in any sport. The team has been sold out since 1960, and according to multiple reports, the waiting list tops 100,000 people and 30 years. Those who want to join the waiting list can do so on the Packers website. But for this season, primary market vendor Ticketmaster is sold out, but does have resale seats available. Tickets for all games are available on TicketIQ.
TicketIQ also has a Low Price Guarantee on Green Bay Packers tickets for all games on their 2019 schedule, in addition to Low Price Guarantees on all NFL tickets, which means that if you find a secondary market ticket for less on a site like Stubhub or Seatgeek, we'll give you 200% of the difference in ticket credit. TicketIQ customers save an average of 5%-20% compared to Stubhub and Seatgeek. Download the TicketIQ app for $20 off your first ticket purchase 📲 🎟️
How Much Are 2019 Packers Tickets:
The Green Bay Packers open the 2019 home schedule against one of their most vaunted rivals — the Minnesota Vikings. Though not the Packers' top rival — that's Chicago — the Vikings generate plenty of interest, and tickets for the home opener are already the second priciest of the season on the secondary market. Below is look at how Packers tickets prices stack up on the secondary market across the league. At an average price of $371 per ticket on the secondary market, Packers tickets are up 18.5% over last season, and are the 2nd most expensive of the decade. Packers tickets are currently the fifth most expensive in the NFL this season. The highest average asking price was in 2016, when the Packers got to the NFC Championship game before losing to Atlanta.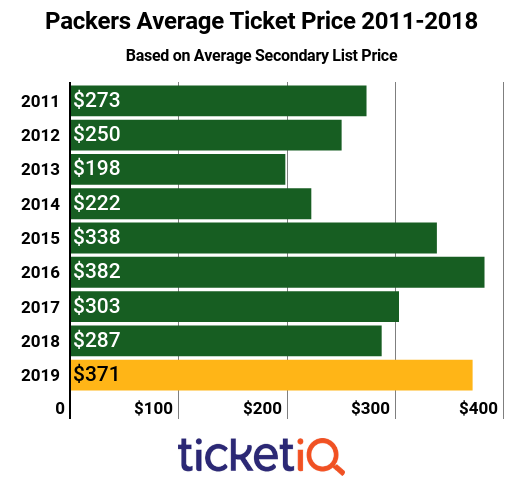 Prices For Each Game on 2019 Packers Schedule:
Currently, the priciest home game of the season is against the Denver Broncos on September 22. The Broncos and Packers play every few years, and this game will be the first meeting since 2015, when the Broncos won at home, 29-10. The average asking price for this game is $508. As noted above, the Vikings game has the second highest average asking price, and at $425, the October 20 game against the Raiders is the only other one with an average asking price of more than $400. Should it look like the Packers have a shot at the postseason, it's good possibility that these prices will rise as the season wears on. The cheapest home game of the season will run fans $256 to see the Washington Redskins on December 8. Get-in prices for each home game can be found below:
How Much Are NFL Tickets:
TicketIQ tracks ticket prices for sold out secondary listings and unsold primary tickets, through Ticketmaster and Seatgeek, the two primary ticketing platforms in the NFL.
| | |
| --- | --- |
| TEAM | 2019 AVG TICKET PRICE |
| New Engand Patriots | $777 |
| Chicago Bears | $538 |
| Denver Broncos | $396 |
| Seattle Seahawks | $387 |
| Green Bay Packers | $371 |
| Dallas Cowboys | $364 |
| Los Angeles Chargers | $348 |
| Philadelphia Eagles | $317 |
| Pittsburgh Steelers | $300 |
| New Orleans Saints | $274 |
| Houston Texans | $269 |
| Oakland Raiders | $262 |
| Minnesota Vikings | $248 |
| Tampa Bay Buccaneers | $246 |
| San Francisco 49ers | $235 |
| Miami Dolphins | $232 |
| Tennessee Titans | $226 |
| Arizona Cardinals | $220 |
| Atlanta Falcons | $218 |
| Los Angeles Rams | $214 |
| New York Giants | $214 |
| New York Jets | $209 |
| Cleveland Browns | $194 |
| Kansas City Chiefs | $186 |
| Washington Redskins | $178 |
| Baltimore Ravens | $167 |
| Carolina Panthers | $161 |
| Detroit Lions | $153 |
| Buffalo Bills | $144 |
| Cincinnatti Bengals | $136 |
| Jacksonville Jaguars | $124 |
| Indianapolis Colts | $105 |
You can check out the rest of our full 2019 NFL Ticket price report here.
What can you bring into Lambeau Field:
Items Allowed in the Stadium:
A clear bag that does not exceed 12 x 6 x 12 inches or a one-gallon, clear plastic bag, additional clothing, blankets, small clutch purses measuring no larger than 4.5 x 6.5 inches (subject to search), small cameras, binoculars and cell phones, Fans may also bring traditional stadium seats with backs and seat pads that do not exceed 18 inches wide and do not have any pockets, zippers or concealable areas.
Prohibited Items:
Firearms and other weapons, bags, backpacks, duffel bags, large purses, fanny packs, coolers, strollers, umbrellas, obstructive banners and signs, food and beverages, noisemakers, selfie sticks, video cameras and still photo cameras with lenses over 12 inches. Additionally, oversized seats or seats with arm rests or other attachments are not allowed.
You can also view a PDF breakdown of their carry-in policy directly from the team here.
TicketIQ is committed to the cheapest tickets possible, and we make much less on sold out tickets compared to other major marketplaces like StubHub and Vivid. That means ticket buyers save from up to 25% on TicketIQ on sports, music and theater. We're able to do this because we also work with teams, venues, and other ticket owners, to help them sell face value tickets, directly to consumers like you, through Ticketmaster, Seatgeek and other primary ticketing platforms.
---
Packers 2018 Ticket Market Overview:
The Green Bay Packers start the regular season with a bang on Sunday, hosting regional rivals Chicago. Below is how Packers tickets prices stack up on the secondary market across the league. As you can see below, Packers tickets are down 5%, but even with the drop, are the fourth most expensive since 2011, and the 7th most expensive in the NFL this season. The most expensive average price for a second for the Packers this decade was in 2016, when the Packers won the NFC North and got all the way the conference championship before losing to Atlanta.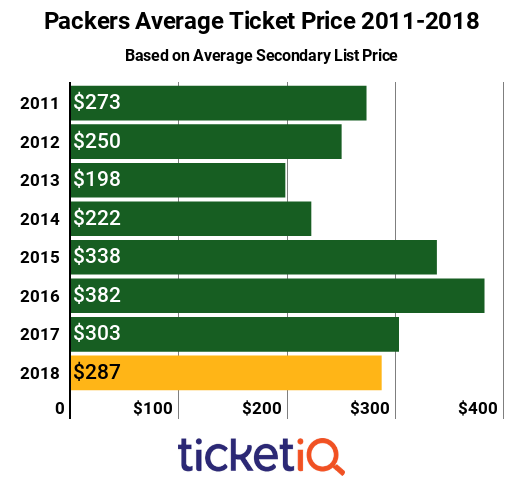 Where to Buy 2018 Packers Tickets:
Though tickets are cheaper than they were last season, Packers tickets are the No. 7 most expensive in the NFL. Tickets to Packers games are always a challenge – the team has long been sold out of season tickets and the waiting list is reportedly more than 100,000 people and 30 years long. According to the Packers website, the team has been sold out since 1960, but fans can get on the waiting list here. Standing-room only and seats in the far upper decks are available in very limited quantity for most games through Ticketmaster, the team's primary market vendor. On the secondary market, the average asking price this season is $287, and seated tickets are available for all games through secondary ticket marketplace TicketIQ.com.
Prices For Each Game on 2018 Packers Schedule:
No surprise the most expensive game of the season will be the September 16 Minnesota Vikings game. The longtime rivals are less than a five-hour drive away, and fans from both teams relish this meeting. The average asking price on the secondary market for the Vikings game is $481 and, there are no primary market seats available. Thought it's an early season game, prices could rise as fans begin catch NFL fever.