Where to Buy The Cheapest 2022 MLB Playoff Tickets
Where To Buy 2022 MLB Playoff Tickets
Primary market face-value MLB playoff tickets for most teams become available via their website, or Ticketmaster after the team clinches a spot in the playoffs.

On the secondary market, TicketIQ has Fee-Free MLB Playoff tickets which also include a Refund Guarantee. Our Refund Guarantee states that if an event is canceled or deemed unfit for fans to attend, TicketIQ will refund ticket buyers in as soon as 15 days. That means that you can buy from TicketIQ worry-free. Customers on TicketIQ save between 15%-25% compared to other secondary market ticketing sites.
Give us your cell phone number or email address for MLB Playoff price alerts and special deals!
2022 MLB Playoff Teams
American League
National League
Why should I buy MLB Playoff tickets on TicketIQ?
TicketIQ has FEE FREE MLB Playoff tickets. Unlike most secondary market ticket sites, TicketIQ has no added fees. That means that the price you see is the price you pay. Because of this, TicketIQ customers save 10-20% on MLB Playoff tickets compared to other secondary market ticket sites.

Customers looking for MLB Playoff tickets will also see a data-driven A to F rating for each ticket deal seen on the TicketIQ platform. This will better inform buyers of MLB Playoff tickets as to the value of the seat in question, letting you choose smartly.

All in all, TicketIQ offers the best deals and the most up to date data on ticket trends. Anyone looking to save money and find premier seating locations for their next game experience should check out TicketIQ.
Are MLB Playoff tickets on TicketIQ guaranteed?
Yes. All MLB Playoffs ticket sales on TicketIQ are guaranteed and you can read our guarantee here, where we ensure you will receive an authentic and valid ticket, and that you will receive your tickets with ample time ahead of the event. You can track the status of your order directly from the TicketIQ account page.

TicketIQ has a rigorous process of screening every seller that lists ticket on our site, and we work with over 1,000 independent ticket sellers, as well as teams and venues that list on our site directly to reach secondary market buyers.

TicketIQ also has an elite seller program, noted with a ribbon icon on the ticket listing, to indicate which sellers are not only reliable, but also have a record of speedy order confirmation and on-time delivery.If any issues arise when you are trying to find your Diljit Dosanjh tickets, please contact us directly, and visit our Contact Us page for all contact options, including our urgent support phone number.
How will I receive my MLB Playoff tickets?
Most MLB Playoff tickets are now delivered via mobile transfer or the MLB Playoffs app using the email used to place your order. You will then pull up your tickets on your phone to have them scanned when you enter the venue. You can also use the MLB Playoffs app to manage and transfer your tickets. ?

Before entering the venue, make sure that you are able to access your MLB Playoff tickets on your mobile device. If you cannot find the tickets on your device, check your email to find detailed instructions on how to proceed. And if there are any issues, contact our customer service representatives for timely assistance.

Make sure that when entering the venue you or someone in your group has a charged mobile device on hand to access tickets so that they can be scanned at the turnstile. To make things easier, most devices allow you to add your virtual ticket to your phone's mobile wallet, which makes the ticket easier to access and also eliminates the issues that could arise if WiFi is slow.
How Much Are 2022 MLB Playoff Tickets
The 2022 World Series has an average secondary market list price of $2,288. Tickets in Philadelphia are significantly more expensive than those in Houston. The current average list price for games in Philadelphia is $3,228, while the average price for games in Houston is $1,584. Below is a look at the secondary market average list price, and get-in price by game for the 2022 World Series:
Avg Price
Get-In Price
Game 1 @ HOU
$1,333
$514
Game 2 @ HOU
$1,370
$566
Game 3 @ PHI
$3,007
$1,433
Game 4 @ PHI
$3,106
$1,474
Game 5 @ PHI
$3,570
$1,720
Game 6 @ HOU
$1,725
$734
Game 7 @ HOU
$1,907
$767
Series Avg
$2,288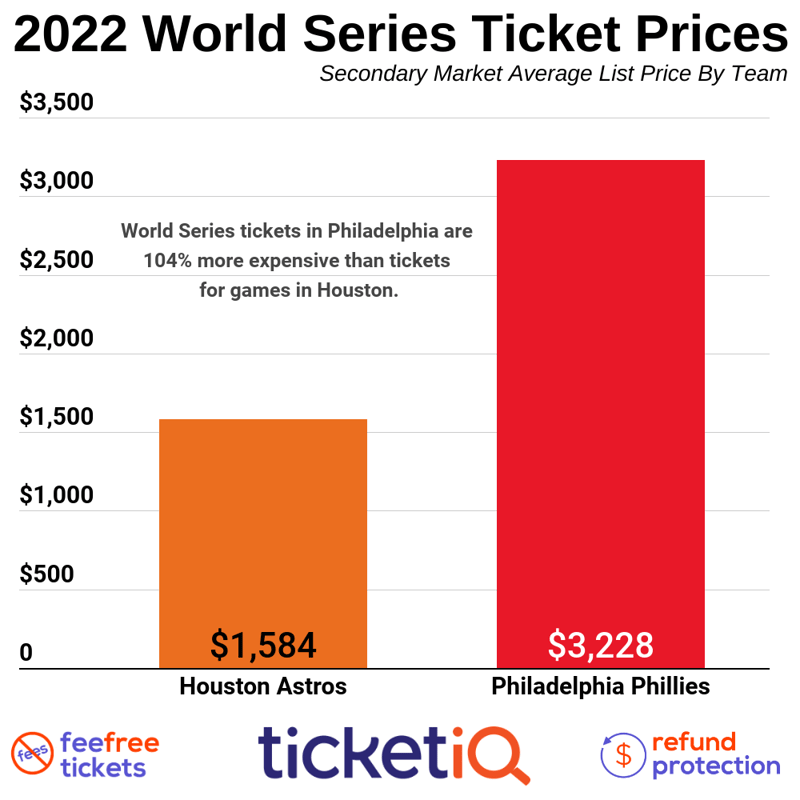 Below is a look at the average secondary market list price and get-in price for each League Championship Series game, as well as the average price by team:
American League
HOU vs NYY
Avg Price
Get-In Price
Game 1 @ HOU
$330
$156
Game 2 @ HOU
$397
$179
Game 3 @ NYY
$449
$152
Game 4 @ NYY
$378
$153
Game 5 @ NYY
$467
$124
Game 6 @ HOU
$530
$192
Game 7 @ HOU
$570
$221
Series Avg
$446
National League
SD vs PHI
Avg Price
Get-In Price
Game 1 @ SD
$487
$207
Game 2 @ SD
$435
$224
Game 3 @ PHI
$542
$279
Game 4 @ PHI
$648
$296
Game 5 @ PHI
$650
$298
Game 6 @ SD
$545
$191
Game 7 @ SD
$982
$349
Series Avg
$613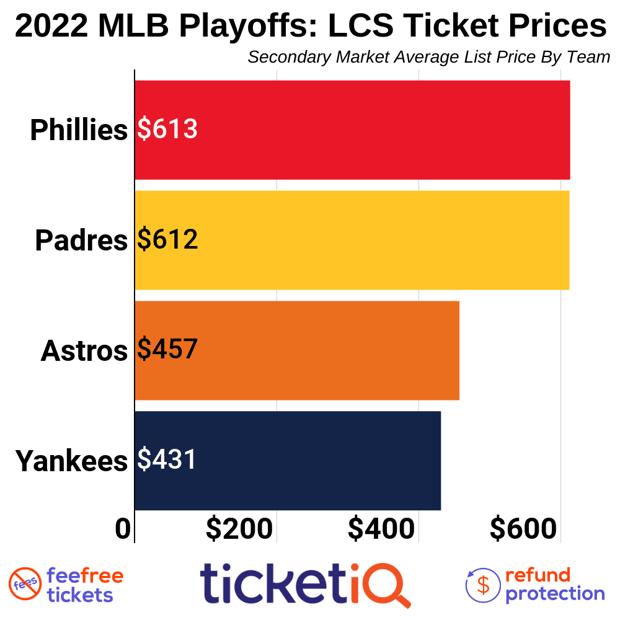 2022 MLB Playoff Schedule
WILD CARD SERIES
American League
Rays @ Guardians
Mariners @ Blue Jays
National League
Phillies @ Cardinals
Padres @ Mets
Friday, Oct. 7
AL Wild Card | Game 1 | Rays @ Guardians | 12:07 PM ET on ESPN
NL Wild Card | Game 1 | Phillies @ Cardinals | 2:07 PM ET on ABC
AL Wild Card | Game 1 | Mariners @ Blue Jays | 4:07 PM ET on ESPN
NL Wild Card | Game 1 | Padres @ Mets | 8:07 PM ET on ESPN
Saturday, Oct. 8
AL Wild Card Game 2 | Rays @ Guardians | 12:07 PM ET on ESPN2
AL Wild Card Game 2 | Mariners @ Blue Jays | 4:07 PM ET on ESPN
NL Wild Card Game 2 | Padres @ Mets | 7:37 PM ET on ESPN
NL Wild Card Game 2 | Phillies @ Cardinals | 8:37 PM ET on ESPN2
Sunday, Oct. 9
AL Wild Card Game 3 | Mariners @ Blue Jays | 2:07 PM ET on ESPN (if necessary)
AL Wild Card Game 3 | Rays @ Guardians | 4:07 PM ET on ABC (if necessary)
NL Wild Card Game 3 | Padres @ Mets | 7:37 PM ET on ESPN
(if necessary)
NL Wild Card Game 3 | Phillies @ Cardinals | 8:37 PM ET on ESPN2 (if necessary)
DIVISION SERIES
American League
Astros vs Mariners
Yankees vs Guardians
National League
Dodgers vs Padres
Braves vs Phillies
Tuesday, Oct. 11
NLDS A, Game 1, FOX or FS1
NLDS B, Game 1, FOX or FS1
ALDS A, Game 1, TBS
ALDS B, Game 1, TBS
Wednesday, Oct. 12
NLDS A, Game 2, FOX or FS1
NLDS B, Game 2, FOX or FS1
Thursday, Oct. 13
ALDS A, Game 2, TBS
ALDS B, Game 2, TBS
Friday, Oct. 14
NLDS A, Game 3, FS1
NLDS B, Game 3, FS1
Saturday, Oct. 15
NLDS A, Game 4, FS1 (if necessary)
NLDS B, Game 4, FS1 (if necessary)
ALDS A, Game 3, TBS
ALDS B, Game 3, TBS
Sunday, Oct. 16
ALDS A, Game 4, TBS (if necessary)
ALDS B, Game 4, TBS (if necessary)
NLDS A, Game 5, FS1 (if necessary)
NLDS B, Game 5, FS1 (if necessary)
Monday, Oct. 17
ALDS A, Game 5, TBS (if necessary)
ALDS B, Game 5, TBS (if necessary)
LEAGUE CHAMPIONSHIP SERIES
American League
National League
Tuesday, Oct. 18
NLCS Game 1, FOX or FS1
Wednesday, Oct. 19
NLCS Game 2, FOX or FS1
ALCS Game 1, TBS
Thursday, Oct. 20
ALCS Game 2, TBS
Friday, Oct. 21
NLCS Game 3, FS1
Saturday, Oct. 22
ALCS Game 3, TBS
NLCS Game 4, FOX or FS1
Sunday, Oct. 23
NLCS Game 5, FS1 (if necessary)
ALCS Game 4, TBS
Monday, Oct. 24
ALCS Game 5, TBS (if necessary)
NLCS Game 6, FS1 (if necessary)
Tuesday, Oct. 25
ALCS Game 6, TBS (if necessary)
NLCS Game 7, FOX and FS1 (if necessary)
Wednesday, Oct. 26
ALCS Game 7, TBS (if necessary)
Friday, Oct. 28
Game 1 (at better record), FOX
Saturday, Oct. 29
Game 2 (at better record), FOX
Monday, Oct. 31
Game 3, FOX
Tuesday, Nov. 1
Game 4, FOX
Wednesday, Nov. 2
Game 5, FOX (if necessary)
Friday, Nov. 4
Game 6, FOX (if necessary, at better record)
Saturday, Nov. 5
Game 7, FOX (if necessary, at better record)