Where To Buy 2020 Tampa Bay Buccaneers Tickets
Tampa Bay Buccaneers tickets are available for sale on the secondary market as of the NFL's 2020 schedule release.
TicketIQ has
Fee-Free tickets
with a
Low Price Guarantee
and
Refund Guarantee
, which states that in the event an event is cancelled or deem unfit for fans to attend, TicketIQ will refund ticket buyers within 15 days. That means that you can buy from TicketIQ worry-free.
Potential Covid-19 Impact On 2020 NFL Schedule
While the schedule release is a much-needed dose of exciting news for all football fans, there are some major questions marks heading into the 2020 season due to the Coronavirus pandemic. While teams know what teams they'll play, that's about all they know. Whether or not the games happen and if fans are able to attend will depend on how the virus is managed over the next 2-3 months. The league has already canceled all of its International Series games, and the league is rightly considering all possible scenarios.
Based on the varying levels of infection in each NFL city and state, it's possible that some teams may be able to host fans at a reduced capacity while others may not. The Dolphins announced a preliminary plan last week, with a 25% of capacity goal. Based on the below NFL Covid-19 Safety Index, the Dolphins fall within the low-risk category, just barely.
To create the Safety Index, we compared the active cases in each city or state to the national average and then discounted that product by Rt. Rt is a measure of how fast the virus is spreading in each city and state, most easily tracked through Rt.live.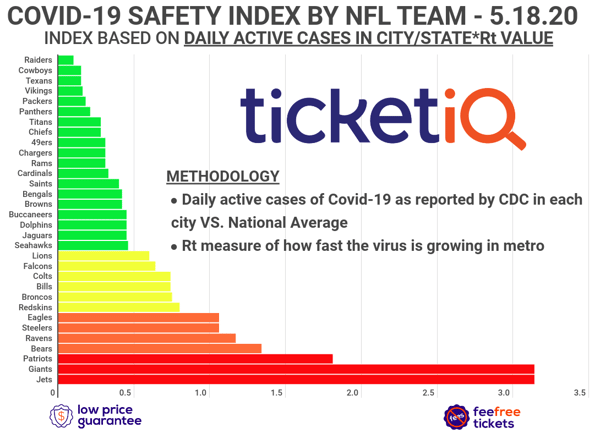 How Much Are 2020 Tampa Bay Buccaneers Tickets
The average asking price for a Tampa Bay Buccaneers ticket on the secondary market has skyrocketed since Tom Brady and Rob Gronkowski joined the team earlier this year. The average asking price is up 128% and is $485, making it the sixth priciest ticket across the league. The priciest seat in the NFL this year will be $1,098 at Las Vegas.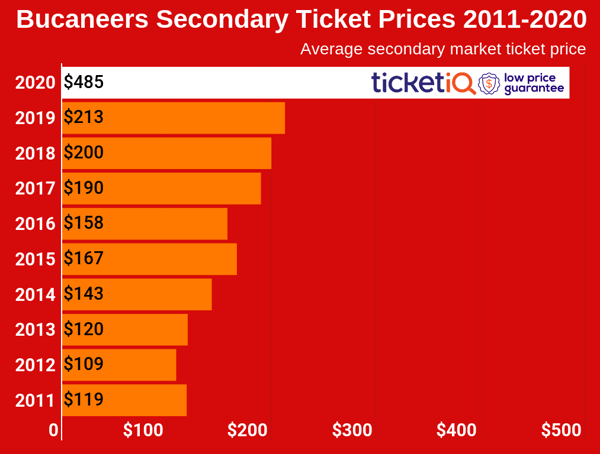 Season Ticket and Mini Plan Options
Buccaneers season passes are currently available, and fans can select their seats via Ticketmaster's virtual venue tool. Seats start at $403 for some Upper Level seats and go up to $3,500 for Hyundai Club seats at the 50-yard line.
All season-ticket holders get merchandise discounts and access to exclusive events. Season tickets can be paid for up front or the Bucs offer financing.
Club Seating and Premium Options
The Bucs and Raymond James Stadium offer a variety of Club options:
East Stadium Club: Located on the 200 Level, this Club was renovated in 2018, and the Bucs bill it as "affordable luxury." Ticket holders also get access to the 10,000-square-foot Bar 76, which has 50 flat-screen televisions, upscale culinary offerings and craft beer. There are 162 televisions throughout the Club, which opens an hour before the game.
Hyundai Club: Billed as the most luxurious Club at Raymond James Stadium, Hyundai Club members get padded outdoor seats as well as access to the Club, which features a giant video wall. Hyundai Club members have access to three bar areas. The Bucs also offer an upgraded experience with seats at the 50-yard line.
Hall of Fame Club: This Club has a 180-degree panoramic view of the field as well as all-inclusive food and non-alcoholic beverages. Located on the east side of the stadium, the Club has retractable glass windows, so ticket holders can enjoy the climate-controlled atmosphere as well as the roar of the crowd.
Row A: Though not technically a Club, the Bucs offer special amenities for those wanting to purchase tickets in the first row on the field level.
Buccaneers Mobile Ticket Policy
The Buccaneers accept mobile tickets only, no paper tickets or screen shots. Fans can download the Buccaneers App onto mobile devices through Google Play or the App Store, and can use the app to enter Raymond James Stadium, or buy, sell or transfer tickets.
---
TicketIQ is committed to the cheapest tickets possible, and we make much less on sold out tickets compared to other major marketplaces like StubHub and Vivid. That means ticket buyers save from up to 25% on TicketIQ on sports, music and theater. We're able to do this because we also work with teams, venues, and other ticket owners, to help them sell tickets at face price, directly to consumers like you, through Ticketmaster and Seatgeek. For an overview of the 2020 NFL Ticket Buying landscape, and details on the cheapest way to get tickets for every team, visit the TicketIQ Blog.
---
Where To 2019 Buy Buccaneers Tickets
For the 2019 season, no team has taken on the secondary market more aggressively than the Tampa Bay Buccaneers. After not renewing thousands of season ticket holders three years ago, the Bucs have been on a path toward market consolidation for some time. Despite a class action lawsuit filed last January, the Bucs appear to be in full assault of the secondary market. Over the last three years, the quantity of Buccaneers tickets available in the secondary market dropped from over 20,000 to under 2,000. As a result of the low quantity of tickets available, 2019 is the most expensive average price for Buccaneers prices this decade. With prices as high as they are on the secondary ticket market, Ticketmaster.com is the best options for tickets to see any of the home games at Raymond James this season.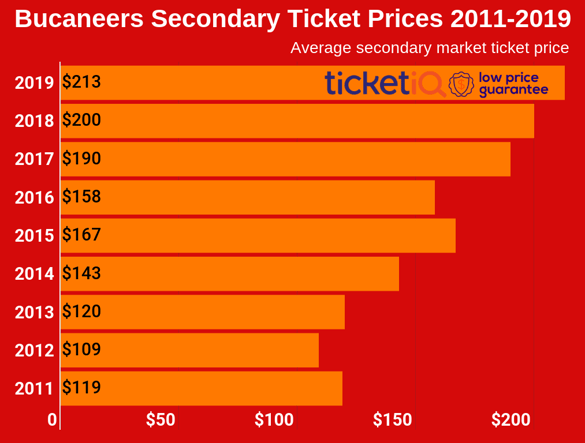 With so little supply on the secondary market, prices are twice as high as the primary market, which is exactly what the Bucs are looking for as they look to make the flip to a team-driven marketplace faster than any other NFL team. While they have more control over their ticketing than any other team, they also have more risk. With renewed confidence in Jameis Winston, the 5th pick in the 2019 draft and 7 picks overall, Buccaneers ticket revenue stand to benefit from a strong draft and competitive season more than any other team in football.
How Much Are 2019 Buccaneers Tickets
September 8th vs San Francisco 49ers - Tickets from $54
September 22nd vs New York Giants - Tickets from $103
November 10th vs Arizona Cardinals - Tickets from $54
November 17th vs New Orleans Saints - Tickets from $60
December 8th vs Indianapolis Colts - Tickets from $45
December 22nd vs Houston Texans - Tickets from $48
December 29th vs Atlanta Falcons - Tickets from $57
---
The Tampa Bay Buccaneers didn't enjoy much success in Lovie Smith's first season with the team in 2014, but there is hope that a winning foundation was still put in place. For the Buccaneers to make major strides going forward, they'll need to put something else in place - a franchise quarterback. With the team almost surely taking either Marcus Mariota or Jameis Winston with the first pick in the 2015 NFL Draft, Tampa Bay fans should be able to get excited about the future; one they hope starts quickly and successfully this season.
There's no guarantee the Bucs start piling on the wins right away in just Smith's second season, but given his quick rise when he took over the Chicago Bears, it's not crazy to think about. Tampa Bay will need to win some big games before anyone takes them seriously, though, and few will be bigger than a Week 10 clash with the Dallas Cowboys. Tony Romo and co. try to get it done without DeMarco Murray in 2015 and their meeting with the Bucs at Raymond James Stadium will be another attempt to do just that. Tampa Bay hasn't had a whole lot of success against the Cowboys, though, as they've beaten Dallas just three times in team history and saw the 'Boys win the most recent meeting in 2012, 16-10.
When the Cowboys come to town, prices for Buccaneers tickets on the secondary market will go up. The Week 10 meeting between the two teams will be the most expensive game in Tampa this season. Buccaneers vs Cowboys tickets have a get-in price of $117.
Dallas isn't the only playoff team Tampa Bay will have to try to get past in 2015, but they're still just one of three. At least on paper, that offers up the possibility that the Bucs could take advantage of a reasonably easy schedule. That doesn't make it a total cakewalk, however, as the Bucs get two tough road games in the first three weeks (at New Orleans and Houston) and two more in a row immediately following their bye (at Washington and Atlanta). While playing on the road in four of their first seven games won't be easy, it's at least nice to know just one of those opponents made the playoffs a year ago, and none of them had a winning record.
An in-state game will bring the least expensive prices at Raymond James Stadium this season, a Week 5 game against the Jacksonville Jaguars. The get-in price for Buccaneers vs Jaguars tickets is $71.
While Tampa Bay could be set up for success early on, they'll still need to buckle down and execute down the stretch to make a realistic playoff push. They also may be doing so with a rookie quarterback under center. Regardless, the odds could be in their favor if they position themselves correctly as the season winds down, as they get three of their final five games at Raymond James Stadium. None are more important that two huge divisional clashes, though, as they take on Drew Brees and the Saints in Week 14 and cap the season with a potentially massive showdown in Carolina with the Panthers.