Where To Buy Buccaneers Tickets
For the 2019 season, no team has taken on the secondary market more aggressively than the Tampa Bay Buccaneers. After not renewing thousands of season ticket holders three years ago, the Bucs have been on a path toward market consolidation for some time. Despite a class action lawsuit filed last January, the Bucs appear to be in full assault of the secondary market. Over the last three years, the quantity of Buccaneers tickets available in the secondary market dropped from over 20,000 to under 2,000. As a result of the low quantity of tickets available, 2019 is the most expensive average price for Buccaneers prices this decade. With prices as high as they are on the secondary ticket market, Ticketmaster.com is the best options for tickets to see any of the home games at Raymond James this season.
🎟️ Visit TicketIQ for Low Price Guarantees on sold out Buccaneers tickets 🎟️
🎟️ Visit Ticketmaster for all unsold face value Buccaneers tickets 🎟️
Download the TicketIQ app for $20 off your first ticket purchase 📲 🎟️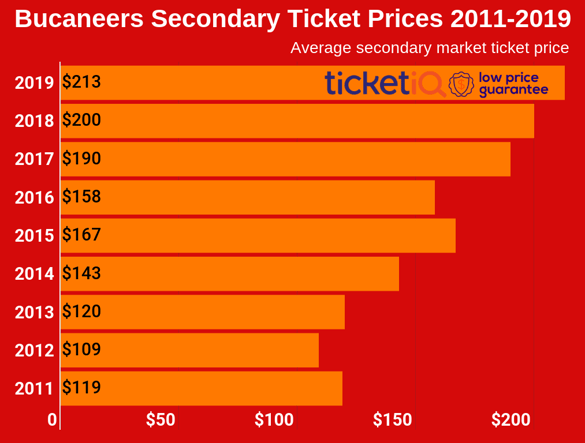 With so little supply on the secondary market, prices are twice as high as the primary market, which is exactly what the Bucs are looking for as they look to make the flip to a team-driven marketplace faster than any other NFL team. While they have more control over their ticketing than any other team, they also have more risk. With renewed confidence in Jameis Winston, the 5th pick in the 2019 draft and 7 picks overall, Buccaneers ticket revenue stand to benefit from a strong draft and competitive season more than any other team in football.
How Much Are Buccaneers Tickets
🎟️ Visit TicketIQ for Low Price Guarantees on sold out Buccaneers tickets 🎟️
🎟️ Visit Ticketmaster for all unsold face value Buccaneers tickets 🎟️
---
The Tampa Bay Buccaneers didn't enjoy much success in Lovie Smith's first season with the team in 2014, but there is hope that a winning foundation was still put in place. For the Buccaneers to make major strides going forward, they'll need to put something else in place - a franchise quarterback. With the team almost surely taking either Marcus Mariota or Jameis Winston with the first pick in the 2015 NFL Draft, Tampa Bay fans should be able to get excited about the future; one they hope starts quickly and successfully this season.
There's no guarantee the Bucs start piling on the wins right away in just Smith's second season, but given his quick rise when he took over the Chicago Bears, it's not crazy to think about. Tampa Bay will need to win some big games before anyone takes them seriously, though, and few will be bigger than a Week 10 clash with the Dallas Cowboys. Tony Romo and co. try to get it done without DeMarco Murray in 2015 and their meeting with the Bucs at Raymond James Stadium will be another attempt to do just that. Tampa Bay hasn't had a whole lot of success against the Cowboys, though, as they've beaten Dallas just three times in team history and saw the 'Boys win the most recent meeting in 2012, 16-10.
When the Cowboys come to town, prices for Buccaneers tickets on the secondary market will go up. The Week 10 meeting between the two teams will be the most expensive game in Tampa this season. Buccaneers vs Cowboys tickets have a get-in price of $117.
Dallas isn't the only playoff team Tampa Bay will have to try to get past in 2015, but they're still just one of three. At least on paper, that offers up the possibility that the Bucs could take advantage of a reasonably easy schedule. That doesn't make it a total cakewalk, however, as the Bucs get two tough road games in the first three weeks (at New Orleans and Houston) and two more in a row immediately following their bye (at Washington and Atlanta). While playing on the road in four of their first seven games won't be easy, it's at least nice to know just one of those opponents made the playoffs a year ago, and none of them had a winning record.
An in-state game will bring the least expensive prices at Raymond James Stadium this season, a Week 5 game against the Jacksonville Jaguars. The get-in price for Buccaneers vs Jaguars tickets is $71.
While Tampa Bay could be set up for success early on, they'll still need to buckle down and execute down the stretch to make a realistic playoff push. They also may be doing so with a rookie quarterback under center. Regardless, the odds could be in their favor if they position themselves correctly as the season winds down, as they get three of their final five games at Raymond James Stadium. None are more important that two huge divisional clashes, though, as they take on Drew Brees and the Saints in Week 14 and cap the season with a potentially massive showdown in Carolina with the Panthers.