For The Who fans, tickets have never been cheaper. On some stops for what could be called their first concept tour, prices are as low as $10 . If you're wondering why, this is not your Dad's The Who. For each show, the band is joined violin and cello soloists Katie Jacoby and Audrey Snyder, all backed by a full symphony orchestra conducted by Keith Levenson. This edition to the Who is comprise of vocalist Roger Daltrey and guitarist Pete Townshend alongside guitarist/backing v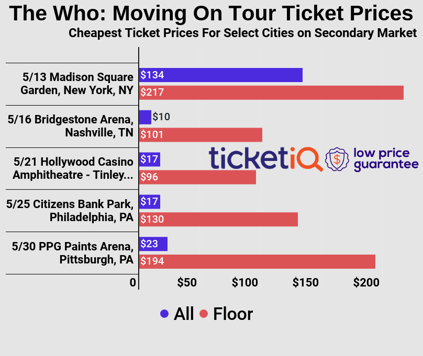 ocalist Simon Townshend, long time drummer Zak Starkey, new bassist Jon Button and keyboard player Loren Gold. For most cities tickets are available under $20, with up-close floor seats around $100 in some markets.
TicketIQ is a ticket market company with access to Low Price Guarantees on all Concert tickets on the secondary ticket market. If you find the same ticket for less on a site like Stubhub or Seatgeek, we'll give you 200% of the difference in ticket credit.
For The Who fans, the good new is that there are still over 25 shows left, and even better, it's the cheapest opportunity to see the Who since TicketIQ began tracking the ticket market. While there's still unsold tickets for most stops, prices on the secondary market as significantly cheaper, which means that's the best option. Some songs of the tour have had minimal symphonic backing, while others have had the full orchestra cranked up for reimagined renditions of some their biggest hits. The majority of shows have tickets that are extraordinarily low compared to previous The Who Tours, including their 50th anniversary tour in 2015. At that time front-man Daltry told Rolling Stone that it was likely to be their last big tour. Compared to the 69 total stops on that tour, the 31 dates for this isn't large, but it also isn't small. Download the TicketIQ app for $20 off your first ticket purchase 📲 🎟️
For fans who can't see the legendary act with their orchestra this May, there are a lot dates scheduled in the Fall, including dates at Fenway Park, home of the Red Sox and T-Mobile Park, home of the Mariners. Below are some of the higher-interest shows for both May and the Fall. Prices for the Fall dates jump up at some venues.
May 16th Bridgestone Arena, Nashville, TN - Tickets from $10 🎟
May 25th Citizens Bank Park, Philadelphia, PA - Tickets from $17 🎟
May 28th Little Caesars Arena, Detroit, MI - Tickets from $45 🎟
May 30th PPG Paints Arena, Pittsburgh, PA - Tickets from $23 🎟
Fall Shows
September 13th Fenway Park, Boston, MA - Tickets from $99 🎟
September 15th Jones Beach Theater, Wantagh, NY - Tickets from $130 🎟
October 11th Hollywood Bowl, Los Angeles, CA - Ticket from $39 🎟
October 19th T-Mobile Park, Seattle, WA - Tickets from $19 🎟
(UPDATE 9/30/15) Roger Daltrey won't let viral meningitis thwart The Who's plans to finish out their 50th Anniversary Tour. The band on Wednesday announced 28 rescheduled shows that will kick off in early-2016. The festivities start on February 27 at Joe Louis Arena in Detroit and run through May 29, when the tour officially culminates at the Colosseum at Caesars Palace in Las Vegas.
The news comes less than two weeks after The Who revealed that Daltrey was suffering from viral meningitis and would be forced to cancel all upcoming dates. Daltrey has claimed that per doctor's orders, no touring would take place during the remainder of 2015 while he recuperates.
"I am now on the mend and feeling a lot better, but I am going to need a considerable time to recover," Daltrey said earlier this month. "The doctors tell me I will make a complete recovery, but that I should not do any touring this year."
All previously purchase tickets will be honored at rescheduled dates with the exception of both Toronto shows. Those who purchased tickets to the originally scheduled October 19 show will have access to the newly announced March 1 show while the December 1 gig will now be honored on April 26.
View the complete list of rescheduled dates below:
'The Who Hits 50!' Rescheduled Dates
February 27 — Detroit, MI @ Joe Louis Arena
March 1 — Toronto, On @ Air Canada Centre
March 3 — New York, NY @ Madison Square Garden
March 7 — Boston, MA @ TD Garden
March 10 — Chicago, IL @ United Center
March 12 — Louisville, KY @ KFC Yum! Center
March 14 — Philadelphia, PA @ Wells Fargo Center
March 16 — Pittsburgh, PA @ CONSOL Energy Center
March 19 — Newark, NJ @ Prudential Center
March 21 — Milwaukee, WI @ BMO Harris Bradley Center
March 24 — Washington, DC @ Verizon Center
March 26 — St. Louis, MO @ Scottrade Center
March 29 — Denver, CO @ Pepsi Center
April 26 — Toronto, ON @ Air Canada Centre
April 29 — Kansas City, MO @ Sprint Center
May 1 — Minneapolis, MN @ Target Center
May 4 — Winnipeg, MB @ MTS Centre
May 6 — Saskatoon, SK @ SaskTel Centre
May 8 — Edmonton, AB @ Rexall Place
May 10 — Calgary, AB @ Scotiabank Saddledome
May 13 — Vancouver, BC @ Pepsi Live at Rogers Arena
May 15 — Seattle, WA @ KeyArena at Seattle Center
May 17 — Portland, OR @ Moda Center
May 19 — Oakland, CA @ Oracle Arena
May 22 — Anaheim, CA @ Honda Center
May 25 — Los Angeles, CA @ STAPLES Center
May 27 — San Diego, CA @ Valley View Casino Center
May 29 — Las Vegas, NV @ Colosseum at Caesars Palace
----------------------
The Who Cancel Remaining 50th Anniversary Tour Dates
(UPDATE 9/18/15) The Who on Friday announced the cancellation of all remaining "The Who Hits 50!" tour dates due to vocalist Roger Daltrey's declining health. Daltrey has reportedly been diagnosed with viral meningitis and is on temporary bedrest as he recovers. Guitarist Pete Townshend issued a statement claiming that the 28 canceled shows will be rescheduled for early next year.
"We are rescheduling all the shows for next spring 2016," said Townshend in his statement. "We apologize to all our fans who have supported us in the last 50 years. Once Roger is completely well we will come back stronger than ever and Roger and I will give you all a show to remember."
Reports earlier this month claimed that Daltrey was suffering from an "unspecified virus" which prompted the band to back out of their first four gigs. Now made public, Daltrey's condition has forced The Who to close up shop for the remaining of 2015. All tickets purchased for cancelled dates will be honored for rescheduled shows once announced, which is expected soon.
This is not the first health concern for Daltrey during the milestone tour. Back in May he suffered from swollen vocal cords and cancelled a series of dates in order to recuperate. With the next several months providing ample recovery time, The Who will set their sights on the springtime for their return to the road.
---------------------------------
The Who Tickets for Final North American Dates Averaging at $225 on Secondary Market
(UPDATE 5/18/15) Newly recovered from strained vocal cords suffered while out on the road last week, Roger Daltrey of The Who has returned to the road for the band's 50thanniversary tour. Five more dates remain on the group's first North American run, which concludes at the end of the month. Over those five shows, the average price for The Who tickets is $224.66 on the secondary market.
Remaining dates on the band's current leg include stops in Long Island, Atlantic City, Brooklyn and Queens. The most expensive show will be held at Boardwalk Hall Arena in Atlantic City on May 22. That show owns a secondary average of $268.26 and get-in price is $50.
Interestingly, shows at Mohegan Sun Arena in Connecticut on May 24 and Brooklyn's Barclays Center on May 26 see near-identical ticket averages on the resale market. The group's stay in Connecticut owns an average ticket price of $230.09 while its stop in Brooklyn two days later sees a median price of $230.05. The cheapest ticket varies considerably, however, as the Connecticut show owns a get-in price of $114.93 and the Brooklyn show starts at $53.
The least expensive date will be on May 20 at Nassau Coliseum in Long Island. Tickets average at $177.26 and the low price is $83 on the secondary market.
--------------------------------------------
Philly Cheapest, Las Vegas Most Expensive Cities on The Who's 50th Anniversary Tour
(UPDATE 5/13/15) Following a brief and unexpected hiatus from touring as frontman Roger Daltrey's continued to recover from strained vocal chords, The Who have returned to the road on their 50th Anniversary Tour across North America. The band is slated to make 36 more stops across two legs through November, and the four-month stint is drawing one of the most expensive ticket averages of 2015.
According to TicketIQ, the average price for The Who tickets along the 50th Anniversary Tour is currently $244.12 on the secondary market. The band makes its top-priced stop at Caesars Palace in Las Vegas on September 19, where tickets own a secondary average of $452.65 and the get-in price starts at $233. No other dates exceed the $400 threshold, though two shows average above $300; October 19 at Air Canada Centre ($312.86) and October 27 at Madison Square Garden ($310.07).
On the opposite side of the monetary spectrum, the cheapest show will be held on May 17 at Wells Fargo Center in Philadelphia. That show currently owns a secondary average of $118.65 and the cheapest available ticket is $40. The second cheapest show will be at Canada's MTS Centre on October 8, where tickets see a median price of $160.06 and get-in of $49 on the secondary market.
-----------------
The Who Tickets In Dallas Down 12% For Last Minute Buyers
(UPDATE 5/5/15) Iconic rock outfit The Who has been forced to rescheduled three shows as lead singer Roger Daltrey recovers from swollen vocal chords.
The band will miss a May 5 stop at the Sprint Center in Kansas City, May 7 at the Scottrade Center in St. Louis and May 9 at the KFC Yum! Center in Louisville. The next scheduled stop will be at the Bridgestone Arena in Nashville on May 11.
The Who is currently waist-deep in their 50tg Anniversary Tour, which is set to run through North American until theend of the month. Following a European stint in June and July, Daltrey and bandmate Pete Townshend return stateside for a second North American leg from September to November.
------------
Two Weeks In, The Who Tickets on 50th Anniversary Tour Averaging Over $230 on Secondary Market
(UPDATE 4/27/15) The Who is just getting started on its 50th Anniversary Tour, which kicked off in Tampa two weeks ago. The tour will continue through North America until early-November, playing 39 more dates over the next six months. Ticket demand remains high on the secondary market as well, as The Who tickets on TicketIQ average at $233.14.
The iconic band will play its most expensive date on May 22 at the Boardwalk Hall Arena in Atlantic City, which sees a secondary average of $345.11 and get-in price start at $73.08. One other show at the Air Canada Centre on October 19 will average above $300 on the secondary market ($309.75). Get-in price for that show is currently listed for $68.
The cheapest show of tour will be on May 2 at the American Airlines Center in Dallas. That show sees a current secondary average of $151.09 and low price of $28. However, the cheapest ticket on the entire tour will be for a May 9 show at the KFC Yum! Center in Louisville. That show sees a low price of $26.
-----------
With 50th Anniversary Tour Underway, The Who Tickets Averaging at $234 on Secondary Market
(UPDATE 4/17) The Who officially kicked off their 50th Anniversary Tour in Tampa on Wednesday. 47 North American dates are scheduled through the beginning of November, and the band is seeing impressive ticket prices on the secondary market. The average secondary price for The Who tickets on TicketIQ is $234.44, making the tour one of the most expensive of 2015.
The Who will play their most expensive show at the Boardwalk Hall Arena in Atlantic City on May 22. Tickets for that show currently average at $331.96 and the get-in price starts at $70.43. Stops at the Air Canada Centre, Key Arena and Rexall Place will also see tickets exceed the $300 average.
The band's cheapest shows will be played at the Wells Fargo Center in Philadelphia, MTS Centre in Winnipeg and AmericanAirlines Arena in Miami. Robert Daltrey and Pete Townshend will see tickets average at $155.34 for their Philadelphia show while tickets average at $161.56 and $173.34 in Winnipeg and Miami, respectively.
---------
The Who Tickets Averaging $239 For 50th Anniversary Tour
(UPDATE 4/7/15) The Who will embark on their massive 50th Anniversary Tour on April 15 at the Amalie Arena in Tampa. The band's North American leg will travel across the U.S. through May 30, hitting 21 venues across the country over the six-week road stint. Don't expect ticket prices to be cheap when searching the secondary market, however.
According to TicketIQ, the average secondary price for The Who tickets is $238.96 over their 21-date North American tour. The band will play its most expensive date of tour on May 22 at the Boardwalk Hall Arena in New Jersey. That show currently owns a secondary average of $331.83, 38.8% above tour average, and the get-in price starts at $68.54.
Three other shows average above $300 on the secondary market as well. Stops at the Frank Erwin Center in Austin, Air Canada Centre in Toronto and New York City's Madison Square Garden own average prices of $309.77, $307.46 and $305.41, respectively. In succession, get-in price is listed for $77, $65 and $62.
On the other side of the monetary spectrum, the band will play its cheapest date at the Wells Fargo Center in Philadelphia on May 17. The average secondary price for that show is currently $162.42 on the secondary market, 32% below tour average. Get-in price starts at $42.
Additionally, three more dates will average below $200 on the secondary market. The Jacksonville Memorial Veterans Arena, Bridgestone Arena and KFC Yum! Center own a secondary average of $187.86, $188.01 and $195.03, respectively.
...
The Who To Celebrate 50th Anniversary With 'Long Goodbye' Tour
(Update) Being inducted into the Rock & Roll Hall of Fame isn't the only accomplishment Joan Jett will be crossing off her bucket list in the coming months. The iconic leader of The Blackhearts will now front her band as the opening act on the North American leg of The Who's 50th Anniversary Tour starting in April. Scheduled to begin at the Amalie Arena in Tampa on April 15, the tour will kick off just three days prior to Jett's induction ceremony at the Public Hall in Cleveland on April 12. Jett will play all 20 dates scheduled, wrapping at Forest Hills Stadium in Queens, New York on May 30.

...

Following in the footsteps of The Beach Boys and The Rolling Stones, Roger Daltrey and Pete Townshend are the latest 60s rock icons set to celebrate their golden jubilee live on stage after releasing The Who tickets for a nine-date tour self-described as 'the beginning of the long goodbye.'

Announced in front of the press at Ronnie Scott's jazz club – the venue they first premiered rock opera Tommy way back in 1969 – The Who Hits Fifty Tour will kick off at Glasgow's SSE Hydro on November 30 and will move on to Leeds, Nottingham, Birmingham, Newcastle, Liverpool, Manchester and Cardiff before wrapping up at London's The O2 on December 17.

The mod veterans, who revealed that they are currently working on a twelfth studio effort inspired by Daltrey's recent record with Wilko Johnson, also confirmed that The Who tickets for a US trek in 2015 will be made available later this year, although no dates have been scheduled as yet.

Townshend and Daltrey – the core line-up of the band following the deaths of drummer Keith Moon in 1978 and bassist John Entwistle in 2002 – have promised a feast of 'hits, picks, mixes and misses' spanning from their early days as The High Numbers right up to 2006's Endless Wire.

Fans lucky enough to get their hands on The Who tickets should therefore expect to hear several of the classic anthems which have helped to shape rock n' roll including "My Generation," "Baba O'Riley" and "I Can See For Miles," with the likes of "Substitute," "Bargain," "The Kids Are Alright" and "Won't Get Fooled Again" also performed by the band at the tour's official launch.

...
Tickets Are Red Hot For The Who's North American Tour
Described by guitarist Pete Townshend as 'the best music he's ever written,' The Who's seminal 1973 double album, Quadrophenia, will be relived in all its glory when the British rock legends embark on their first North American tourin four years in November.
In the midst of a revival thanks to its 2011 deluxe edition, the cinematic outing of documentary, Quadrophenia: Can You See The Real Me and the Blu-ray release of the 1979 cult film loosely inspired by it, the band's second rock opera will get its first full outing since 1997 at Sunrise's BB&T Center on November 1st, the first of 36 shows which are also set to contain a selection of The Who's greatest hits alongside a few surprises. Currently prices for The Who tickets are averaging $306 per show, while the get-in price is averaging a much more reasonable $78.
A number two hit in both the UK and US, and a regular on the Great British Albums of All Time polls, the group's sixth studio album tells the ambitious tale of a teenage mod with four distinctive personalities growing up in London and Brighton during the mid-60s.
Alongside the singles "The Real Me" and "5.15," tribute to Indian mystic Meher Baba ("Drowned") and fan favourite "Sea and Sand," the 17-track record also contains four separate themes dedicated to each member of the original line-up, from 'tough guy' Roger Daltrey, to 'romantic' John Entwistle to 'beggar & hypocrite' Pete Townshend to 'bloody lunatic' Keith Moon.
Fresh from their triumphant performance at the London 2012 Olympic Games closing ceremony, the two remaining surviving members will be joined by Pete's guitarist brother Simon, bassist Pino Palladino and Ringo Starr's drummer son Zak Starkey in addition to keyboardists Chris Stainton, Loren Gold and Frank Simes for all shows.
Daltrey has already quashed rumours that Tupac-style hologram technology will be used to bring Entwistle and Moon back to life. However, those attending the first leg of the tour which finishes at Uncasville's Mohegan Sun Arena on December 9th, will get to experience the critically-acclaimed soul-rock of support act Los Angeles quartet Vintage Trouble, whose lead singer Ty Taylor was recently hailed as one of the 'five best new voices of music.'
Fans wishing to see Daltrey tackle the record he once described as 'the singer's Mount Everest' can still get their hands on tickets for all 36 dates, with both the Nov 16 show at Boston's TD Garden and the Feb 12 gig at Denver's Pepsi Center currently home to the lowest priced seats at under $35.
There is limited availability at the Feb 8 concert at Las Vegas' Hard Rock Hotel and the Nov 21 performance at Ottawa's Scotiabank Place. However, while some fans should expect to pay an average of $413 for the band's final show at Providence's Dunkin' Donuts Center on Feb 26, ten lucky people will get in for the measly sum of just $12.50 after the band recently confirmed that those who bought and kept their tickets from their cancelled 1979 show at the venue can trade in their 33-year-old stubs to finally witness their musical idols.