Despite Tiger Woods' epic win at the Masters last month, prices for his next major championship are historically low. 2019 PGA Championship at Bethpage Black in Farmingdale, NY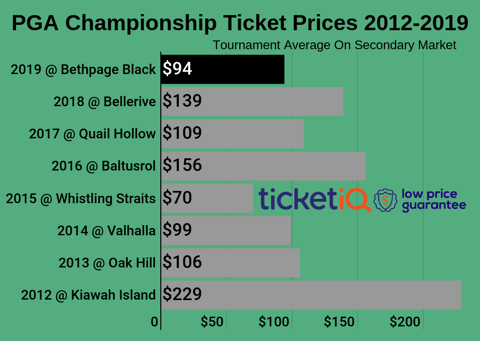 is in fact the cheapest ticket we've tracked over the last decade. Despite the Tiger-driven attention the event is getting, the lower prices this year are likely the result of a few factors. The first is the date. In 2019 the tournament moved from July-August to May, which means that it's harder to take kids and family out for one of the weekday round. With a high temperature projected for 68 degrees, and the possibility of rain, conditions are not idea. The various shots and video of Tiger wearing a wool hat over his golf hat probably isn't helping weather concerns. The final reason that prices for the 2019 PGA championship tickets are historically cheap is logistics. As anyone who has been to the A. W. Tillinghast-designed course knows, getting to Bethpage Black from New York City is far from a straight shot. By Car, it's a 90 minute trip--without traffic--while the train to Ronkonkoma on the LIRR will take about an hour, after which you'll have to take an Uber or Cab to the course, which is 1.3 miles away the train station
As a result of all those factors, there's an opportunity to see Tiger and the rest of the field for prices are historically cheap and well below the $110 face price. That means that the secondary market is the best way to buy tickets for the 2019 PGA championship. TicketIQ has Low Price Guarantees on all PGA Tickets, with prices for each day listed below. TicketIQ also has Low Price Guarantees on all Golf tickets. If you find the same ticket for less, we'll give you 200% of the difference in ticket credit.
Thursday PGA Championship at Bethpage Black FARMINGDALE, NY - Tickets from $20 🎟️⛳
Friday PGA Championship at Bethpage Black FARMINGDALE, NY - Tickets from $69 🎟️⛳
Saturday PGA Championship at Bethpage Black FARMINGDALE, NY - Tickets from $133 🎟️⛳
Sunday PGA Championship at Bethpage Black FARMINGDALE, NY - Tickets from $91 🎟️⛳
Passes with entry to the, the Wanamaker Club right of the 1st Fairway cost from $50-$60 more each day, and include climate-controlled, sports bar type atmosphere with numerous flat screen televisions, upgraded food & beverage, expansive seating and private restrooms.
Other things to consider when deciding if you want to go is that each ticketed adult can bring up to four juniors under the age of 17 onto the Championship Grounds at Bethpage Black, for free! Junior tickets will be available at the Admissions and Will Call Office at the main entrance. Even if there's sellout, Junior tickets will be issued.
In addition to that deal, all U.S. active duty, military retirees, active reserve, National Guard and their accompanying guest (limit one) will be eligible to receive free Daily Grounds Tickets by presenting their Military I.D. at the Admissions and Will Call. No registration for these complimentary tickets is required and will be available regardless of a sellout.
⛳ 🎟️📊
Professional golf's biggest names will flock to Baltusrol Golf Club in Springfield, New Jersey for the 98th annual PGA Championship this week, and for those with plans of attending one of the four days of the season's final major, expect to pay up on the secondary market.
The average resale price for 2016 PGA Championship tickets on TicketIQ is now $259.14. That makes it the most expensive PGA Championship since at least 2012, when tickets averaged $229.94 across all four individual days. Since that year, no other PGA Championship has come even close to surpassing the $200 average.
As it stands now, Thursday's session will be the most expensive individual day to attend. The average price for tickets on Thursday is currently $532.97 and the cheapest ticket is listed from $114. While Friday actually posts the highest get-in price of the tournament at $139, its average price drops nearly 17% from Thursday to $444.13.
Interestingly enough, Saturday and Sunday will be the cheapest days of the tournament in terms of both average and get-in price. As the competition increases, Saturday's session owns an average resale price of $266.20, down more than 40% from Friday. The cheapest ticket is listed from $95. Sunday welcomes the least expensive price points of the tournament at a $208.56 average and $84 get-in price.
This year's tournament will be held several weeks earlier than its usual early-to-mid-August tee time. The move was made to counter the 2016 Summer Olympics in Brazil, which kicks off in Rio de Janeiro on August 5. Among the 156-player field at Baltusrol this year will be 13 former PGA Champions, including Rory McIlroy, Phil Mickelson, Keegan Bradley and 2015 champion Jason Day. Dustin Johnson, Jordan Spieth, Bubba Watson, Adam Scott and 2016 British Open champion Henrik Stense will also compete.
Though typically held on the east coast, 2016 will be just the third time the PGA Championship makes its way to New Jersey in its 100-year history. It was last held there in 2005, where Phil Mickelson won the second major of his career in a thrilling one-shot victory over Steve Elkington and Thomas Bjørn.