2020 49ers Attendance Policy
UPDATE: On August 25th, the 49ers announced that fans will not be allowed to attend for their home opener. However, like most teams who have announced no fans for early season games they hope fans can attend games later in the season and the team has had "communications with county health leaders were ongoing about the possibility of having fans sometime this season."
--
On July 27th, the 49ers announced an update on their attendance policy for the upcoming season:
To ensure the health and safety of 49ers fans, players, coaches, staff and the greater community, and to comply with state and local restrictions, the 49ers may not be able to host fans in a full or limited capacity this season. As such, all San Francisco 49ers single game ticket purchases for home games at Levi's® Stadium will be cancelled for 2020 and the tickets will no longer be valid.
In the event fans are permitted at Levi's® Stadium this season, tickets will be made available on a game by game basis to season ticket members.
Clubs are permitted to have fans in the stadium pending any state and local government restrictions and are subject to CDC guidelines and physical distancing protocols relevant to NFL Stadium Operations guidelines. If fans are permitted, they will be required to wear masks at all times other than when actively eating or drinking.
Where To Buy 2020

49ers

Tickets
San Francisco 49ers tickets are available for sale on the secondary market as of the 2020 schedule release.
TicketIQ has
Fee-Free tickets
with a
Low Price Guarantee
and
Refund Guarantee
, which states that in the event an event is cancelled or deem unfit for fans to attend, TicketIQ will refund ticket buyers within 15 days. That means that you can buy from TicketIQ worry-free.
Potential Covid-19 Impact On 2020 NFL Schedule
While the schedule release is a much-needed dose of exciting news for all football fans, there are some major questions marks heading into the 2020 season due to the Coronavirus pandemic. While teams know what teams they'll play, that's about all they know. Whether or not the games happen and if fans are able to attend will depend on how the virus is managed over the next 2-3 months. The league has already canceled all of its International Series games, and the league is rightly considering all possible scenarios.
Based on the varying levels of infection in each NFL city and state, it's possible that some teams may be able to host fans at a reduced capacity while others may not. The Dolphins announced a preliminary plan last week, with a 25% of capacity goal. Based on the below NFL Covid-19 Safety Index, the Dolphins fall within the low-risk category, just barely.
To create the Safety Index, we compared the active cases in each city or state to the national average and then discounted that product by Rt. Rt is a measure of how fast the virus is spreading in each city and state, most easily tracked through Rt.live.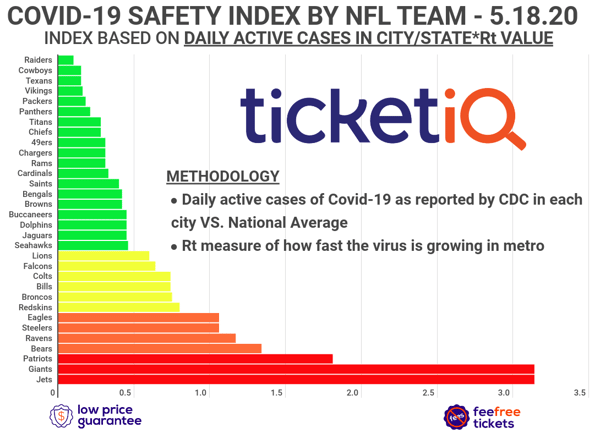 How Much Are 2020 San Francisco 49ers Tickets
The $364 average asking price for a San Francisco 49ers ticket on the secondary market is up 59% over last season. The average is still below the league-wide average of $390, but well off the $1,098 fans will pay to the Raiders play in their new Las Vegas stadium. The average asking price for a 49ers ticket ranks No. 13 in the NFL.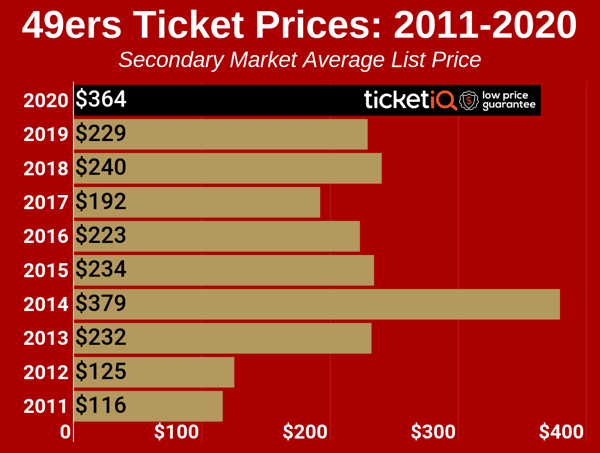 Season Ticket and Mini Plan Options
San Francisco 49ers season tickets are currently available, and fans must purchase an SBL (Stadium Builder's License) in addition to the cost of season tickets. All season ticket holders will get inclusive snacks and non-alcoholic beverages, including hot dogs, garlic fries and nachos. Season ticket holders will also get access to an annual NFL Draft Party, priority post-season and single-game tickets, a holiday photo shoot at Levi's Stadium, access to training camp, and more. Season tickets are available throughout the stadium, including at field level and in the Citrix Owners Seat section.
Club Seating and Premium Options
The 49ers have multiple Club and Premium seating options available. Club seats at Levi's Stadium offer excellent sightlines, semi-private stadium entrances, bigger, plusher seats, and access to private restrooms. Among them:
Citrix Owners Seats: Located high above the stadium, this plush club features movie-theater style seating outside and a high-end Club inside. The interior of the Club has bar-style and Club seating, and premium food-and-beverage offerings.
Field Level Season Tickets: These exclusive seats are a unique experience, offering fans the chance to sit just feet from the playing surface. Each field box has plush, comfortable recliners located behind the end zones. In-seat food service is included with the price of each seat.
49ers Mobile Ticket Policy
Fans can access Levi's Stadium via digital tickets, and are encouraged to do so. Fans can download season tickets and single-game tickets using the 49ers Mobile App. The team website provides a detailed video for how to download and use the app. Fans can also buy, sell or transfer tickets on the app.
---
TicketIQ is committed to the cheapest tickets possible, and we make much less on sold out tickets compared to other major marketplaces like StubHub and Vivid. That means ticket buyers save from up to 25% on TicketIQ on sports, music and theater. We're able to do this because we also work with teams, venues, and other ticket owners, to help them sell tickets at face price, directly to consumers like you, through Ticketmaster and Seatgeek. For an overview of the 2020 NFL Ticket Buying landscape, and details on the cheapest way to get tickets for every team, visit the TicketIQ Blog.
---
How Much Are 2019

49ers

Tickets
Face value options for the opening game against the Steelers start at $180 via Ticketmaster. Lower level seats start at $299. Tickets against the Browns start at $109, while the cheapest face value ticket against the Panthers, Cardinals and Falcons is $67. Prices against the Seahawks tickets start at $87, $167 for the Packers game, and $85 for the final home game against the Rams.
On the secondary market, the season average asking price is was $194 for games at Levis Stadium at the beginning of the season but have risen 18% and is now $229. The cheapest chance to get into Levi's Stadium on the secondary market this season will be for the November 17 Arizona Cardinals game. Tickets are trending at $166, making it one of only three games with an average asking price below $200. The priciest game is the season opener against the Pittsburgh Steelers, for which demand has pushed prices to $352.
Prices For All

49ers

Home Games On The 2019 Schedule
September 22 vs. Pittsburgh Steelers
Secondary market average asking price: $352
Secondary market cheapest ticket: $165
Pair the home opener with a team the 49ers haven't hosted in eight years and this game has the highest average asking price of the season. It's been four years since these teams have faced each other, and the last time Pittsburgh was in San Francisco was 2011. The Steelers won the last meeting, 43-18, at Heinz Field in 2015, but the 49ers hold an 11-10 all-time series advantage.
October 7 vs. Cleveland Browns
Secondary market average asking price: $242
Secondary market cheapest ticket: $97
This is the third priciest game on the secondary market, and the first time in four years the teams have played. The Browns have had a tough time of it lately, but could be on the upswing – after going 1-15 and 0-16 in 2016 and 2017, they very nearly got to .500 last season. The teams last played in 2015 with the Browns winning. Cleveland leads the all-time series, 12-7.
October 27 vs. Carolina Panthers
Secondary market average asking price: $184
Secondary market cheapest price: $78
This game will be a good chance for fans to get into Levi's Stadium for a lower price – the game is the second cheapest on the secondary market. Carolina and San Francisco didn't play last season, but the 49ers won the two previous meetings (2016, 2017). Carolina's last win against San Francisco was in a Divisional Playoff Game in 2014.
November 11 vs. Seattle Seahawks
Secondary market average asking price: $279
Secondary market cheapest price: $82
The only Monday Night Football game for the 49ers this season pits them against one of their biggest rivals, and will be the first time the teams have played since last season's 49ers' overtime victory. This rivalry didn't really blossom until the Seahawks joined the NFC West, and Seattle is 12-3 against San Francisco since it drafted Russell Wilson in 2012. This game is the fourth cheapest at home this season.
November 17 vs. Arizona Cardinals
Secondary market average asking price: $172
Secondary market cheapest price: $52
The 49ers will have a short week after the MNF game, and while the Cardinals are divisional rivals, this game is the cheapest of the season at home. The teams play twice a year and the Cardinals have owned the 49ers of late, winning the last eight consecutive.
November 24 vs. Green Bay Packers
Secondary market average asking price: $384
Secondary market cheapest price: $156
The 49ers and Packers have a long and rich history that features seven playoff games, and a rivalry that dates to 1950. One of the premiere teams in the NFL, the Packers haven't played at San Francisco since 2015, and have won the last two meetings (2015, 1018), snapping a four-game 49erswin streak. It's no surprise this is the second priciest game on the secondary market.
December 15 vs. Atlanta Falcons
Secondary market average asking price: $193
Secondary market cheapest price: $54
These teams have been playing since the Falcons joined the NFL in 1966, and the 49ers traditionally dominated the rivalry until Atlanta won four in a row between 2004-10. But San Francisco holds a 47-31-1 all-time series advantage. The teams last played in 2016, when Atlanta won, 41-13, on their way to Super Bowl LI. This is another chance to get a seat at Levi's Stadium for less than $200.
December 21 vs. Los Angeles Rams
Secondary market average asking price: $249
Secondary market cheapest price: $68
The average asking price for this game could easily rise if the Rams have the kind of season they had last year. It's a short flight from Los Angeles to San Francisco, and plenty of football fans dot the California skies during the NFL season. Both teams are original members of the NFC West and there's been a lot of parity over the years – San Francisco holds a slight 69-67-3 all-time series advantage.