Miami-Dade Arena Seating Chart + Rows, Seats and Club Seats
For sold out seats and events, TicketIQ has Fee Free tickets for all events at Miami-Dade Arena for Miami Heat games as well as Concerts. TicketIQ customers save up to 25% compared to other secondary sites. TicketIQ also provides access to unsold face value tickets for all events at Miami-Dade Arena via Ticketmaster.
FTX Arena Seating Chart - Basketball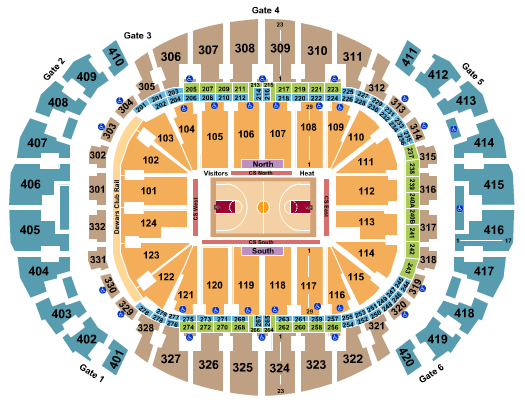 Floor Courtside sections, rows and seats

at

Miami-Dade Arena
The floor seating at FTX Arena is surrounded by Lower level 100 & 200 (suites & loges) and upper bowl 300 & 400 sections numbered 101-124, 201-279, 301-332 & 401-420. The top seats in the lower tier are close to the stage in sections 105, 120, 106, 119 and then 107, 118.
Row numbers are 1 up to 37 in 100s, 1-23 in 300s, and 1-17 in 400s. Seat 1 in the bowl sections is closest to the section with a lower number and the seats numbering is from 1 up to 32 in some sections.
100-level sections, rows and seats

at

Miami-Dade

Arena
Lower-level center sections include 105-108, 117-120. 100-level end sections include 112-114, 123, 124, 101, 102 with 100-level corner sections of 116,122, 103, 110.
Floor sections typically have rows 1-24 with up to 14 seats per row. However a couple of rows at the front may have up to 48 seats. 100s sections have rows 1-37 with up to 32 seats.
300-level sections, rows and seats

at

Miami-Dade

Arena
300-level center sections include 306-310, 322-325. 300-level corner sections include 331, 332, 301, 302, 303, 314-318. 300-level end sections include
300-level rows run from 1 to 23 and has upto 22 seats.
400-level sections, rows and seats

at

FTX Arena
400-level center sections include 401, 400, 433, 432, 419, 418, 417, 416, 415. 400-level corner sections include 414, 413, 412, 405, 404, 403, 428, 429, 430, 423, 422, 421 400-level end sections include 427, 426, 425, 424, 406, 407, 408, 409, 410.
400-level center rows run 1 to 27 and has 20 seats per row. A range of Standing Room Only (SRO) places is located at the back of some of the 400s sections. Some back rows on the 400 level may have a relatively limited / obstructed view.
Club, VIP, Box Seats and Suites at

Miami-Dade

Arena
Hospitality rental suites and loge boxes are found in 200s level, numbered from 201 to 279. The Dewars Club (Clubhouse) & Dewars Rail seats are located between suites 201 & 278. Balcony seats are located in 300s level from 301-332 and 401-420.
Other facilities at FTX Arena include: Flagship Lounge, Junior Flagship Seating, Blue Moon Bar, Red Frog Bar, Hyde Suite & Lounge, Center Court Suites.


The Miami Heat Home Team bench is at the front of sections 107-108, whereas the Visitors Bench is at the front of sections 105-106.
CONCERT SEATING CHART AT MIAMI-DADE ARENA
Floor seating at FTX Arena of as many as 7 sections, numbered 1 through 6, with sections 1,2 and 3 closest to the stage and 5-7 farther from the stage. Behind the stage sections include 101-104, 121-124 and 330-332, 301-304 and 403 to 408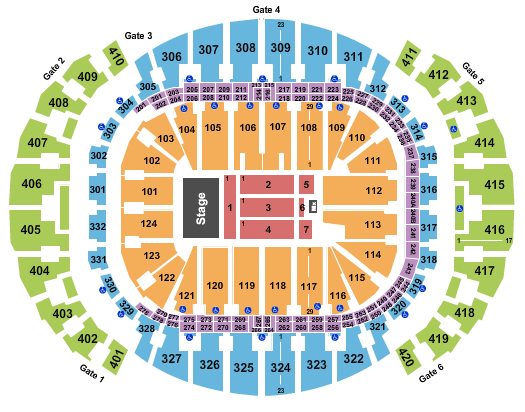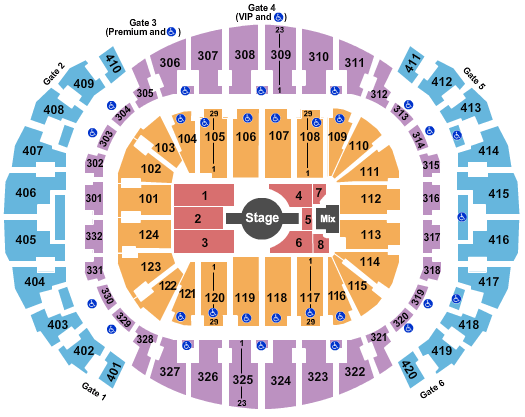 WHERE CAN I FIND CHEAPEST TICKETS FOR
MIAMI-DADE ARENA
The Miami Heat have unsold face value tickets available for most games, which can be purchased directly through Ticketmaster. Prices may be above or below prices on the secondary ticket market. Many Concerts also have unsold tickets. For Sold Out Seats and Events, TicketIQ has Fee Free tickets for all events at FTX Arena.
WHAT IS MOBILE TICKET POLICY AT
MIAMI-DADE ARENA
The FTX Arena Box Office is located on the Northeast corner of the venue directly across from The Lexus Garage. Complimentary parking is available in the The Lexus Garage while you purchase tickets. For more information about events at FTX Arena call 214-665-4797.
If you selected 'mobile entry', from Ticketmaster, as your delivery method, make sure to bookmark My Ticketmaster or My Account Manager in your mobile browser or download the Ticketmaster iPhone or Android app. If you are an iPhone user, you can also add your tickets to Wallet.
QR barcodes from non-authorized third party sources will NOT be allowed entry via a mobile device.
PAPERLESS TICKET DELIVERY SYSTEM: Paperless ticketing is an alternative delivery method to Ticketfast, Mail, UPS, Will Call or In Store Pick Up. Instead of receiving your tickets ahead of the event, the credit card used to make the purchase will serve as your ticket. All you need to attend the show is the credit card you used to purchase the ticket and a valid, government issued ID
WILL CALL: Pre-purchased tickets may be picked up at the Will Call windows located at the FTX Arena Box Office. Customers must present a valid photo ID and the credit card used to purchase in order to collect the tickets. Once the Box Office is closed, remaining Will Call tickets can be picked up at the North entrance.
HANDICAPPED & ADA SEATING AT MIAMI-DADE ARENA
FTX Arena is equipped with a "Listen" listening system. Receivers are available for all events and provided free of charge with a form of valid identification. Guests who are interested in this service should see a representative at Guest Relations in the Plaza Concourse at section 104 and in the Terrace Concourse at section 326.
Parking spaces for disabled guests are located in Lot F, and Lexus Garage with a pre-paid parking pass or with cash on a first-come/first-serve basis. The vehicle must display a disabled parking placard or license plate. Parking rates in these areas vary, depending on event and parking area. Parking passes are available for purchase before an event online at www.ticketmaster.com or at FTX Arena Box Office for select events