Tickets for Ariana Grande tickets are completely sold out via Ticketmaster on the primary market, which means the secondary market is the best option for getting to see perform her roster of hits. Prices remain very expensive on the secondary market for one of the biggest pop tours of 2019, with six of the 15 remaining US shows on the tour starting above $200. The two most expensive shows remaining on the secondary market and are both in Gardens: TD Garden in Boston and Madison Square Garden in New York City. Some good news for NYC-area Grande fans is that GA pit tickets right off the stage start under $500 (as shown in the below screenshot). The cheapest show is taking place at the Fiserv Forum in Milwaukee, where cheap seats start at under $150. Prices in for the tour mid-west stops typically start in the $150 range, which while cheap for the Sweetener are the most expensive events at the respective venues, including the Xcel Center in Minneapolis where ticketss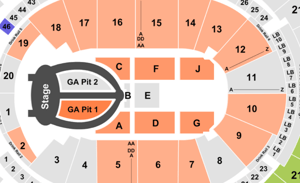 The floor configuration for the tour has two GA pits surrounding the walk-around acorn-shaped stage. Pit tickets are going for above $500 in most markets. Tickets in most markets are getting low, with the shows days or weeks aways, which means that the best approach is to buy a ticket if it's the one you're looking for in the right price range. Prices for floor seats and the numbered sections to the left and right seems to be consistent, and may be a better value for someone not looking to stand the whole show.
Below is a list of the next 5 Ariana Grade shows for the 2019 Sweetener Tour.
Ariana Grande Tickets at Barclays Center Brooklyn, NY: From $191
Ariana Grande Tickets at Madison Square Garden New York City: From $266
Ariana Grande Tickets at Capital One Arena, DC: From $177
Ariana Grande Tickets at TD Garden, Boston: From $288
Ariana Grande Tickets at Wells Fargo Center, Philadelphia: From $266
Click here to shop for the cheapest Ariana Grande tickets for every stop on the tour. TicketIQ is a ticket market place with access to Low Price Guarantees on all Concert tickets. If you find the same ticket for less, we'll give you 200% of the difference in ticket credit.
For the most detailed analysis of the 2019 summer concert season, you can also check out the TicketIQ Blog's Summer 2019 Ticket Buying Guide that breaks down where to find the best deals on tickets, whether on the sold out secondary market or unsold tickets on the primary market. We think it's the most objective advice on where to find the best deals on summer concert tickets, whether they're 'sold out' on TicketIQ or 'unsold' on the primary ticket market.
TicketIQ is committed to the cheapest tickets possible, and we make much less on sold out tickets compared to major other major marketplaces like StubHub and Vivid. That means ticket buyers save from up to 25% on TicketIQ on sports, music and theater. We're able to do this because we also work with teams, venues, and other ticket owners, to help them sell tickets at face price, directly to consumers like you, through Ticketmaster, Seatgeek and other primary ticketing platforms.
Below is a typical setlist and what you can expect to hear if you decide to get tickets for the 25-year old artist.
Raindrops (An Angel Cried)"
"God Is a Woman"
"Bad Idea"
"Break Up with Your Girlfriend, I'm Bored"
"R.E.M"
"Be Alright"
"Sweetener"
"Successful"
"Side to Side"
"Bloodline"
"7 Rings"
"Love Me Harder"
"Breathin"
"Needy"
"Fake Smile"
"Make Up"
"Right There"
"You'll Never Know"
"Break Your Heart Right Back"
"NASA"
"Goodnight n Go"
"Everytime"
"One Last Time"
"The Light Is Coming"
"Into You"
"Dangerous Woman"
"Break Free"
"No Tears Left to Cry"
"Thank U, Next"
According to Wikipedia critical reception has been strong
Brittany Spanos from Rolling Stone gave the opening night at Albany a positive review, stating that "Grande's new world tour is full of emotional drama, iconic looks, and undeniable hits". Spanos also commented on Grande's looks, stating that "fewer and fewer young stars today have the kind of distinctive aesthetic that can be reproduced en masse by fans, but Grande has dedicated years to perfecting how she has presented herself. In 2019, it seems the world has finally caught up to her. Or, as her frequent collaborator and friend Nicki Minaj predicted on "Side to Side" three years ago: "Ariana run pop." Chris Richards of the Washington Post gave a positive review to Grande's show in Washington D.C, stating that "Ariana Grande reached the height of her fame by making heavy feel light". He praised her vocals stating that "Grande's voice is equal parts breathy and acrobatic, and she knows how to hit a big note like she's whispering it".
Pop singer Ariana Grande is getting ready to headline her second concert tour, which is the singer's first world tour in support of her 2014 studio album, "My Everything." "The Honeymoon Tour" will embark next month with her opening show on February 25 at Independence Events Center in Independence, Missouri. Ariana Grande tickets for the Honeymoon's overall tour average have a current average price of $182.44 on the secondary market, which is up 2% since earlier in the month. Her upcoming tour will feature two legs, including 25 shows in North America and 14 in Europe.
On TicketIQ, the most expensive concert for Grande's North American leg is when the singer travels to New York City for a show at the famed Madison Square Garden on March 21. Ariana Grande tickets for this New York show have a current average price of $413.37 on the secondary market, a 126.5% premium compared to Grande's overall North American leg average. The least expensive ticket to get into this show is priced at $81.
The least most expensive show of the Honeymoon Tour in North America is a March 3 performance at the Allstate Arena. Ariana Grande tickets have a current average price of $129.18, 29.1% below the overall tour average. The least expensive ticket to get into this March 3 concert show is $36.