Atlanta Falcons 2020 Attendance & Ticket Policy
In a letter sent to season ticket holders on July 15th, the Falcons updated fans on potential limitations for the 2020 season.
"As I'm sure you understand, the game-day experience this season will be different from what you've come to expect at Mercedes-Benz Stadium," AMB Sports and Entertainment CEO Steve Cannon said in the letter. "As we have been preparing for the opportunity to play in front of fans, the NFL and government regulations are requiring changes in game-day operations. Some expected changes include, but are not limited to limited capacity seating, mandatory face coverings, the absence of pre-game and halftime activities and other measures to ensure the health and safety of our players, coaches, staff and you, our fans."
Fans that have already paid for season tickets for this season have a few options. They can be applied to pay of their PSL, buy 2020 single-game tickets, or be used to purchase 2021 season tickets.
Where to Buy 2020 Atlanta Falcons Tickets
Atlanta Falcons tickets are available for sale on the secondary market as of the 2020 schedule release.
TicketIQ has
Fee-Free tickets
with a
Low Price Guarantee
and
Refund Guarantee
, which states that in the event an event is cancelled or deem unfit for fans to attend, TicketIQ will refund ticket buyers in as soon as 15 days. That means that you can buy from TicketIQ worry-free.
Potential Covid-19 Impact On 2020 NFL Schedule
While the schedule release is a much-needed dose of exciting news for all football fans, there are some major questions marks heading into the 2020 season due to the Coronavirus pandemic. While teams know what teams they'll play, that's about all they know. Whether or not the games happen and if fans are able to attend will depend on how the virus is managed over the next 2-3 months. The league has already canceled all of its International Series games, and the league is rightly considering all possible scenarios.
Based on the varying levels of infection in each NFL city and state, it's possible that some teams may be able to host fans at a reduced capacity while others may not. The Dolphins announced a preliminary plan last week, with a 25% of capacity goal. Based on the below NFL Covid-19 Safety Index, the Dolphins fall within the low-risk category, just barely.
To create the Safety Index, we compared the active cases in each city or state to the national average and then discounted that product by Rt. Rt is a measure of how fast the virus is spreading in each city and state, most easily tracked through Rt.live.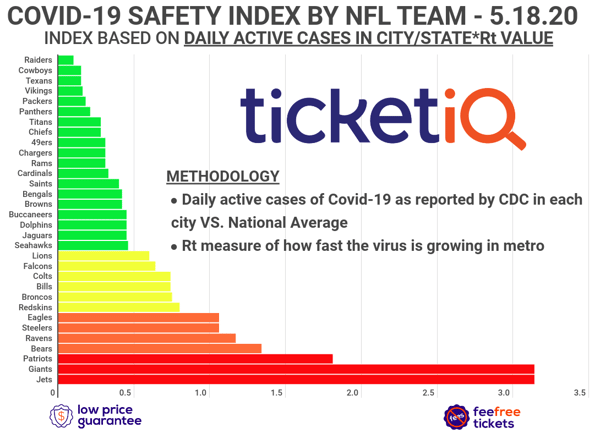 How Much Are 2020 Atlanta Falcons Tickets
The average asking price for an Atlanta Falcons ticket on the secondary market is up nearly 28% over last season, but remains one of the cheapest tickets in the NFL. The $278 average is the ninth cheapest across the league. The Detroit Lions $142 is the cheapest and the Las Vegas Raiders $1,089 is the priciest.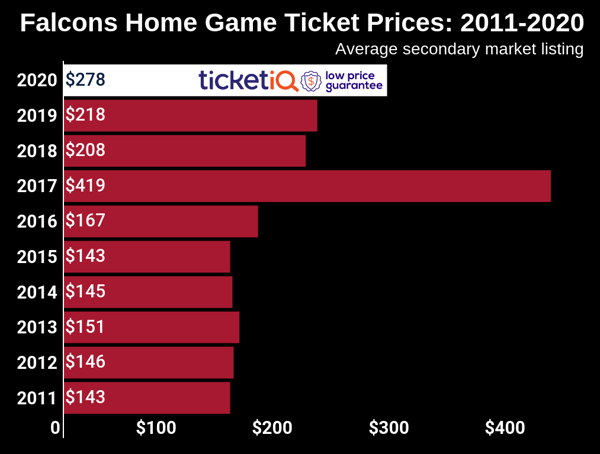 Season Ticket and Mini Plan Options
The Atlanta Falcons are currently taking deposits for 2020 season tickets, and season tickets range in price from $640 for some 300-level seats up to $8,670 for Club Seats at the 50-yard line. Season-ticket holders get access to special events, including an NFL Draft Party, as well as presales for other events at Mercedes-Benz Stadium, merchandise discounts, playoff priority, and access to premium parking.
Club Seating and Premium Options
The Falcons offer seven kinds of premium experiences/seats for fans to consider:
Mercedes-Benz Club and Delta Sky360 Club: These Clubs are located on the field level, and offer fans a chance to sit at the 50-yard line just feet from the action. Ticket holders also get access to a field-level patio, unique concession options, multiple bars, and lounge seating.
Loge Boxes: These suites offer some of the best views at Mercedes-Benz Stadium, and ticket holders get access to the field-level patio, inclusive food and beverage at two Clubs, and preferred VIP parking. There is also a private refrigerator in each box stocked with alcoholic and non-alcoholic beverages.
Molly B's: Named for owner Arthur Blank's mother, Molly B's is a chophouse with a panoramic view of the field. Ticket holders get an inclusive, premium dining experience with buffet-style appetizers and main courses before the game. There are also desserts and alcohol service ends at the end of the game.
AMG Lounge and SunTrust Club: These limited capacity ultra-exclusive Clubs are located on field level within the Mercedes-Benz and Delta Sky360 Clubs. Limited to 300 members, these Clubs offer ticket holders midfield seats and inclusive food-and-beverage service as well as a VIP parking pass. Members get access to the field-level patio.
Harrah's Cherokee Casino Clubs: Located on the 200 concourse, these Clubs offer fans a well-appointed dining space, and large bars. The Clubs have glass overhead doors to preserve sightlines, and all-inclusive packages are available. The Clubs are sold out for 2020.
Falcons Mobile Ticket Policy
The Atlanta Falcons have digital ticketing for season-ticket holders, who can access MyFalconsAccount via Ticketmaster to manage tickets. No paper tickets are available. All ticket holders can download the Atlanta Falcons app to buy, sell or transfer tickets and to enter the stadium.
What Can You Bring Into Mercedes Benz Stadium
Items Allowed in the Stadium:
Tabletsare permitted if they are smaller than 12"x12"x6" in size, handheld cameras, Go Pro cameras, handheld signs, banners, & flags with a maximum size of 3' x 5', 1 factory-sealed, non-frozen 500mL (16.9 fl. Oz.) bottle of water and parents with small children may bring plastic bottles of formula or milk, diaper bags, as long as they're clear, are also permitted, strollers, but they must be checked at one of our Guest Service Center,

Bag Policy: Bags that are clear plastic, vinyl or PVC and do not exceed 12" x 6" x 12, non-Clear bags no larger than 4.5 x 6.5,

Prohibited Items:
Alcohol, Animals (except service animals) bags that do not follow The Mercedes – Benz Stadium clear bag policy, electric or battery operated apparel, or signs, including loose batteries or items with loose batteries. bottles, cans and beverage containers of any kind, cameras with lens longer than 6" (detachable or non-detachable) chairs, booster seats, stools or other seating devices, food & drinks, inflated balls, knives, umbrellas larger than 33 inches, laser pointers, lights, noisemakers, pyrotechnics, firearms and weapons of any kind, signs and flags larger than 3' x 5', shakers, pom-poms or any item with a pole or stick, thermoses or cups, tripods, monopods and Selfie-Sticks.
Bag Policy: Any type of non-clear bag exceeding 4.5" x 6.5" in size unless medically necessary,
---
TicketIQ is committed to the cheapest tickets possible, and we make much less on sold out tickets compared to other major marketplaces like StubHub and Vivid. That means ticket buyers save from up to 25% on TicketIQ on sports, music and theater. We're able to do this because we also work with teams, venues, and other ticket owners, to help them sell tickets at face price, directly to consumers like you, through Ticketmaster and Seatgeek. For an overview of the 2020 NFL Ticket Buying landscape, and details on the cheapest way to get tickets for every team, visit the TicketIQ Blog.
---
How Much Are 2019 Atlanta Falcons Tickets
The Atlanta Falcons dive right into a rivalry for their first home game of 2019, when they host the Philadelphia Eagles in what is trending as the priciest home game at Mercedes-Benz Stadium. Below is look at how Falcons tickets prices stack up on the secondary market across the league. As you can see, Atlanta tickets are up $10 over last season, from $208 to $218, and are the second most expensive of the decade on the secondary market. The highest average asking price -- $418 -- was in 2017, when the Falcons won the NFC Championship before losing to New England in the Super Bowl. That was also the season that Mercedes-Benz Stadium opened.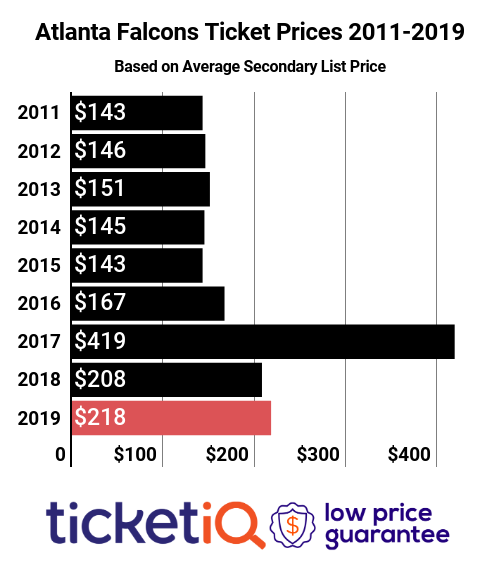 ---
Falcons Tickets On The Secondary Market Are Down 50% Since Last Season
Falcons 2018 Ticket Market Overview:
With the first regular-season home game less than two weeks away, below is how Falcons tickets prices stack up on the secondary market across the league. As you can see below, Falcons tickets are down 50%, owing in large part to Atlanta failing to get to Super Bowl for the second consecutive season. Even with the drop, tickets to Falcons games are the second most expensive since 2011, when TicketIQ.com began tracking data. Atlanta finished third in the NFC South in 2017 and lost a divisional playoff game to the eventual Super Bowl champion Philadelphia Eagles.
Where to Buy Tickets:
While tickets seem like a steal compared to last year -- $208 vs. $419 – they're still among the top half of the NFL in terms of ticket prices, ranking No. 14, and more than half of the games at Mercedes-Benz Arena have average asking prices of more than $200. The stadium is sold out for most home games on the primary market, though fans can buy tickets through the NFL Ticket Exchange on Ticketmaster on the secondary market or through secondary marketplace TicketIQ.com, which has seats for all games available with the company's Low Price Guarantee.
Prices For Each Game on 2018 Falcons Schedule:
The priciest game in Atlanta this season will be against the Dallas Cowboys, for which the average asking price on the secondary market is $392. Fans can get in for as little at $178. Both teams have been slow to find their groove during the preseason, but should either team be in the hunt by the time November 18 rolls around, expect ticket prices to rise.