AT&T Center Seating Chart + Rows, Seat Numbers and Club Seats
For sold out seats and events, TicketIQ has Low Price Guarantees on all events at AT&T Center for San Antonio Spurs, San Antonio Rampage, as well as Concerts. That means that if you find a secondary market ticket for less on a site like StubHub or Vivid Seats, we'll give you 200% of the difference in ticket credit. TicketIQ customers save up to 25% compared to other secondary sites. TicketIQ also provides access to unsold face-value tickets for all events at AT&T Center via Ticketmaster
AT&T CENTER

SEATING CHART-BASKETBALL

🎟️ SHOP LOW PRICE GUARANTEES FOR ALL SOLD OUT SPURS GAMES AT AT&T CENTER
📲 Download the TicketIQ app for $20 off your first ticket purchase
Floor Courtside sections, rows and seats at AT&T Center
Floor sections at AT&T Center includes section 1, 2, 3, 4, 5, 6. Also for some events there may be additional floor sections, as well as Pit or General Admission standing areas. The other sections are Silver Circle Center seating including only the lower level, row 1, Silver Circle Baseline seating including lower level, row 1A only. Seat number 1 in each section is closer to the lower adjacent section. Flat floor seating sections (1-6) typically have rows from 1 up to 15 with 22 seats per row. Balcony level sections (200-231) have rows from 1 to 23 with 30 seats per row.
100-level sections, rows and seats at

AT&T Center
100-level center sections include 106-109, 120-123. 100-level end sections include 113-116, 102, 101, 128, 127. 100-level corner sections are 117, 118, 119, 112, 111, 110, 124, 125, 126, 102, 103, 104.
200-level sections, rows and seats at

AT&T Center
200-level center sections include 207-209, 223-225. 200-level corner sections include 218-221, 227-230, 211-214, 202-205.
Club, VIP, Box Seats and Suites at

AT&T Center
The Courtside club at the AT&T center offers a VIP experience and is located near the visitor team bench. Courtside Club Boxes stretch from 1, 2, 3, 4, 5, 6, 6A, 7, 8, 9, 10, 10A, 11, 12, 13, 14, 15, 16, 20, 20A, 24, 24A. With these seats, fans get access to the Saddles and Spurs Club. The Terrace suites are great for hosting employees or potential clients. There are 12-16 seats, and 4-6 bar rails in the area and includes number 17-60 while Terrace level super boxes incorporate 1A, 1B, 1C, 2A, 2B, 2C. Terrace level ledge boxes stretch from 1-22. Box seating is comprised of rows 14-16. Super box seating is comprised of rows 1-7. Other facilities at center involves H-E-B Fan Zone, bars, restaurants, lounges, party deck suites, VIP loge boxes, skyboxes & skylofts, main entrance East, North, South, West exit gates. Bars are located at both center sections, while concessions and restrooms can be found in the center-adjacent sections.
Home Bench - The Spurs and Stars sit in front of Section 6
Visitor Bench - The visiting team sits in front of Section 10
AT&T CENTER

SEATING CHART-HOCKEY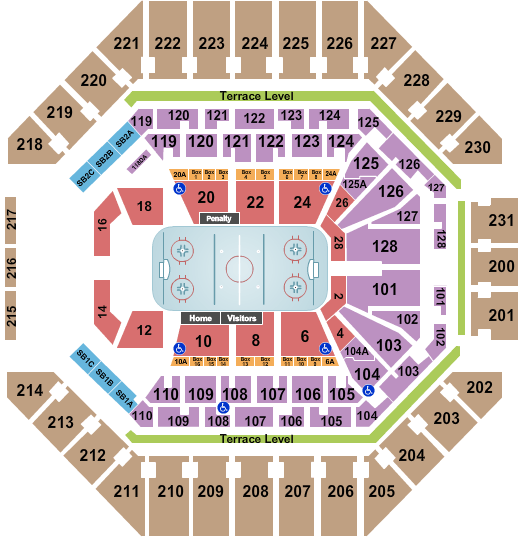 🎟️ SHOP LOW PRICE GUARANTEES FOR ALL SOLD OUT RAMPAGE GAMES AT AT&T CENTER
📲 Download the TicketIQ app for $20 off your first ticket purchase
What Sections Do Rampage Shoot Twice On: 12, 14, 16, 18, 215-217
The home team bench is at the front of section 10 whereas the visitors bench is at the front of section 8.
WHERE CAN I FIND CHEAPEST TICKETS FOR
AT&T CENTER
The San Antonio Rampage, San Antonio Spurs have unsold face-value tickets available for most games, which can be purchased directly through Ticketmaster. Prices may be above or below prices on the secondary ticket market. Many Concerts also have unsold tickets. For Sold Out Seats and Events, TicketIQ has Low Price Guarantees on all events at AT&T Center. That means that if you find a secondary market ticket for less on a site like StubHub or Vivid Seats, we'll give you 200% of the difference in ticket credit. TicketIQ customers save up to 25%.
WHAT IS MOBILE TICKET POLICY AT
AT&T CENTER
Tickets may be purchased in person at the box office, by phone or online through Ticketmaster or at any Ticketmaster outlet. The AT&T Center Box Office is open Monday through Friday from 12:00 PM to 5:30 PM. If there is an event during a weekend, the Box Office opens 5 hours prior to event time for Spurs and Concerts and 3 hours prior to event time for Rampage games. To contact the AT&T Center Southeast Box Office, call 210-444-5870
HANDICAPPED & ADA SEATING AT AT&T CENTER
AT&T Center offers other convenient services including wheelchair assistance, lost and found and wheelchair check in. Assistive Listening Devices are available at Guest Services on the Plaza Level at Section 101 for every event.