Where to Buy Auburn Football Tickets
Upper level seat are available to purchase on a single game basis for five games, including two conference games including Mississippi State and Ole Miss, with face value tickets ranging from $30 to $65. In addition to single games, Auburn also has a mini-plan option that costs $270 for a 3-game Package that includes either Mississippi State or Ole Miss, and either Georgia or Alabama. On the secondary ticket market, the cheapest ticket for the Iron Bowl starts at around $225, which means the 3-game plan costs about the same as buying tickets directly through the secondary ticket market.
On the secondary market TicketIQ has Low Price Guarantees on
Auburn football tickets for all games
on the 2019 schedule, in addition to Low Price Guarantees on all
college football tickets
, which means that if you find a secondary market ticket for less on a site like Stubhub or Seatgeek, we'll give you 200% of the difference in ticket credit. TicketIQ customers save an average of 5%-20% compared to Stubhub and Seatgeek.
Download the TicketIQ app for $20 off your first ticket purchase 📲🎟️
How Much Are Auburn Tigers Football
Auburn eases into their home schedule at Jordan Hare with two games against Tulane and Kent State before hitting their big time opponents. As you would assume, their priciest games are against Georgia and Alabama; those games will not only shape the SEC, but the entire NCAA playoff picture.
For the 2019 schedule, Auburn Football tickets are averaging $225 on the secondary market, the highest they've been this decade and 50% higher than last year's average. That is in part due to the fact that there are less tickets available on the secondary market for sale as a result of the mini-plans and single game tickets available at face value directly from the team. This is consistent with overall trends in the college football ticket market, where schools are focused on selling tickets direct-to-fans in new ways, as detailed in the 2019 College Football tickets preview on the the TicketIQ Blog.
No matter the game, though, deals can be found on the secondary market. For games against lesser opponents, get-in prices are as low as $10, which is well below face value.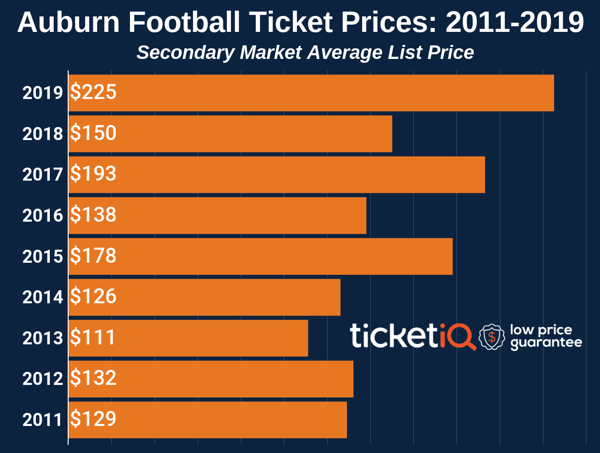 Ticket Prices for All Auburn Home Games On The 2019 Schedule
Secondary Market Average Price: $63
Secondary Market Cheapest ticket: $10
While they haven't played much in recent years, Auburn and Tulane were regular opponents in the first half of the 20th Century. The teams last met in 2006, with the Tigers winning comfortably.
Secondary Market Average Price: $59
Secondary Market Cheapest ticket: $14
This game actually makes history, as Kent State and Alabama have never met on the gridiron. Don't expect them to pull off the upset, however; the Golden Flashes are coming off a 2-10 season that ended with the firing of their head coach.
Secondary Market Average Price: $99
Secondary Market Cheapest ticket: $35
Auburn's home SEC opener is against the Mississippi State Bulldogs. The Tigers hold an all-time lead in the series, but history doesn't mean much on Saturday; just look at last year's game when eighth ranked Auburn could only muster three field goals in a 23-9 loss.
Secondary Market Average Price: $113
Secondary Market Cheapest ticket: $35
Auburn and Ole Miss is a classic SEC rivalry that rarely disappoints and this year's meeting shouldn't be an exception. The Tigers have won 32 of the 42 games between the schools and have dominated the series in recent years.
Secondary Market Average Price: $269
Secondary Market Cheapest ticket: $140
The Deep South's Oldest Rivalry will take place for the 124th time this November with SEC supremacy on the line. Georgia has had the upper hand in recent meetings, so Gus Malzahn and his team will definitely have this date circled and underlined on their calendar.
Secondary Market Average Price: $58
Secondary Market Cheapest ticket: $12
Auburn wraps up their non-conference schedule with a game against the Southern Conference's Samford Bulldogs. If you're looking for cheap tickets or a football fan who roots for the underdog, keep an eye on this game.
Secondary Market Average Price: $416
Secondary Market Cheapest ticket: $222
When it comes to regular season football games, it doesn't get much bigger than the Iron Bowl. Whether you're a fan of Auburn, Alabama, or just football in general. Don't miss this one; it's as simple as that.
---
TicketIQ is committed to the cheapest tickets possible, and we make much less on sold out tickets compared to other major marketplaces like StubHub and Vivid. That means ticket buyers save from up to 25% on TicketIQ on sports, music and theater. We're able to do this because we also work with teams, venues, and other ticket owners, to help them sell tickets at face price, directly to consumers like you, through Ticketmaster and Paciolan. For an overview of the 2019 College Football Ticket Buying landscape, and details on the cheapest way to get tickets for every pre-season top 25 team, visit the TicketIQ Blog.