Auburn Tigers 2018 Ticket Market Overview
With the 2018 college football season upon us below is how Auburn Tigers ticket stack up on the secondary market compared to the Top 60 NCAA teams. As you can see below, ticket prices are down 22% compared to last year. Tickets are the third cheapest of the decade, behind only 2012 and 2014, when the Tigers finished seventh and tied for fourth, respectively, in the SEC.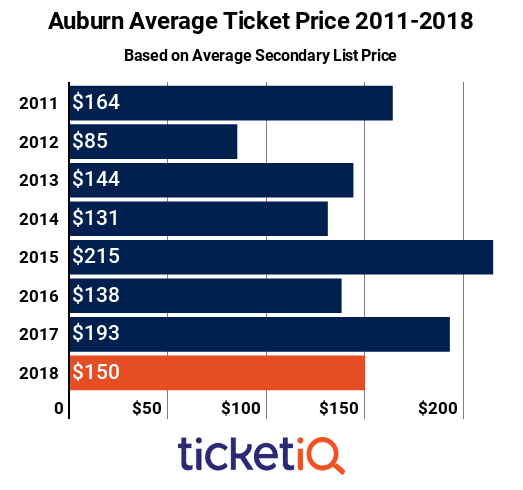 Where to Buy Tickets
This season, Auburn tickets are the 13th most expensive in the NCAA, down from eighth last season. On the secondary market, two games have current average asking prices of $217 or more and four total have asking prices above $111. For secondary market listings, TicketIQ offers a Low Price Guarantee for all of the games listed below. The cheapest secondary listing for most games is is less than $100, including $11 against Liberty and $14 against Alabama State. The lower bowl on the sidelines for all SEC games is sold out on the primary market.
Prices for Each Game of the 2018 Auburn Tigers Season
The Auburn-LSU rivalry is alive and well as evidenced by it having the highest average asking price on the secondary market -- $232 – while the cheapest seat on the primary market is $125, for a spot in the upper deck. The rivalry is known as the Tiger Bowl and dates to 1901. LSU visits Auburn on September 15, so fans of both teams will likely be full of hope and enthusiasm, thereby driving up prices.

Real-Time Ticket Data And Listing