For Sold Out tickets, TicketIQ has Fee Free tickets for all events at Autzen Stadium including Oregon Ducks football games as well as Concerts. TicketIQ customers save up to 25% compared to other secondary sites. TicketIQ also provides access to unsold face-value tickets for all events at Autzen Stadium via Ticketmaster.
Autzen Stadium Football Seating Chart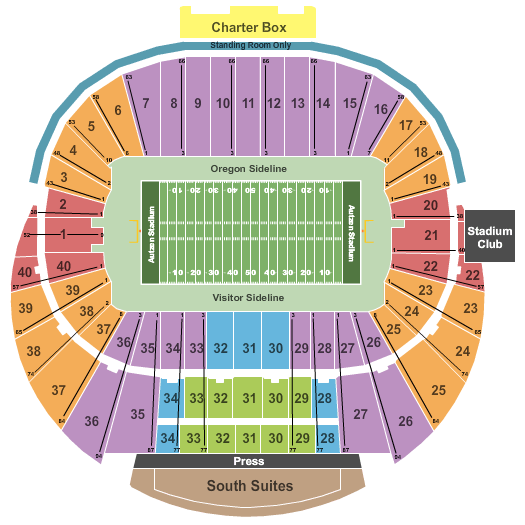 Lower-level sections, rows, and seats at Autzen Stadium
Lower-level center sections include 10-12, 30-32, lower-level end sections include 15-27, 7-35 with lower-level corner sections of 8, 9, 13, 14, 33, 34, 28, 29. Lower-level center rows run from 1-66 with end section rows starting at row 1 through 42 and 66 onward.
The section at corner ends starts at row 1-55.
Upper-level sections, rows, and seats at Autzen Stadium
Upper-level center sections include 28-34 with 1-94 rows. Upper-level corner sections include 26, 27, 35, 36 with 1-93 rows each.
Upper-level end sections include 37-40, 20-25 with varying rows in each section.
Club, VIP, Box Seats and Suites at Autzen Stadium
The Club at Autzen Stadium is located in sections 29-33 and are perfectly situated for seeing the entire field with wide eyes. Chairback seating is available in Section 30-32 and Sections 28-29 and 33-34 (in only row 41 and above). Sections 36-38 are designed for visiting team fans. Section 4-8 features Student Seating options.
Oregon Sideline - The Oregon sideline is in front of 10, 11 and 12
Visitor Sideline - The visiting team sideline is in front of 30, 31 and 32
WHERE CAN I FIND CHEAPEST TICKETS FOR AUTZEN STADIUM
The Oregon Ducks have unsold face-value tickets available for most games, which can be purchased directly through Ticketmaster. Prices may be above or below prices on the secondary ticket market. Many Concerts also have unsold tickets. For Sold Out Seats and Events, TicketIQ hasFee Free tickets for all events at Autzen Stadium.
WHAT IS MOBILE TICKET POLICY AT AUTZEN STADIUM
Autzen Stadium only allows digital tickets from authorized Oregon Ducks or Ticketmaster and does not allow re-selling of tickets. Only scanned tickets are allowed for entry into a Ducks game.
HANDICAPPED & ADA SEATING AT AUTZEN STADIUM
Autzen Stadium offers other convenient services including wheelchair assistance lost and found and wheelchair check-in. For guests who wish to transfer to a seat from their wheelchair, Autzen Stadium will store the wheelchair at Guest Services on various levels.