For Sold Out Seats and Events, TicketIQ has Fee Free tickets for all events at the Beacon Theatre. which also include a Refund Guarantee. Our Refund Guarantee states that if an event is canceled or deemed unfit for fans to attend, TicketIQ will refund ticket buyers in as soon as 15 days. That means that you can buy from TicketIQ worry-free. Customers on TicketIQ save between 15%-25% compared to other secondary market ticketing sites. TicketIQ also provides access to unsold face-value tickets for all events at Beacon Theatre via Ticketmaster.
CONCERT SEATING CHART AT BEACON THEATRE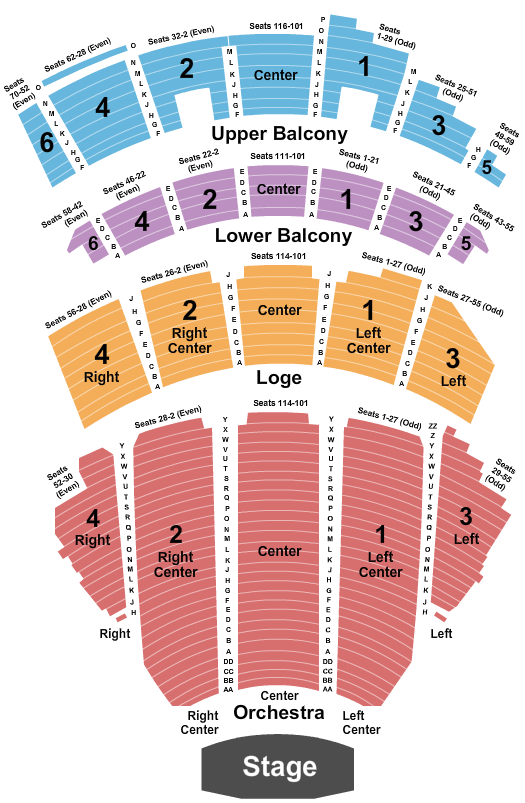 Sections, rows and seats at Beacon Theatre
Floor seating at Beacon Theatre consists of Orchestra level, the Loge Level, Lower Balcony Bowl and Upper Balcony Bowl. The levels are further divided into Center, Left-Center, Right-Center, Right and Left sections. The left levels consist of odd numbered seats while the levels at right extremes consist of even-numbered seats. The Orchestra level consists of front Center, Left Center and Right Center sections. Each one of them incorporates rows from AA-DD and A-Z. The Left and Right Orchestra level starts from row H and ends at row Y. The Loge Level is the first elevated level on the Beacon Theatre. The seats are closer to stage and consist of rows from A to J except Left Loge consisting of K row. The upper tier consists of Lower Balcony and Upper Balcony level. The lower balcony incorporates A-E rows with 11 seats in each row. The Upper Balcony consists of 7 different sections with center section comprising rows F-P. The other sections are 1-6 starting from row F.
WHERE CAN I FIND CHEAPEST TICKETS FOR BEACON THEATRE
The concert tickets at Beacon Theatre can be purchased directly through Ticketmaster. Prices may be above or below prices on the secondary ticket market. Many Concerts also have unsold tickets. For Sold Out Seats and Events, TicketIQ has Fee Free tickets for all events at the Beacon Theatre.
WHAT IS MOBILE TICKET POLICY AT BEACON THEATRE
Tickets for concerts at Beacon Theatre can be purchased either through the Beacon Box Office or Ticketmaster outlets. However, on very first days of tickets sale, tickets are not sold at the Box Office and may only be purchased on Ticketmaster. Extra tickets will be required if you are planning to take you toddlers with you at the venue.
HANDICAPPED & ADA SEATING AT BEACON THEATRE
Beacon Theatre offers other convenient services including wheelchair assistance, lost and found and wheelchair check in. For guests who wish to transfer to a seat from their wheelchair, Beacon Theatre will store the wheelchair at Guest Services. While purchasing ticket, one shall use the filter of handicapped or ADA accessible tickets on the event page.