Boston Bruins 2021 Ticket Information
As of now, tickets are not available for Boston Bruins home games in 2021. Give us your email below for future updates on ticket availability and pricing:
Where To Buy Boston Bruins Tickets
If tickets become available, TicketIQ will have Boston Bruins tickets that are Fee-Free and come with a Refund Guarantee. Our Refund Guarantee states that if an event is canceled or deem unfit for fans to attend, TicketIQ will refund ticket buyers within 15 days. That means that you can buy from TicketIQ worry-free.
---
How Much Are 2019-20 Boston Bruins Tickets
Primary market tickets for the lower-demand games start at $69 for and run as high as $175 for the highest-demand games. The cheapest ticket for Center Ice section 1 is $225 for lower-demand games and $549 for higher-demand games. In the secondary market, most games start under $100 for the cheapest tickets, while lower demand games start under $70.
Boston Bruins tickets are the seventh most expensive in the NHL on the secondary market, with a current average asking price of $151, a 18% decrease from last season. Boston's secondary market tickets had risen to the third-highest mark in the league in 2017-18, but have dropped the last two years.
The $151 secondary market price is the lowest for the Bruins since 2011-12. The Bruins, who reached the Stanley Cup for the third time in the last decade, fell in seven games to the first-time champion St. Louis last season.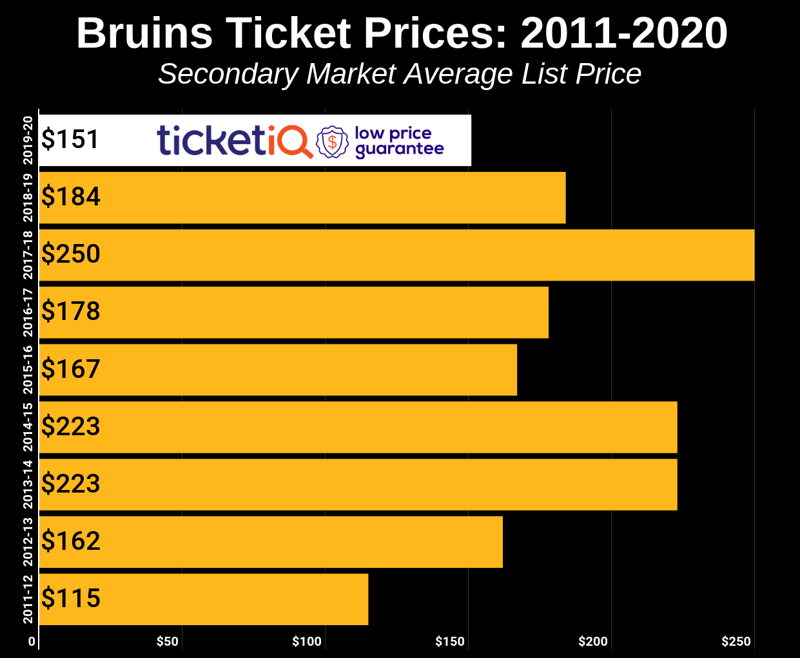 What are the Bruins Season Ticket and Mini Plan Options
Fans interested in joining the Boston Bruins Season Ticket Waitlist must put down a $100 deposit per ticket, with a maximum of four seats. Those on the waiting list get priority access to single-game tickets.
Where are Club Seats at TD Garden
The Bruins offer many premium seating experiences as a part of the Boston Garden Society, which include 'street-to-seat' elevators:
Club Seats, found in sections 107, 109, 111, 113, 115, 137, 139, 141, 143, and 145, offer cushioned seats and in-seat food and beverage service. Club Seat season ticket plans include full and half season packages.
Society Suites are found on both of the premium levels and offer an array of food and beverage selections. Amenities include televisions and a private bathroom.
The Heineken Green Room is a 22-seat lounge on Level 5 of Boston Garden Society, which includes in-seat food and beverage service.
The Cross Insurance Boardroom offers fans two full-service bars, all-inclusive food offerings, televisions, and a birds-eye view behind the net.
The AT&T Sportsdeck, which is found opposite to the Cross Insurance Boardroom, includes a bar and seating experience with complimentary appetizers.
The Lofts offer a semi-private experience adjacent to a restaurant on the premium level of TD Garden. A three-course meal and complimentary parking are both included in your purchase. The Lofts are found one floor above the AT&T Sportsdeck.
The Absolut Lounge is a 20-seat lounge in an Absolut-themed bar, which has two bartenders.
As a part of the TD Garden expansion, many new spaces at TD Garden plan to open in November 2019, and they can be found here.
Bruins Mobile Ticketing Info
TD Garden offers mobile ticketing via the Ticketmaster app, which is available at the App Store or Google Play, and allows fans to manage tickets and parking passes. The arena offers complimentary internet as well.
The Top 10 Most Expensive Bruins Games on the Secondary Market
The top four most expensive games include Eastern Conference opponents, and fifth on the list is against the Blues, as the Bruins will look to avenge their Stanley Cup Final loss. The home opener against New Jersey is the third-most expensive contest.
Secondary market average asking price: $222
Secondary market cheapest ticket: $130
Secondary market average asking price: $222
Secondary market cheapest ticket: $146
Secondary market average asking price: $207
Secondary market cheapest ticket: $125
Secondary market average asking price: $206
Secondary market cheapest ticket: $125
Secondary market average asking price: $199
Secondary market cheapest ticket: $114
Secondary market average asking price: $194
Secondary market cheapest ticket: $110
Secondary market average asking price: $190
Secondary market cheapest ticket: $114
Secondary market average asking price: $186
Secondary market cheapest ticket: $100
Secondary market average asking price: $185
Secondary market cheapest ticket: $106
Secondary market average asking price: $183
Secondary market cheapest ticket: $111
TicketIQ is committed to the cheapest tickets possible, and we make much less on sold out tickets compared to other major marketplaces like StubHub and Vivid. That means ticket buyers save from up to 25% on TicketIQ on sports, music and theater. We're able to do this because we also work with teams, venues, and other ticket owners, to help them sell tickets at face price, directly to consumers like you, through Ticketmaster and AXS. For an overview of the 2019-20 NHL Ticket Buying landscape, and details on the cheapest way to get tickets for every team, visit the TicketIQ Blog.
---
Boston Bruins 2018-19 Ticket Market Overview:
The Boston Bruins didn't make too many changes following a second-place finish in the Atlantic Division, and demand for tickets is down, though the average asking price on the secondary market is the fourth highest since TicketIQ.com began tracking data in 2011. The team announced sweeping increases -- by as much as $11 per seat -- during the offseason, which could account for the depressed demand on the secondary market. Below is how Bruins tickets stack up against the secondary market across the NHL. As you can see below, 2018-19 Boston Bruins tickets are down just over 26% against last season. The most expensive ticket since 2011 was a $250 average last season, followed by a $223 average in both 2013-14 and 2014-15. Boston won the Atlantic in 2013-14.
Where to Buy Tickets:
Bruins tickets have an average asking price on the secondary market of $184, good enough for No. 6 in terms of price across the NHL. Boston had the third most expensive ticket last season. The Toronto Maple Leafs are ranked No. 1 with a $332 average asking price. Bruins season tickets have long been sold out, but fans can join the priority waiting list for a $100 non-refundable deposit per seat. Single-game tickets are available through the team's partner, Ticketmaster. Primary market tickets are sold out, but verified resale tickets area available. TicketIQ.com also has a wide selection of secondary market tickets available for all games at TD Garden, including seats for the October 27 Montreal Canadiens game in Loge 1 right behind the team benches, starting at $413.
Top 5 Games On The 2018-19 Boston Bruins Schedule:
That Canadiens game is trending as the most expensive of the season, with an average asking price of $334 through secondary ticket marketplace TicketIQ.com. Considered one of the greatest rivalries in sports, the Bruins and Canadiens have played 919 times dating back to 1924. The Bruins are currently on a four-game series win streak. Among the highlights of the often heated rivalry were the 1970s, when Scotty Bowman was building a dynasty in Montreal and Don Cherry's lunch-pail gang was winning in Boston.
Last year, the rivalry was fanned when the Bruins fired coach Claude Julien in February, only to watch Montreal hire him. Julien will return to the Garden and it's a pretty good bet that prices will continue rise as the game gets closer. Only one other game on the schedule has broken the $300 barrier -- the November 11 meeting against the upstart Vegas Golden Knights, the first expansion team to get to a league championship game in its first season. The current average asking price for that game is $308. TicketIQ.com has tickets to both games available, including many with the company's Low Price Guarantee.