Of the four teams that are not yet onsale, the Browns are the most interesting case, given their strong finish last year and the signing of big-name talent like Odell Beckham Jr. For 2019, the average price on the secondary market for Browns tickets is $194, which is the highest average price this decade for games in Cleveland. It's also almost double the $105 average in 2017, which was the lowest price this decade. Prior to the Mayfield era, the Browns had been active single-game ticket sellers. With secondary-market tickets available under $25 for most games, they didn't have much luck. With prices up as much as they are for 2019, though, the Browns could be aggressive single-game sellers and likely make more money selling tickets than ever before. Since November, the team says they've sold over 11,000 new season tickets and, as if to formalize their arrival to the world of high-demand tickets, they've even instituted a waitlist, which you can get onto for $100 per ticket.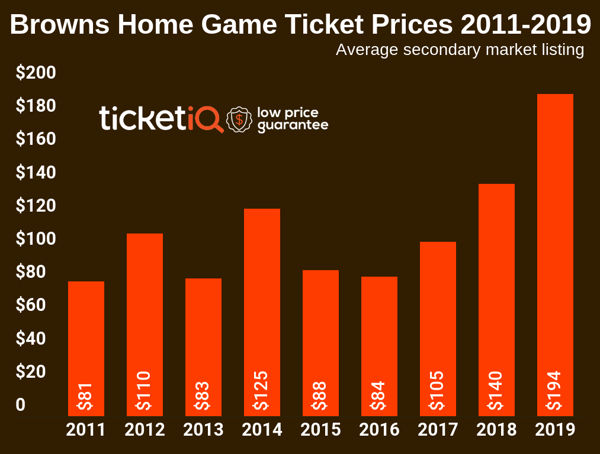 According to the team, after the May 3rd onsale, single-game tickets will be available directly on their site. Once they're gone, the team doesn't have plans to add more. If prices continue to rise, however, that could change, as the team decides to run the revenue optimization playcall. Below is the schedule of 2019 games along with the average and cheapest prices on the Secondary ticket market.
CLICK ON THE GAME LINKS BELOW FOR LOW PRICE GUARANTEE TICKETS
TicketIQ is a ticket market place with access to Low Price Guarantees on all NFL tickets. If you find the same ticket for less, we'll give you 200% of the difference in ticket credit. TicketIQ is also the leading source of ticket market data used by major news outlets, like CNBC, Business, Insider, Fox and others. Enjoy the TicketIQ blog for most in-depth coverage of the Browns ticket market and use TicketIQ.com to save 15% compared to other major tickets sellers.