Busch Stadium Seating Chart + Rows, Seats and Club Seats
For sold out seats and events, TicketIQ has Fee Free tickets for all events at Busch Stadium for St. Louis Cardinals games as well as Concerts. TicketIQ customers save 15%-25% compared to other secondary sites. TicketIQ also provides access to unsold face value tickets for all events at Busch Stadium via Ticketmaster.

Busch Stadium Seating Chart

- Baseball
Field level sections, rows and seats

at

Busch Stadium
The sections at Busch Stadium consists of 100 to 400 level with a number of club seats and executive seats. Most rows in the 100s have 8 to 14 seats while in the 200s have 16 seats per a row. 300s sections have 20 seats in a row. The highest level of seating at Busch Stadium is the Terrace Level, consisting sections 428-454. These sections occupy the entire right field line and wrap around to stop just short of 3rd base.
100-level sections, rows and seats

at

Busch Stadium
Lower-level center sections include 145-155. 100-level end sections include 136-144, 156-161 with 100-level corner sections of 162-197, 137-127.
Lower-level rows run from D-K, 1-18. End sections have rows 1-29 while 6-22 rows run between corner sections.
200-level sections, rows and seats

at

Busch Stadium
200-level center sections include 255-245. 200-level corner sections include 268-272, 231-227. 200-level end sections include 232-244, 256-267.
200-lower level rows run from 1-8. End Sections have rows 1-15. Sections in corner have rows 1-13.
300-level sections, rows and seats

at

Busch Stadium
300-level center sections include 345-355. 300-level corner sections include 339-328, 361-372. 300-level end sections include 340-344, 356-360.
200-level center rows run from 1-12. End Sections have rows 15 rows while the corner sections have 24 rows per section.
400-level sections, rows and seats

at

Busch Stadium
400-level center sections include 448-452. 400-level corner sections include 453-454, 428-447.
400-level center rows run 1-24 in all sections.
Club, VIP, Box Seats and Suites at

Busch Stadium
Cardinals Club offers one of the best seats and seating view at Busch Stadium behind home plate. The Redbird Club sections are located on the second tier of the stadium behind home plate, and offers complimentary food options with comfortable seating and premium view. Located down the left field line, the Champions Club is one of the premier all-include seating areas for a Cardinals game.The Commissioner's Box club seats are located in front of Section 141, in right of the Cardinals dugout.
Also, the Family Pavilion is located on Level 1 between Gates 5 and 6, on the northeast corner of Busch Stadium.
Cardinals Dugout - The Cardinals players sit in front of 142, 143 and 144
Visitor Dugout - The visiting team sits in front of 156, 157 and 158
Traveling To Busch Stadium?
Concert Seating Chart At Busch Stadium
Floor seating at Capital One Arena of as many as 15 sections, numbered A1 through B7, with sections A1-A8 closest to the stage and 4, B1-B7 farther from the stage. Behind the stage sections include 193, 195, 197, 101, 103, 105.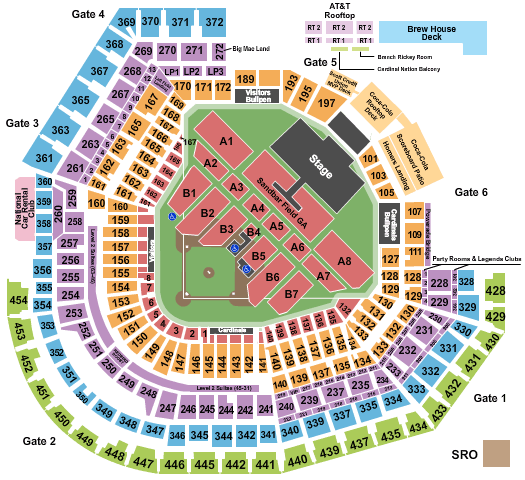 WHERE CAN I FIND CHEAPEST TICKETS FOR BUSCH STADIUM
The St. Louis Cardinals have unsold face value tickets available for most games, which can be purchased directly through Ticketmaster. Prices may be above or below prices on the secondary ticket market. Many Concerts also have unsold tickets. For Sold Out Seats and Events, TicketIQ has Fee Free tickets for all events at Busch Stadium.
Where Can I Find Cheapest Tickets For Busch Stadium
StubHub is the official online ticketing partner for Cardinals game at Busch Stadium. Tickets purchased through Stubhub are Print At Home only and should be printed before arriving at Busch Stadium.
Guests may also purchase tickets to upcoming Cardinals home games by calling the Ticket Sales Hotline at (314) 345-9000. The Ticket Sales Hotline is open from 9am-9pm, Monday-Friday. During Weekend Home Games 10am-2 hours after scheduled first pitch.
Guests may also purchase tickets at 8th Street or Clark Street ticket windows, the official Box Office Windows for Busch Stadium.
Handicapped & ADA Seating At Busch Stadium
Busch Stadium offers other convenient services including wheelchair assistance, lost and found and wheelchair check in. To purchase tickets for accessible seating, visitors may scroll through cardinals.com, or call (314) 345-9000 and a Ticket Sales Representative will be available to guide you through the process.