Carolina Panthers 2020 Attendance and Ticket Policy
In an email sent to fans on July 15th, the Panthers introduced new guidelines for the 2020 season along with several options for season ticket holders.
The plan includes reduced capacity at Bank Of America Stadium this season, though that capacity could change through the course of the season.
There will be Enhanced protective measures for fans who do attend games. These include "Health screening protocols, required face coverings, access to sanitizing stations throughout the facility, contactless/cashless transactions, and physical distancing amplified via stadium signage."
PSL owners can opt-out of the 2020 season without penalty. If they choose to opt-out there is an option to carry the credit over to the 2021 season and future ticket purchases. Fans can also request a full refund.
If PSL owners who opt-in will have the opportunity to select from a predetermined set of games. They will also be able to purchase seats within their specific price level.
Where To Buy 2020 Carolina Panthers Tickets
Carolina Panthers tickets are available for sale on the secondary market as of the NFL's 2020 schedule release.
TicketIQ has
Fee-Free tickets
with a
Low Price Guarantee
and
Refund Guarantee
, which states that in the event an event is cancelled or deem unfit for fans to attend, TicketIQ will refund ticket buyers within 15 days. That means that you can buy from TicketIQ worry-free.
Potential Covid-19 Impact On 2020 NFL Schedule
While the schedule release is a much-needed dose of exciting news for all football fans, there are some major questions marks heading into the 2020 season due to the Coronavirus pandemic. While teams know what teams they'll play, that's about all they know. Whether or not the games happen and if fans are able to attend will depend on how the virus is managed over the next 2-3 months. The league has already canceled all of its International Series games, and the league is rightly considering all possible scenarios.
Based on the varying levels of infection in each NFL city and state, it's possible that some teams may be able to host fans at a reduced capacity while others may not. The Dolphins announced a preliminary plan last week, with a 25% of capacity goal. Based on the below NFL Covid-19 Safety Index, the Dolphins fall within the low-risk category, just barely.
To create the Safety Index, we compared the active cases in each city or state to the national average and then discounted that product by Rt. Rt is a measure of how fast the virus is spreading in each city and state, most easily tracked through Rt.live.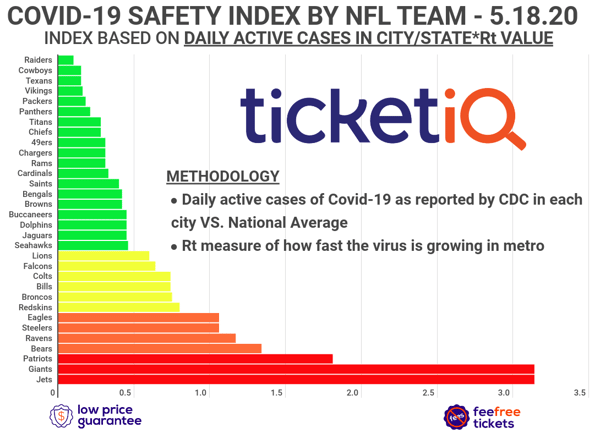 How Much Are Carolina Panthers Tickets
The average asking price on the secondary market for a Carolina Panthers ticket is up more than 63% after the team signed quarterback Teddy Bridgewater and added new head coach Matt Ruhle. The $327 average ranks No. 20 in the NFL and is more than 103% higher than last year's home average price.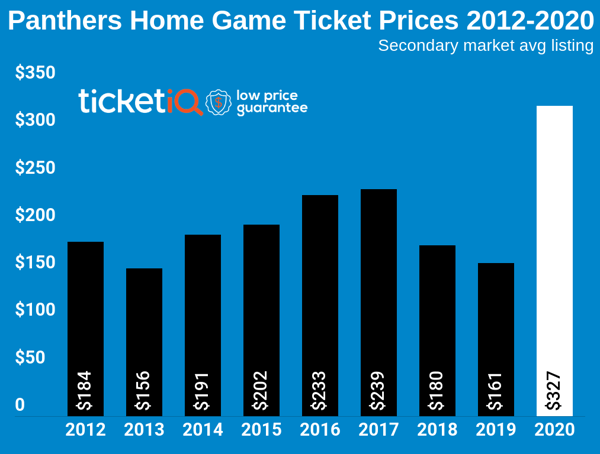 Season Ticket and Mini Plan Options
Carolina Panthers season tickets are currently available, but fans must also make a one-time payment to purchase a Personal Seat License. The team is offering fans the opportunity to pay for the PSL over 18 or 48 months with no interest. The PSL fee ranges from $1,000-$10,000 depending on seat location, and season tickets start at $560 in some End Zone Reserved Sections and go up to $4,500 in Club 1 at the 50-yard line.
Club Seating and Premium Options
Most Club options at Bank of America Stadium are available only to PSL holders, including the Silver Club PSL, which gives fans access to the Club Level and its eight lounges. Each lounge has premium food and beverage available, and Silver Club members get complimentary roster cards on game day, merchandise discounts, priority for single-game tickets and private entry into the stadium.
Among the most exclusive locations on the Silver Club Level are the Terrace PSLs, which are located in the northeast and southeast corners of the stadium. Each Terrace has 28 seats, a retractable glass window, three rows of cushioned seats and five flat-screen televisions. The Terraces are located on the 300 Level.
Here's a look at some of the other lounges and clubs throughout the stadium:
Gridiron Club: This Club has an urban feel and ticket holders get assigned outdoor seating and access to the lounge. Outdoor seats have individual radiant heat and cooling. The indoor lounge has high-end dining options, as well as a theater-style seating area with televisions.
Suite 87: This exclusive space accommodates only 132 people, and individuals can purchase season access. Inside, ticket holders will find an inclusive appetizer buffet, private bar, and video wall. Ticket holders also get access to all the lounger on the Silver Club Level.
32 Club: Located on the north sideline of 400 Level, this exclusive club accommodates 32 people and is named for the 32 NFL franchises. 32 Club membership is an all-inclusive game-day experience that includes a panoramic view, and access to other Clubs.
51 Club: Located in the southwest corner on the 400 Level, this club accommodates up to 36 in a modern space with three rows of cushioned seating behind a retractable glass window, and plenty of flat-screen televisions. Ticket holders get access to other Clubs as well.
10/26 Club: Named for the day NFL owners agreed to expand into North Carolina, this Club is located in the southeast corner on the 400 Level and caps membership at 41 people. Like some of the other Clubs, this one has three rows of padded seats behind retractable windows and flat-screen televisions throughout.
Panthers Mobile Ticket Policy
Fans can download the Carolina Panthers app via Google Play or the App Store, and can use the app to enter Bank of America Stadium or buy, sell, or transfer tickets. The Panthers have moved exclusively to mobile ticketing.
---
TicketIQ is committed to the cheapest tickets possible, and we make much less on sold out tickets compared to other major marketplaces like StubHub and Vivid. That means ticket buyers save from up to 25% on TicketIQ on sports, music and theater. We're able to do this because we also work with teams, venues, and other ticket owners, to help them sell tickets at face price, directly to consumers like you, through Ticketmaster and Seatgeek. For an overview of the 2020 NFL Ticket Buying landscape, and details on the cheapest way to get tickets for every team, visit the TicketIQ Blog.