When Do Carolina Panthers Tickets Go On Sale
Primary market face value tickets are available via Ticketmaster.

On the secondary market, TicketIQ has Fee-Free Carolina Panthers tickets which also include a Refund Guarantee. Our Refund Guarantee states that if an event is canceled or deemed unfit for fans to attend, TicketIQ will refund ticket buyers in as soon as 15 days. That means that you can buy from TicketIQ worry-free. Customers on TicketIQ save between 15%-25% compared to other secondary market ticketing sites.
How Much Are 2021 Carolina Panthers Tickets
The average list price on the secondary market has been trending up and down all season. At the start of the season, tickets for Carolina Panthers' home games were averaging $285. Following the team's 3-0 start, prices rose to $336 by early October. Then, after the team dropped their next four games, prices dropped back down to $285. However, following the team's signing of former star quarterback Cam Newton, excitement is back for the fan base. Since the signing, the average price on the secondary market has risen to $403, an increase of 41%.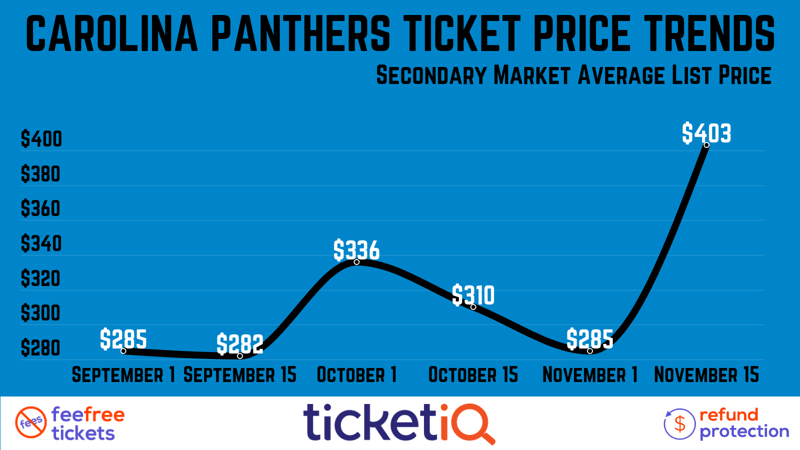 Carolina Panthers 2021 Attendance Policy
The Panthers will operate at full capacity for the 2021 season.

Carolina Panthers 2021 Opponents & Schedule
Home: Atlanta Falcons, New Orleans Saints, Tampa Bay Buccaneers, Minnesota Vikings, New England Patriots, New York Jets, Philadelphia Eagles, Washington Football Team.
Away: Atlanta Falcons, New Orleans Saints, Tampa Bay Buccaneers, Arizona Cardinals, Buffalo Bills, Dallas Cowboys, Houston Texans, Miami Dolphins, New York Giants.
Week 1: Sep. 12 vs New York Jets 1:00 PM CBS
Week 2: Sep. 19 vs New Orleans Saints 1:00 PM FOX
Week 3: Sep. 23 at Houston Texans (Thu) 8:20 PM NFLN
Week 4: Oct. 3 at Dallas Cowboys 1:00 PM FOX
Week 5: Oct. 10 vs Philadelphia Eagles 1:00 PM FOX
Week 6: Oct. 17 vs Minnesota Vikings 1:00 PM FOX
Week 7: Oct. 24 at New York Giants 1:00 PM FOX
Week 8: Oct. 31 at Atlanta Falcons 1:00 PM FOX
Week 9: Nov. 7 vs New England Patriots 1:00 PM CBS
Week 10: Nov. 14 at Arizona Cardinals 4:05 PM FOX
Week 11: Nov. 21 vs Washington Football Team 1:00 PM FOX
Week 12: Nov. 28 at Miami Dolphins 1:00 PM FOX
Week 13: BYE
Week 14: Dec. 12 vs Atlanta Falcons 1:00 PM FOX
Week 15: Dec. 18 or 19 (Sat/Sun) at Buffalo Bills TBD
Week 16: Dec. 26 vs Tampa Bay Buccaneers 1:00 PM FOX
Week 17: Jan. 2 at New Orleans Saints 1:00 PM FOX
Week 18: Jan. 9 at Tampa Bay Buccaneers 1:00 PM FOX
Carolina Panthers 2021 Season Tickets
Carolina Panthers season tickets are currently available, but fans must also make a one-time payment to purchase a Personal Seat License. The Carolina Panthers is offering fans the opportunity to pay for the PSL over 18 or 48 months with no interest. The PSL fee ranges from $1,000-$10,000 depending on seat location, and season tickets start at $560 in some End Zone Reserved Sections and go up to $4,500 in Club 1 at the 50-yard line.
Carolina Panthers Club Seating and Premium Options
Most Club options at Bank of America Stadium are available only to PSL holders, including the Silver Club PSL, which gives fans access to the Club Level and its eight lounges. Each lounge has premium food and beverage available, and Silver Club members get complimentary roster cards on game day, merchandise discounts, priority for single-game tickets and private entry into the stadium.
Among the most exclusive locations on the Silver Club Level are the Terrace PSLs, which are located in the northeast and southeast corners of the stadium. Each Terrace has 28 seats, a retractable glass window, three rows of cushioned seats and five flat-screen televisions. The Terraces are located on the 300 Level.
Here's a look at some of the other lounges and clubs throughout the stadium:
Gridiron Club: This Club has an urban feel and ticket holders get assigned outdoor seating and access to the lounge. Outdoor seats have individual radiant heat and cooling. The indoor lounge has high-end dining options, as well as a theater-style seating area with televisions.
Suite 87: This exclusive space accommodates only 132 people, and individuals can purchase season access. Inside, ticket holders will find an inclusive appetizer buffet, private bar, and video wall. Ticket holders also get access to all the lounger on the Silver Club Level.
32 Club: Located on the north sideline of 400 Level, this exclusive club accommodates 32 people and is named for the 32 NFL franchises. 32 Club membership is an all-inclusive game-day experience that includes a panoramic view, and access to other Clubs.
51 Club: Located in the southwest corner on the 400 Level, this club accommodates up to 36 in a modern space with three rows of cushioned seating behind a retractable glass window, and plenty of flat-screen televisions. Ticket holders get access to other Clubs as well.
10/26 Club: Named for the day NFL owners agreed to expand into North Carolina, this Club is located in the southeast corner on the 400 Level and caps membership at 41 people. Like some of the other Clubs, this one has three rows of padded seats behind retractable windows and flat-screen televisions throughout.
Bank of America Stadium COVID-19 Health and Safety Protocols
Physical Distancing
Fans are required to follow all physical distancing markers displayed throughout Bank of America Stadium. These markers will help everyone line up for security screenings, restrooms and concessions. Please be respectful of others and their space.
Face Coverings
Face coverings are mandatory for every person in the stadium (fans and staff) and must be worn at all times, except while actively eating and drinking in your seat.
Hygiene
Hand sanitizer is readily available for your use throughout Bank of America Stadium. Fans are allowed to bring in a small, clear hand sanitizer bottle.
Cashless
Bank of America Stadium is entirely cashless in 2020. All purchases will need to be made via credit card, debit card, touch-free payment or through the Panthers App. Pre-paid debit cards are accepted.
Concessions
In 2020, the Panthers will provide a new food and beverage Ticket Pack which will allow fans to order and pay in advance of game day and pick up from designated concession stands.
Fan can still purchase food and beverages from limited menus at concessions stands and portables in person or directly through the Panthers App. Communal socializing areas throughout the concourse, picnic areas and club lounges will be closed. Fans should plan to eat at their designated seating location. .
Ingress and Egress
In order to reduce congestion when entering and exiting Bank of America Stadium, each section will have a designated entry gate that is listed on the mobile ticket.
Remember to have your mobile ticket ready and to follow the clear bag policy to help speed entry into the stadium.
When exiting the stadium, all fans should leave in an orderly fashion and maintain a physical distance from others.
Directional Signage
Once inside the stadium, fans will notice that our concourses have been split into two lanes going opposite directions. Follow directional arrows and signage to stay to the right on all concourses and ramps to maintain physical distancing. Elevators are available for ADA use only. All other foot traffic will be directed to use escalators and ramps.
When exiting your seating section for restrooms, concessions or at the end of the game, always proceed to the right.
Pod Seating
Game tickets in the outside seating bowl are distributed in "pods" to support physical distancing between each group of ticket holders at the game, with the expectation that fans will be attending games with family members they have been sheltering with and/or with trusted acquaintances. Seating pods are assigned every other row with at least two seats between groups. Please do not move to other seats or join other groups.
For more information, visit the Panthers website.
Carolina Panthers Mobile Ticketing
Fans can download the Carolina Panthers app via Google Play or the App Store, and can use the app to enter Bank of America Stadium or buy, sell, or transfer tickets. The Panthers have moved exclusively to mobile ticketing.

---
TicketIQ is committed to the cheapest tickets possible, and we make much less on sold out tickets compared to other major marketplaces like StubHub and Vivid. That means ticket buyers save from up to 25% on TicketIQ on sports, music and theater. We're able to do this because we also work with Carolina Pantherss, venues, and other ticket owners, to help them sell tickets at face price, directly to consumers like you, through Ticketmaster and Seatgeek. For an overview of the 2020 NFL Ticket Buying landscape, and details on the cheapest way to get tickets for every Carolina Panthers, visit the TicketIQ Blog.