Where to Find Cheapest LCS tickets. For 2019, Nats Are Most $$$
While there are still three games to be played to decide which teams advance to the American and National League Championship, tickets are available for all teams on the secondary ticket market. Most teams have already put their LCS tickets on sales, which means that the secondary ticket market is the best option to see the Yankees and some combination of the Astros, Rays, Cardinals, Dodgers, Braves, Nationals. Right now, the Nationals have the most expensive of any potential team, with the Yankees and Cardinals 2nd and 3rd. The Braves have the cheapest tickets for any potential LCS games at Suntrust Field.
🎟️Visit TicketIQ For Sold Out MLB Playoff Tickets for 2019
📲 Download TicketIQ App for $20 off Your First In-App Purchases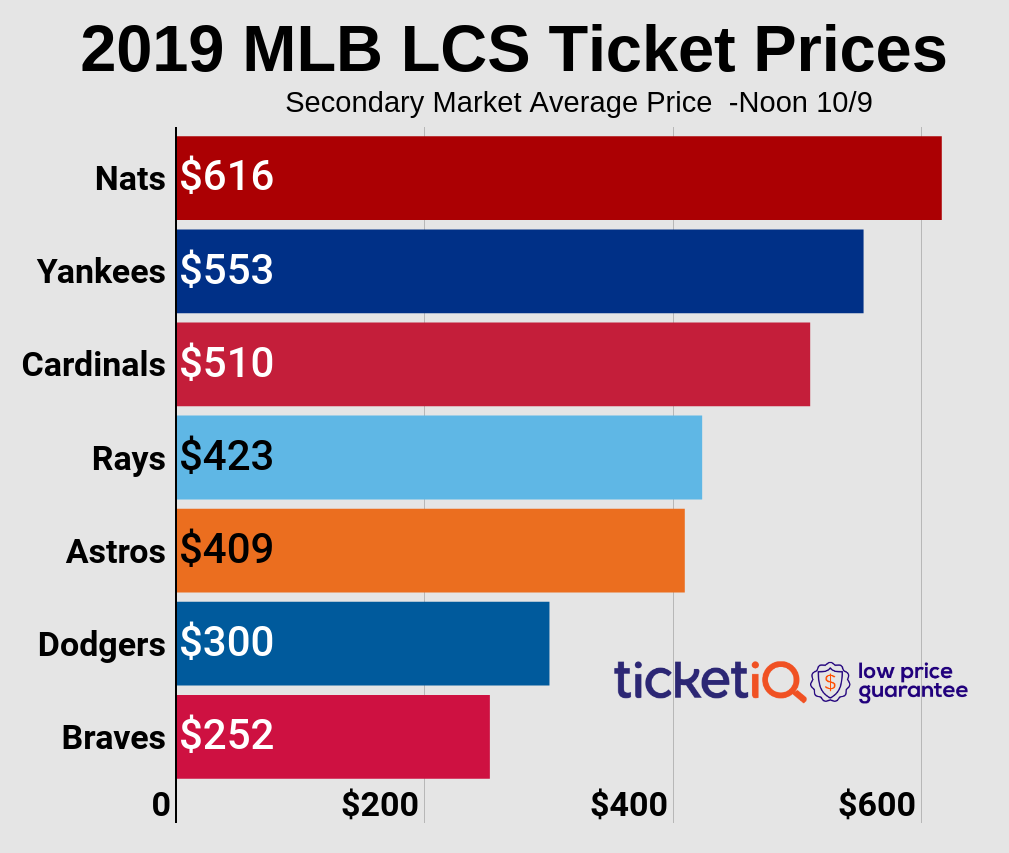 With the Astros returning home tied 1-1, they'll potentially have an opportunity to secure a 2nd straight World Series berth during Thursday's Game 5. Due to the circumstances, secondary market ticket demand in Houston has unsurprisingly increased.
The average asking price for ALCS tickets at Minute Maid Park has increased 10.5% from $276 before the series began, to $305 as of Monday morning.
Even with the increase, average listing price is still 28% below Astros 2017 ALCS tickets vs the Yankees ($425).
Cheapest ticket currently listed for Game 3 is $129, Game 4 is $138, and Game 5 (currently the potential series clincher) is $151.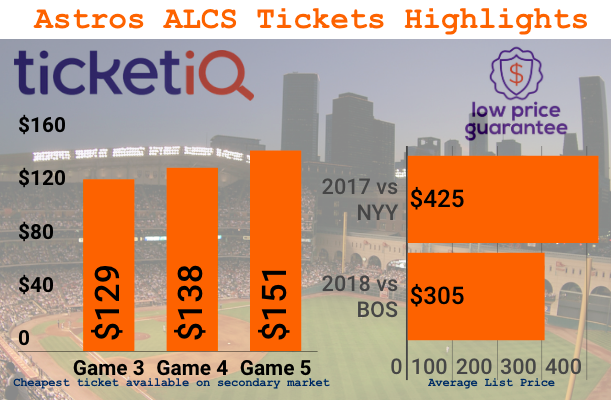 ---
With both Game 1 and Game 2 in Milwaukee being decided by just one run, the Dodgers 3rd straight NLCS has been an exciting and competitive affair. After the Dodgers pulled a late-game comeback to secure victory in Game 2, they also created the opportunity to clinch the National League at home in Wednesday's now-official Game 5.
While it's easy to assume that secondary market ticket demand would increase for Games 3, 4, and 5 in LA; we here at TicketIQ have seen the opposite.
The average asking price for
NLCS tickets at Dodger Stadium
has actually decreased 28% from $214 on October 11th to $153 as of the morning of October 14th. Cheapest ticket listed is $71, $74, and $67 respectively.
That $153 average price is by far the cheapest of the Dodgers NLCS trilogy ($375 in 2017 and $339 in 2016) and is now the cheapest LCS we've tracked since 2011 (previous low being Detroit's $188 average in 2013).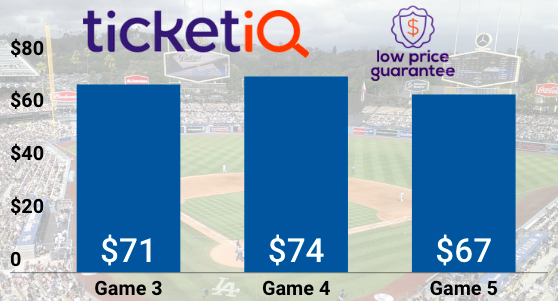 ---
When the Red Sox beat the Yankees in four games on Tuesday night, the victory cemented Major League Baseball's most expensive American League Championship Series ticket this decade - only the 2015 Mets and 2015 and 16 Cubs NLCS tickets were higher.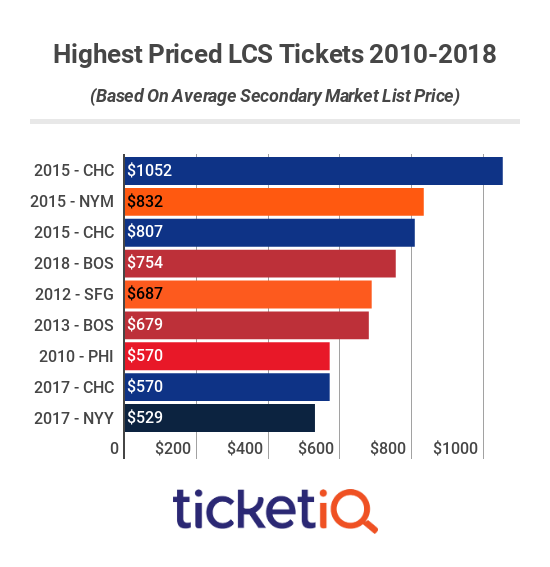 The NLCS starts Friday with Milwaukee hosting Los Angeles and the ALCS begins Saturday with Boston hosting Houston. Below is a look at how ticket prices are shaping up for both series.
The Dodgers, who lost to Houston in the World Series last season, play in the biggest ballpark of the four remaining teams. Dodger Stadium seats 56,000 as compared to Miller Park's 41,900.
Tickets to see the NLCS at Dodger Stadium are the cheapest in either series, and the $183 average asking price for Game 3 is the lowest of any LCS game. The other two games at Dodger Stadium are trending at $227 for Game 5 and $232 for Game 4.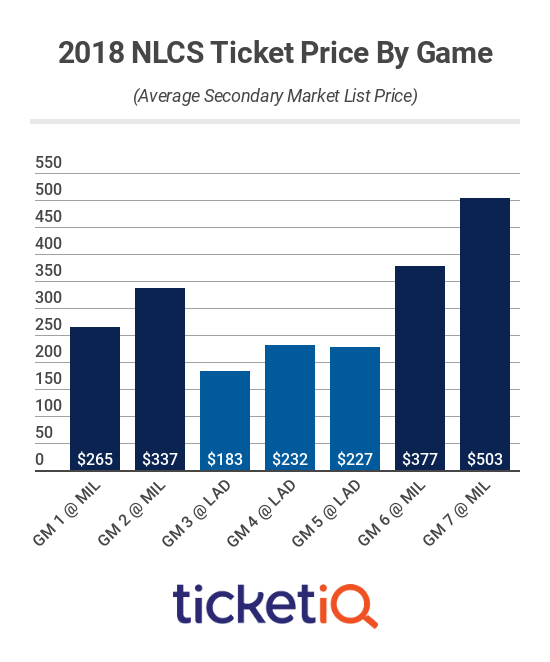 Comparatively, Brewers fans are driving price up, up, up, with a $265 average asking price for Game 1 the cheapest, and a $503 average asking price for an if-needed Game 7 the priciest of the series. Game 2 currently has an average asking price of $337 and the if-needed Game 6 is trending at $377.
For comparison, it cost an average of $145 to get into the Dodger Stadium and $236 to get into Miller Park for the NLDS.
Get-in prices for all NLCS games are more than $100. The cheapest get-in is $125 for Game 1 and the highest is $182 for the if-needed Game 7.
TicketIQ.com has secondary market seats at both stadiums. While Game 2 at Miller Park is sold out, the cheapest seated ticket for Game 1 is
$124 in Terrace Reserved 438
, high above left field. For Game 3 at Dodger Stadium, plenty of seats are available for $150 or less, including seats in the
Coca-Cola Pavilion
starting at $141, which includes all-you-can-eat Dodger Dogs, nachos, popcorn, peanuts, Coke products and water. Both sets of seats come with TicketIQ.com's Low Price Guarantee.
The Red Sox, who snapped an 86-year World Series drought in 2004, have since won three World Series. Boston's Fenway Park, which dates to 1912 is the oldest and fifth smallest in Major League Baseball. Fenway seats 37,949 as compared to just under 42,000 in Houston's MinuteMaid Park.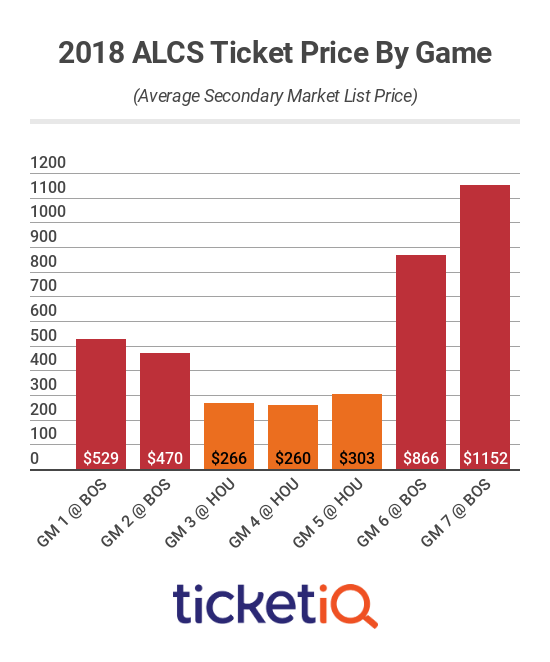 Primary market tickets are sold out for both teams.
Boston's committed fan base plus the tiny size of Fenway mean that post-season tickets are always expensive. The four games at Fenway range in average asking price on the secondary market from $470 to $1,152. The priciest game is the if-needed Game 7 and the cheapest is Sunday's Game 2. Fans have driven Game 1 up to $529 and Game 6, if needed, up to $866.
The Astros, who made the switch to the American League in 2013, enter the ALCS as the defending World Series champs. Houston has gotten to two World Series in franchise history, and defeated the Dodgers in 2017 for its first title.
In Houston, prices are much more reasonable. According to TicketIQ.com, Game 4 is currently the cheapest at $260, followed by Game 3 at $266 and Game 5, if needed, at $303. The lower price compared to Boston is likely due in large part to the size of the stadium.
For comparison, the average asking price at Fenway was $395 and at MinuteMaid Park was $200 for the ALDS.
For a chance to see the ALCS, TicketIQ.com can help. For Game 2 at Fenway, availability is limited to mostly standing-room only, though seats in
Section 16
on the first-baseline start at $358. For Game 3 at MinuteMaid Park, outfield seats in Section 407
start at $132
. Both sets of seats come with TicketIQ.com's Low Price Guarantee.