Where and When is the 2022 Big 12 Men's Basketball Tournament
The 2022 Big 12 Men's Basketball Tournament will take place at T-Mobile Center in Kansas City on March 9th to the 12th.
Where to Buy 2022 Big 12 Men's Basketball Tournament Tickets
Primary market tickets to the Big 12 Men's Basketball Tournament are on sale via AXS. Tickets.
On the secondary market, TicketIQ has Fee-Free Big 12 Men's Basketball Tournament tickets which also include a Refund Guarantee. Our Refund Guarantee states that if an event is canceled or deem unfit for fans to attend, TicketIQ will refund ticket buyers in as soon as 15 days. That means that you can buy from TicketIQ worry-free. Customers on TicketIQ save between 15%-25% compared to other secondary market ticketing sites.
How will I receive my Big 12 Basketball Tournament Tickets
Most Big 12 Tournament tickets are now delivered via mobile transfer using the email used to place your order. You will then pull up your tickets on your phone to have them scanned when you enter the venue. You can also use the Ticketmaster app to manage and transfer your tickets.
Before entering the venue, make sure that you are able to access your Big 12 Tournament tickets on your mobile device. If you cannot find the tickets on your device, check your email to find detailed instructions on how to proceed. And if there are any issues, contact our customer service representatives for timely assistance.
Make sure that when entering the venue you or someone in your group has a charged mobile device on hand to access tickets so that they can be scanned at the turnstile. To make things easier, most devices allow you to add your virtual ticket to your phone's mobile wallet, which makes the ticket easier to access and also eliminates the issues that could arise if WiFi is slow.
How Much Are 2022 Big 12 Men's Basketball Tournament Tickets
Below are the cheapest tickets on the secondary market for each sessions:
Session 1 (First Round): $12
Session 2 (Quarterfinals): $67
Session 3 (Quarterfinals) $74
Session 4 (Semifinals): $115
Session 5 (Championship): $98
All session strips start at $282.
Below is a look at Big 12 Tournament ticket prices since 2011: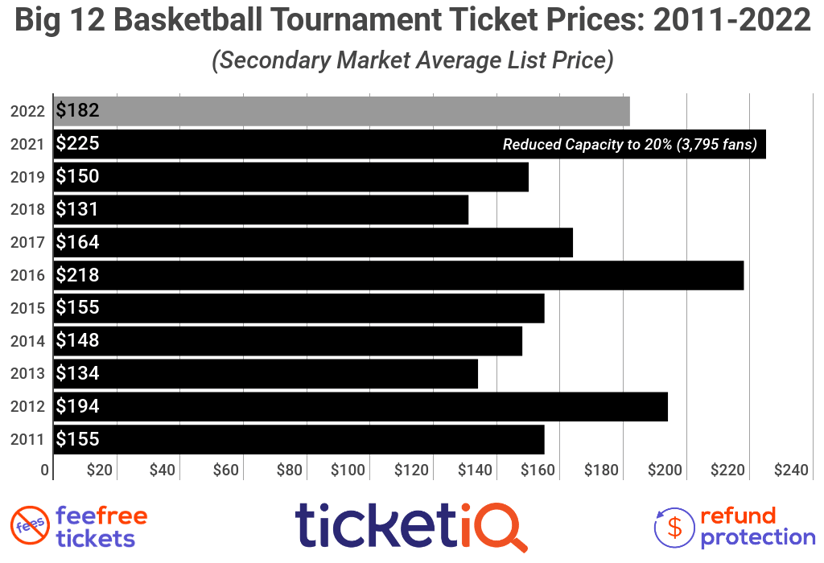 2022 Big 12 Men's Basketball Tournament Schedule
First Round – Wednesday, March 9

6 p.m.

–

No. 8 Seed vs. No. 9 Seed (TBA)
Quarterfinals – Thursday, March 10

11:30 a.m. – No. 4 Seed vs. No. 5 Seed (TBA)
2 p.m. – No. 1 Seed vs. No. 8/9 Seed Winner (TBA)
6 p.m. – No. 2 Seed vs. No. 7 Seed (TBA)
8:30 p.m. – No. 3 Seed vs. No. 6 Seed (TBA)
Semifinals – Friday, March 11

6 p.m. – Semifinal 1 (TBA)
8:30 p.m. – Semifinal 2 (TBA)
Championship Game – Saturday, March 12