Where to Buy Los Angeles Dodgers Playoff Tickets
Fans can register for Dodgers playoff tickets through September 22nd on MLB.com. Fans selected for post-season tickets will be notified on September 24th. The other option for Dodgers fans looking for post-season tickets is to sign up for a season-ticket package for 2020. While not all options come with 2019 post-season options, most do, and anything above a half-season plan comes with World Series Tickets.
On the secondary market, TicketIQ has Low Price Guarantees on all sold out Los Angeles Dodgers postseason tickets and on all sold out MLB playoff tickets and World Series tickets. That means that if you find a secondary market ticket for less on a site like StubHub or Vivid Seats, we'll give you 200% of the difference in ticket credit. TicketIQ customers save an average of 5%-20% compared to StubHub and Vivid.
🎟️ Visit TicketIQ For Sold Out Dodgers Playoff Tickets + Low Price Guarantee
How Much Are LA Dodgers Playoff Tickets
On the secondary market, the Dodgers have the cheapest of any team currently in position for a post-season berth. Tickets the current average asking price for Dodgers LDS games is $171l with the cheapest tickets available under $100 for every game in the first round the MLB playoffs. For LCS games at Dodger Stadium, the average price jumps to $323, with the cheapest tickets available for between $108 and $175. Below is an infographic with average prices for current playoff teams.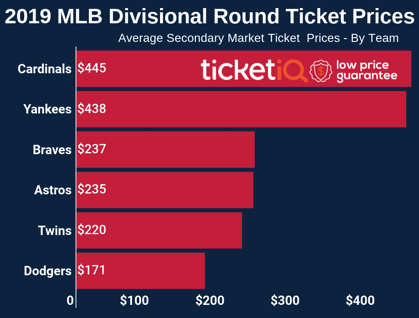 Click links below for Low Price Guarantees from TicketIQ:
The first 40,000 ticketed fans in attendance for ALDS Game 1 will receive either a home/white or a Cody Bellinger Postseason Bobblehead.
What Are Dates For Dodgers Playoffs at Dodger Stadium
Major League Baseball has announced the schedule for the 2019 Postseason, which is set to open with the National League Wild Card Game on TBS on Tuesday, Oct. 1. The division series begins on October 3rd, while the LCS begins on October 11th, with game 1 of the World Series starting on October 22nd. The Dodgers will open game 1 of the NLDS on October 3rd, with Game 2 on October 4th. A game 5 would be at Dodger Stadium on October 9th. The opening game of the NLCS would be October 11th, with Game 2 on October 12th. Games 6 and 7 would be on October 18th and 19th.
---
TicketIQ is committed to the cheapest tickets possible, and we make much less on sold out tickets compared to other major marketplaces like StubHub and Vivid. That means ticket buyers save from up to 25% on TicketIQ on sports, music and theater. We're able to do this because we also work with teams, venues, and other ticket owners, to help them sell tickets at face price, directly to consumers like you, through Ticketmaster.
---
Another season, another playoff berth for the Los Angeles Dodgers.
After losing the best pitcher in the game to a herniated disc for the greater part of the season, the Dodgers were able to man the ship without Clayton Kershaw, going 35-23 during the southpaw's 10-week stay on the disabled list between June 30 and September 9. Aided by the poor second half play of the Giants, the Dodgers have clinched a fourth straight divisional title and will play on through the first two weeks of October.
The NL West champions set to face the Washington Nationals in the Division Series beginning Friday, and there are a few ways fans can get their hands on Dodgers playoff tickets as the team searches for its first World Series title since 1988.
TicketIQ is here to break down the best ways to buy Dodgers tickets during the 2016 postseason below:
1) Plenty of tickets remain on the primary market - If you thought it would be tough to snag tickets during the NLDS, think again: there's no shortage of seats available on the Dodgers' official website. Tickets are available in each of eight categories offered across both potential home games, ranging from the $46 Preferred Reserve seats to the $906 Lexus Dugout Club VIP tickets.
Unlike many other playoff teams, the Dodgers have already put NLCS tickets up for sale to the general public. Tickets are widely available for those four potential home games and start from $86 in the Preferred Reserve sections of Dodger Stadium. No word on when World Series tickets will hit the market, but the Dodgers list prices starting from $166 in the Preferred Reserve sections across all three possible home games.
2) On the resale market, the Dodgers are the cheapest team to watch at home this season - The Dodgers are known for their cheap ticket prices on the secondary market, and the 2016 postseason will be no different. On TicketIQ, Dodgers playoff tickets at home during the NLDS are averaging $152.97, the cheapest among all playoff teams this season. Check out a price trend of Dodgers NLDS ticket prices over the past four seasons below:
[embedit cf="HTML1"]
Game 3 on October 10 is the more expensive of the two possible games at Dodger Stadium. It currently owns an average resale price of $154.94 and the get-in price is $72. Pending a possible Game 4 the following day, those tickets are slightly cheaper at an average price of $149.25 and a $69 get-in price.
[embedit cf="HTML2"]
For even more savings on Dodgers tickets this postseason, make sure to download the TicketIQ app. Our app is the only engagement-based loyalty program in the marketplace and helps fans save an additional 10% on all IQ Certified listings. Download the TicketIQ app and start saving today!