Where to Find Cheapest
Global Citizen Festival

Tickets and How To Earn Free Tickets

TicketIQ provides an ample range of offers to its shoppers for festivals and concerts. Taken on average, Global Citizen Festival 2019 is selling general entries for $125. Meanwhile, Premium VIP tickets are available for $250. On the secondary ticket market, Global VIP tickets start around $175.

In addition to paying for tickets, organizers allow fans to participate in the event without costing you a single penny. Global Citizen Festival'19 follows the tagline, 'Tickets are free if you take action.' You may earn free tickets to September 28's Central Park show by signing petitions, calling area senators to look into concerning issues and tweeting about humanitarian issues as well. Here's a detailed overview on how to earn tickets.

🎟️Visit TicketIQ For Low Price Guarantees on Global Citizens Tickets

🎟️Visit Ticketmaster for Citi Premium VIP Tickets to Global Citizens Festival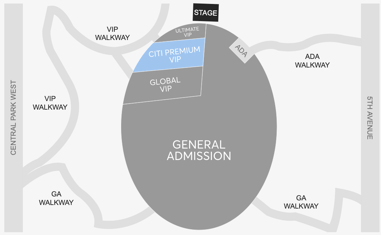 What Is Lineup For Global Citizen Festival '19
This year's Global Citizen Festival is going to be a fledging, star-studded affair. Moreover, New York's Central Park will be all adorned with shimmering lights, blazing rays of soothing voices and some sensational, multi-talented names. From Bohemian Rhapsody fame Queen to Pharrell Williams and Alicia Keys, Global Citizen Festival 2019 will surely incorporate some key names from worldwide music sphere.
Furthermore, OneRepublic, Carole King, and H.E.R. will also be playing the event. Besides major headliners, Global Citizen Festival has a special guest list to rivet up with the bewitched audience. Acclaimed names like Hugh Jackman will be endeavoring with fellow Taraji P. Henson and award-winning musicians Ben Platt and French Montana. The whole star-studded affair will be further entranced by none other than the viral, science-geek Bill Nye.
🎟️Visit TicketIQ For Low Price Guarantees on Global Citizens Tickets
🎟️Visit Ticketmaster for Premium VIP Tickets to Global Citizens Festival
Originally started to target poverty crisis from every existing nook and corner, Global Citizen Festival has successfully paved way through United Nations' Sustainable Development Goals (SDGs), which focuses on eradicating poverty by 2030.
Meanwhile, if you have failed to secure tickets for the global music fest, then here's a good scoop for you. The event organizers are planning to directly broadcast the shows on MSNBC while live streaming on YouTube, Twitter and crowded, public locations.
---
TicketIQ is committed to the Transparent Ticketing, and we make much less on sold out tickets compared to other major marketplaces like StubHub and Vivid. That means ticket buyers save from up to 25% on TicketIQ on sports, music and theater. We're able to do this because we also work with teams, venues, and other ticket owners, to help them sell tickets at face price, directly to consumers like you, through Ticketmaster, Frontgate, Eventbrite and other primary ticketing platforms. You can read our Music Buying Guide that we think is the most objective advice on where to find the best deals on the biggest concert tours, whether they're 'sold out' on TicketIQ or 'unsold' on the primary ticket market.