How To Find Cheap 2023 Houston Rodeo Tickets + Lineup News
Where To Buy 2023 Houston Livestock and Rodeo Tickets
Primary market tickets are available via AXS.
On the secondary market, TicketIQ offers Fee Free Houston Rodeo tickets. with a Refund Guarantee, which states that in the event an event is canceled or deem unfit for fans to attend, TicketIQ will refund ticket buyers in as soon as 15 days. That means that you can buy from TicketIQ worry-free.
How Much Are 2023 Houston Rodeo Tickets
Primary market tickets prices start at $25+ and go as high as $155.
On the secondary market, tickets are available for all dates, and prices start between $35 and $68 depending on the performer. 100-level tickets starts at between $50 and $100 for most shows, with action seats running between $150 and $300 for many shows. Opening night and closing night tend to be the most expensive nights with the biggest acts.
What are The Best Seats Houston Rodeo Concerts?
Action seats, with free food and non-alcoholic beverages for being the closest to both the rodeo and concert. 100-level seats also offer a great view of the action and are offer a great value for both the rodeo and concerts.
How Long are Houston Rodeo Concerts?
Other than the final night, performances generally range from an hour to an hour and fifteen minutes in length, which essentially amounts to a set at a music festival. Below are starting time for the rodeo as well as the concert.
Weekday rodeos start at 6:45 p.m. The entertainer takes the stage at approximately 8:45 p.m. NRG Stadium gates open at 6 p.m.
Weekend rodeos start at 3:45 p.m. The entertainer takes the stage at approximately 5:45 p.m. NRG Stadium gates open at 3 p.m.
The March 20, 2022, George Strait concert-only performance will begin at 7 p.m., with special guest Ashley McBryde. Strait will take the stage at approximately 8 p.m. and will perform a full-length concert.
2023 Houston Rodeo Lineup & Schedule
Below is the full list of the concert:
DATE
ENTERTAINER
Tuesday, Feb.28 – Opening Day, presented by Texas Capital Bank
Parker McCollum
Wednesday, March 1 – Armed Forces Appreciation Day, presented by Crown Royal
Brooks & Dunn
Thursday, March 2
Lauren Daigle
Friday, March 3 – Black Heritage Day, presented by Kroger
Bun B's Southern Takeover
Saturday, March 4
Walker Hayes
Sunday, March 5
Zac Brown Band
Monday, March 6 – First Responders Day, presented by BP America
Jason Aldean
Tuesday, March 7
New Kids on The Block
Wednesday, March 8 – Community Day, presented by TC Energy
Jon Pardi
Thursday, March 9
Ashley McBryde
Friday, March 10
The Chainsmokers
Saturday, March 11
Turnpike Troubadours
Sunday, March 12 – Go Tejano Day, presented by Fiesta Mart
La Fiera de Ojinaga
Monday, March 13
Cody Jinks
Tuesday, March 14
Machine Gun Kelly
Wednesday, March 15
Kenny Chesney
Thursday, March 16
Chris Stapleton
Friday, March 17
Cody Johnson
Saturday, March 18
Brad Paisley
Sunday, March 19 – RODEOHOUSTON Finals
Luke Bryan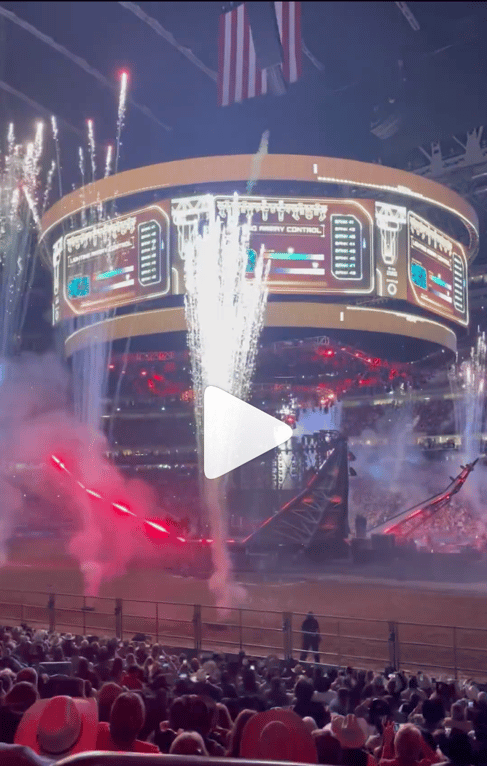 Handicap and ADA Seating at Houston Rodeo:
NRG Stadium offers other convenient services including wheelchair assistance, lost and found and wheelchair check in. Wheelchair escorts are provided through Guest Services. Please contact 832-667-1400 for any special assistance needs. Parking spaces for ADA guests are available and located throughout NRG Park on a first-come, first-served basis. Standard ADA parking can be found in Orange Lot: 6, 8, 10, 13, Maroon Lot: 14, 15.
What are events at Houston Rodeo?
Tie-Down Roping - Timed Event
Riders and their horse work together to run down a runaway calf, which is given a head start. Once around the rope is around the calf's neck, the rider must tie three legs together in order to complete to event.
Bareback Riding - Rough Stock
Riders must hang on to a bucking horse for eight seconds, while keeping one hand on the rigging attached to the horse and another in the air.
Team Roping - Timed Event
In the only team event of the rodeo, one rider must catch his rope around the steer's saddle horn before the other can catch the legs.
Saddle Bronc Riding - Rough Stock
One of the most classic rodeo events, riders must keeps their feet in stirrups with one arm in the air and the other holding a reign.
Steer Wrestling - Timed Event
This is a crowd favorite A steer is let loose and runs forward. After a certain distance the riders catch up on their horse before dismounting and wrestling the steer to the ground. The clock stops when the steer on the ground and when all four legs are pointing in the same direction.
Barrel Racing - Timed Event
Riders quickly weave between barrels that are in a triangle formation, without knocking them over.
Bull Riding - Rough Stock
In this event, the Bull Rider must hold on with one hand while keeping the other in the air.
Chuck Wagon Races
The Chuck Wagon Races use the entire rodeo floor and is a race with six horses that travel in a figure 8 patten.
Calf Scramble
The kids will get a shot at some rodeo style as 30 kids attempt to catch 15 calfs.

---
TicketIQ is committed to Transparent Ticketing, and we make much less on 'sold out' tickets compared to other major marketplaces like StubHub and Vivid. That means ticket buyers save from as much as 25% on TicketIQ for sports, music and theater tickets. We also back it up with our Fee-Free tickets! We're able to do this because we also work with teams, venues, and other ticket owners, to help them sell tickets at face price, directly to consumers like you, through Ticketmaster, Frontgate, Eventbrite and others ticketing platforms. Learn more by reading our Music Buying Guide that we think is the most objective advice on where to find the best deals on concert tickets, whether they're 'sold out' or 'unsold' on the primary ticket market.